A local start-up founder stopped by Kula last week to chat about his software as a service (SaaS) product and how inbound marketing, and HubSpot specifically, might help.
Of course, there are a lot of great examples of SaaS companies doing fantastic inbound marketing with HubSpot themselves perhaps topping the list. When our conversation turned to the new HubSpot Content Optimization System (COS), we began to consider the impact of serving custom content to website visitors linked to their customer lifecycle stage. Basically, HubSpot's COS uses "smart content, forms and calls-to-action to enable you to personalize your pages to the changing needs of each lead and customer". And, as you might expect, HubSpot themselves proved to be an interesting example.
HubSpot has a new SaaS product out called Signals. It allows users to easily track email opens and clicks directly from Gmail, Outlook and Salesforce. If you're new to Signals, you're in the prospect stage of the Customer Lifecycle. And, were you to visit getsignals.com, this is what you would see—simple, benefits-focused messaging that's contextual to your lifecycle stage: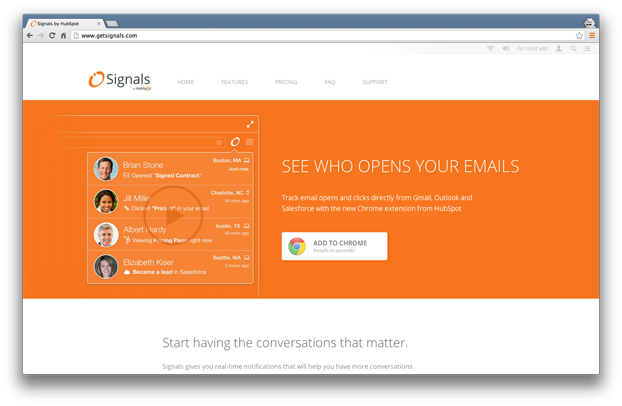 Fast-forward now and imagine yourself as a paying Signals customer. At this point, you visit getsignals.com to refer a friend or co-worker, and this is what you see—a quick, easy way to share the Signals love that is, naturally, contextual to your lifecycle stage: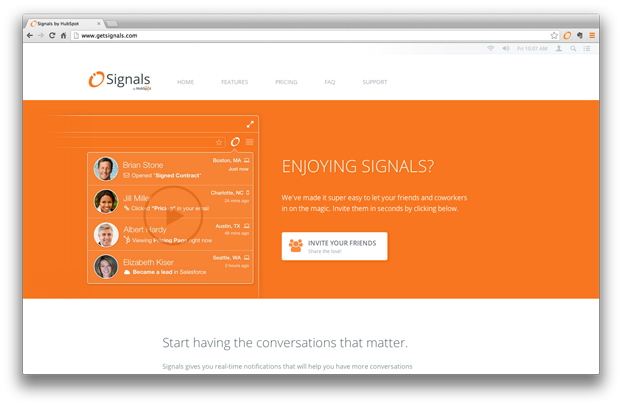 As a SaaS entrepreneur, I'm sure you can easily imagine serving up unique content / messaging during that critical free trial period too. Whatever your customer lifecycle stages are, if content is king then context isn't far behind. And it could be what takes your customer acquisition efforts to an entirely new level.