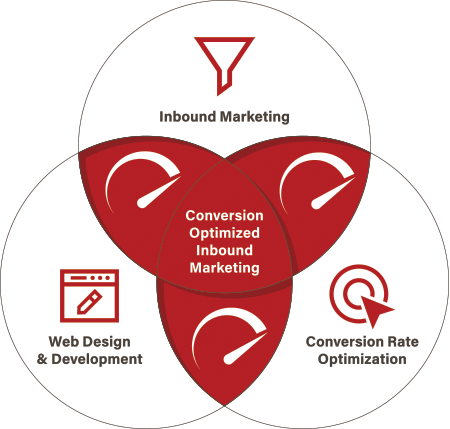 As inbound marketers, all of us know that we can't convert every visitor. In fact, visitor-to-lead conversion rates of 2-5% are often quoted as inbound conversion benchmarks, meaning that it is considered a success when 95-98 out of every 100 site visitors do not take the action you, as a marketer, desire. So while we know we can't convert them all, most marketers will agree that we're leaving a lot on the table when we're only converting 2-5% of site visitors.
The trouble with slumping conversion rates is that they do not only impact today's marketing results — they carry forward and diminish the impact of every dollar and hour your inbound marketing strategy dedicates to growing site traffic in the future. The good news is, improving conversion rates has the opposite, double-positive impact of dramatically improving the marketing results you see from the traffic you already have, while also positioning to extract maximum return from every future dollar spent on traffic acquisition.
That is the genesis of Conversion Optimized Inbound Marketing – by optimizing conversion throughout the funnel, we enhance today's results and maximize tomorrow's inbound marketing investment.
Why Acceleration Points Matter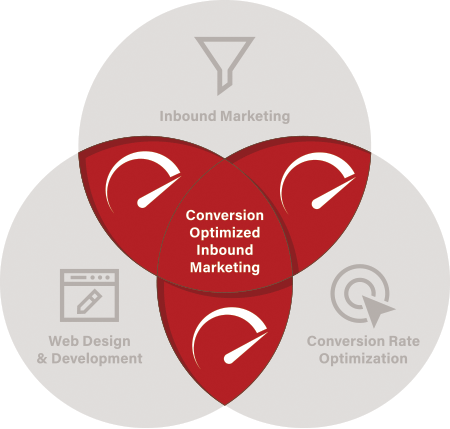 As anyone who has been practising inbound marketing for more than a week will know, not all inbound marketing techniques are created equal. Every successful inbound marketing strategy has certain elements that outperform. A lead source that is better than all the rest. A top-of-funnel offer that converts at twice the site average. Or a blog post that drives a disproportionate amount of organic search traffic.
Our experience has shown that these high performing techniques are found at the intersections of Inbound Marketing, Web Design & Development, and Conversion Rate Optimization—we call these intersections "Acceleration Points". Simply put, while the standard inbound marketing playbook can translate into standard inbound marketing results, we have found that it is the Acceleration Points that deliver more.
Inbound: Integrated & Interactive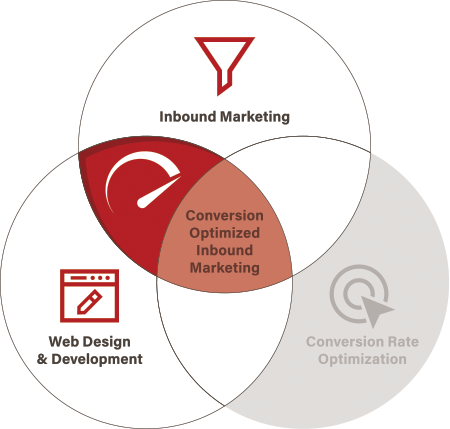 One mistake that a lot of people make is thinking of Inbound Marketing as simply a more measurable version of content marketing. And while content marketers have been early adopters of inbound marketing, looking at inbound through a primarily content marketing lens risks only seeing a small piece of the overall puzzle.
Conversion Optimized Inbound Marketing blends web design & development horsepower with inbound marketing know-how to open up new possibilities for your inbound strategy. This includes integrating disparate systems and technologies into your inbound marketing infrastructure in addition to creating more interactive, engaging inbound marketing experiences.
Tight integrations between your inbound marketing platform and your CRM, e-commerce system, or ERP software can help you deliver a more seamless buyers journey while uncovering new ways of nurturing contacts and serving customers.
Engaging inbound experiences such as interactive calculators and solutions finders, for example, not only make your site more useful to visitors, they often become a site's top performing conversion asset.
Regardless of how it is manifested in your strategy, techniques from this Acceleration Point move beyond the inbound basics towards a higher converting, more evolved Inbound Marketing experience.
Websites Built to Convert
Blending conversion rate optimization with web design and development expertise changes both how a website is created as well as how it is maintained and improved. The days of the one and done brochure website project every 5 years is long gone. Today, websites are expected to convert—integrating calls to action throughout in a thoughtful way that helps move prospects down the sales funnel. Moreover, modern websites are built to continuously learn from each visit, evolving via data-driven enhancements to better serve visitors and convert more leads.
Emphasis on advanced user testing, conversion testing, and visitor analysis results in a conversion-focused design sensibility that understands (and regularly navigates) the delicate dance between usability and conversion. Moreover, conversion testing regimens that can regularly call upon web design and development expertise are broader in scope and impact. Simply, they allow you to move beyond the tried and true CRO basics like testing headline copy or CTA button colours toward making larger changes faster.
Full Funnel Conversion Optimization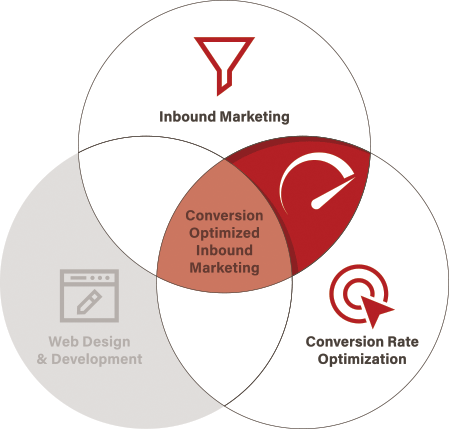 Bringing conversion rate optimization ethos to the practice of inbound marketing uncovers endless opportunities to improve your game plan. Inbound marketing best practice can only go so far in moving an inbound strategy forward—to truly outperform, testing and iteration throughout the inbound funnel is needed. In fact, everything from AdWords headlines and email subject lines to nurturing workflows and calls-to-action can and should be continuously tested.
Combining inbound lifecycle timeline data with the advanced visitor analysis (such as heat maps, click maps, and visitor session recording) afforded by today's leading CRO platforms delivers unique new insight into how buyer personas make the journey from prospect to customer. This deeper insight translates across your inbound marketing strategy, helping to deliver more targeted inbound marketing experiences to better understood buyer personas.
Powered by Agile
It is nearly impossible to imagine separating Conversion Optimized Inbound Marketing from the agile approach that is required to make it a reality.
Simply put, in order for your marketing to continuously learn, iterate and improve, it must operate within an organizational framework that can accommodate rapid change.
Kula Partners has been a pioneer in implementing the Scrum agile framework within the HubSpot Partner community. If you're reading this and you're an inbound marketing agency, we encourage you to connect with our friends at Limbr—their recommended implementation of Scrum for inbound marketing agencies originated in their work with Kula Partners and—as you might expect—it keeps iterating and getting better.