Acceleration Points™ – The Key To Increasing Conversions and Amplifying Results
The three Acceleration Points of Conversion Optimized Inbound Marketing are where the disciplines of inbound marketing, web design and development and conversion rate optimization collide to create new strategies that outperform. More than just the sum of their parts, these acceleration points are the genesis of high performance inbound marketing.
The idea behind CRO is straightforward–making iterative changes in order to increase conversion. In practice, though, the process has a lot of moving pieces. Optimizing conversion starts with strategy and data collection, follows that with creating hypotheses and testing, and then implementing the results and beginning the process again. To be successful in that process, it helps to have key elements in the mix at each step of the process.
Full Funnel Inbound Conversion Optimization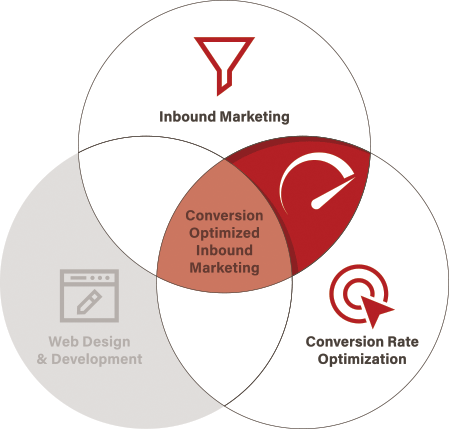 This Acceleration Point marries the science of CRO with inbound marketing principles to improve every step of your marketing funnel. This means using data from real users to optimize each of your inbound marketing tactics. Specifically, this means using CRO tools such as heatmaps, clickmaps, and visitor session recordings to collect data about how people move through your funnel and optimizing to achieve results.
Once this data has been collected, conversion testing is performed through software such as Visual Website Optimizer (VWO) to determine how best to optimize that landing page, CTA, form, or site element. By repeating this testing and iteration process throughout your entire funnel, it's not uncommon to see traditional benchmark conversion rates more than doubled.
Powering CRO With Web Dev & Design
There are a lot of tools out there for organizations large and small to get into the CRO game. The truth is, it can be difficult or impossible to take full advantage of the full breadth of capabilities on offer. While many CRO tools provide the ability to change a headline or a CTA button colour, more advanced testing requires a web design and development team.
The acceleration of these two disciplines is a must if you want to follow a model of growth driven design–boosting website results through continuous improvement. CRO tools and tactics to know what changes to be made and web design and development expertise to make them quickly and efficiently. Designing a new site from scratch or retooling an existing design using real customer data instead of following best practices is just one end benefit of this acceleration point.