Acceleration Points™ – The Key To Increasing Conversions and Amplifying Results
The three Acceleration Points of Conversion Optimized Inbound Marketing are where the disciplines of web design & development, inbound marketing, and conversion rate optimization come together create new strategies that perform at a higher level. Acceleration points are more than just the sum of their parts, they are the genesis of high performance inbound marketing.
Since the only designers to call Kula Partners home are those who also code by hand, our websites are delivered with an uncommon level of craftsmanship. Moreover, Kula's content producers are HubSpot Certified Inbound Marketing experts, crafting website content alongside our designers and developers to create cohesive, results-focused websites that routinely outperform the competition.
Websites Built to Convert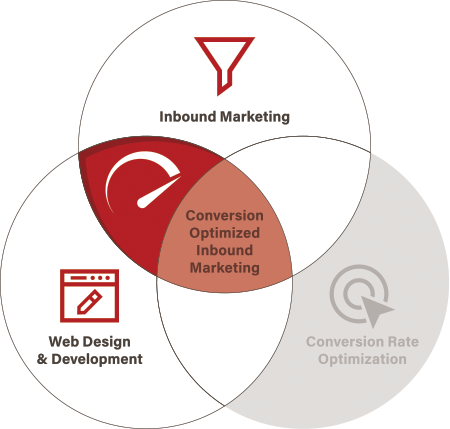 This Acceleration Point brings together the disciplines of web design & development and inbound marketing to create websites that convert more visitors to leads.
Many digital marketers offer their visitors traditional downloadable offers such as whitepapers and ebooks. Where this Acceleration Point strategy outperforms is with interactive content offers: product selectors, payment calculators, and solutions finders. We've found that these interactive web offers covert at more than twice the rate of PDFs and other traditional funnel offers while providing more sales-ready leads for you.
When this Acceleration Point is realized on a larger scale, you get advanced inbound ecommerce deployments that tie complex back office systems (e.g. inventory management, retail POS, etc.) with e-commerce tools and the HubSpot platform. Those types of integrations aren't possible without the disciplines that collide to form this Acceleration Point.
Growth Driven Web Design & Development
Whether you're launching a new site, or refreshing an existing one, growth driven web design and development allows you to launch quickly and on budget so that you can begin testing and iterating your new site almost immediately. This way, you're spending time improving your site based on real data and visitor experience instead of wasting months going through revisions on a design that's completely untested and unproven.
Sites built this way are effectively 'evergreen'. Instead of launching a site every 2-3 years, your site is getting better and better with every iteration.