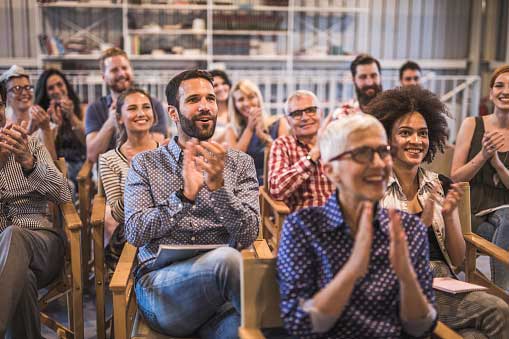 Happening May 7-9, 2018 at the Chicago Marriott Downtown, B2B Online is the digital marketing conference for manufacturers and distributors. Celebrating its 5th year—and bringing together nearly a thousand executives from across North America focused on digital, ecommerce, and marketing—this year's conference promises to be a phenomenal experience for learning and networking.
With 75 speakers from top manufacturers and distributors slated to share their insights on digital strategy, there will be no shortage of exciting talks and sessions to attend. We've reviewed the agenda and have rounded up a list of the top 12 sessions we're excited to attend at B2B Online 2018.

Here's a tip: if you're traveling with colleagues, be sure to divide and conquer any sessions that overlap or are back-to-back—that way, you will get the maximum value out of your time at the conference. Now mark your calendars, get set, go!
1. Beyond The Shopping Cart: How B2B Businesses Are Catapulting Future Growth
When: 9:05 am, Monday, May 7
This keynote panel is set to discuss how manufacturers and distributors must harness ecommerce to better meet customers' demands and protect their market share from Amazon. From creating a seamless purchasing process to exploring cost-effective ecommerce applications that go beyond the shopping cart, this panel will feature insights from industry-leading ecommerce experts including Nicole Westenberger, VP, eCommerce and Marketing of Brady Corporation.
2. How We Beat Amazon: A B2B eCommerce Success Story
When: 1:45 pm, Monday, May 7
Continuing in the vein of ecommerce and what it means for B2B, Rich Cohen, President of Elevate Packaging, shares real-world lessons from the sustainable packaging supply company's Amazon B2B experience and results—including how Elevate created a more successful solution which leapfrogged the Amazon B2B experience in every category.
3. The Secret To Content Calendar Success For B2B Marketing
When: 1:45 pm, Monday, May 7, Track B

No one disputes the role of content in modern marketing strategies, but who puts this content together and gets it over the finish line? As VP, Global Marketing of NanoLumens—combining agency-side expertise with client-side management prowess—we're looking forward to hearing Joe' Lloyd's take on how fluid content calendars can set the stage for valuable content that never misses a go-live date.
4. Content Creation Best Practices For B2B
When: 2:25 pm, Monday, May 7
Alongside manufacturing marketers like Tony Beuche, Digital Marketing Specialist at Bradley Corporation, Kula Partners' own Carman Pirie will be contributing to a panel discussion on how to maximize your content investment. Panelists will share insights on channel selection, segmentation and targeting, content promotion, and more.
5. Identifying Omni-KPIs To Support A Targeted Customer Approach
When: 4:20 pm, Monday, May 7, Track A
During this lightning round panel discussion, top executives in manufacturing—including Sarah Bryowsky, Director Digital Marketing, Global Demand Center of Zebra Technologies, and Andrew Carlson, Director, Digital Business of Panduit—will share which KPIs they're implementing to measure success and customer engagement.
6. Curating Content To Differentiate Your Products And Engage Customers
When: 4:20 pm, Monday, May 7, Track B
What story does your content tell about your products? Leaders in manufacturing marketing like Holly Paeper, VP Marketing of Ingersoll Rand, and Joe Incontri, Director of Marketing, Americas, of KROHNE, Inc., shed light on how to curate content that highlights your products' best uses and creates a great customer experience.
7. It's A Partnership: Selecting The Right eCommerce Platform For Your Business
When: 9:35 am, Tuesday, May 8
Featuring senior executives like Michael Ali, CDO & CIO of Omega Engineering, attend this keynote panel to walk away with insights into how these industry-leaders have built robust online capabilities while avoiding project creep and budget overages.
8. Creating Video To Market Product Across Platforms
When: 2:10 pm, Tuesday, May 8, Track A
The proliferation of video means marketers hear about it everywhere, but how do you develop video content strategies that deliver concrete ROI? Jennifer Anderson, Global Digital Marketing & Social Media Engagement of Sealed Air Corporation, will answer this question to help you help customers through their buying journey with video.
9. It's Personal: Creating Better CRM For B2B Success And Business Value
When: 3:00 pm, Tuesday, May 8

Don't miss top marketing and sales executives including Jason Grizzi, Global Marketing & Sales Enablement Director of Ingersoll Rand, and Heather Bean, Director of Marketing of Guardair Corporation, as they discuss how to implement CRM best practices to provide customers with more personalized, seamless, and engaging experiences.
10. Can Subscriptions Work In Your B2B Marketplace?
When: 4:25 pm, Tuesday, May 8
Join the likes of Michael M. Margolies, VP, Creative Services of Leggett & Platt, for this Beer Bucketed B2B Best Practice Roundtable (say that three times fast!) to brainstorm whether—and how—a subscription model could work in your B2B marketplace.
11. It's Not Just a "Marketing Project": Getting The Entire Organization On-Board With Digital
When: 4:25 pm, Tuesday, May 8
Another Beer Bucketed B2B Best Practice Roundtable, collaborate with top manufacturing marketers like Dana Moeller, Marketing Manager of Curbell Plastics, on how to get your entire organization excited and bought into digital transformation.
12. Staying Up-To-Date On Technology Innovations That Deliver An Immediate ROI
When: 10:40 am, Wednesday, May 9
Separating signal from noise with regard to advancements in technology is increasingly difficult. During this practical session, executives like Nicholas Loeffler, CIO of Addivant, will share their processes for deciphering technology need-to-haves from nice-to-haves when it comes to enhancing customer experience and driving ROI.