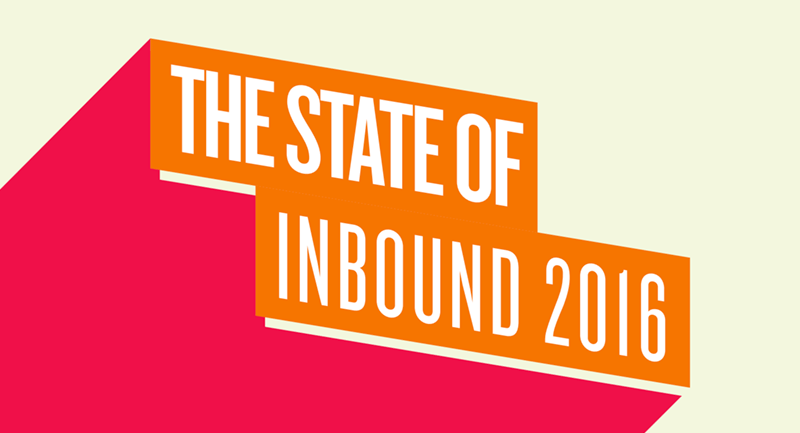 As a bunch of data-obsessed, marketing nerds we get pretty excited when new research is published about inbound marketing, sales, ecommerce, or just about anything related to online marketing for the matter. Today we are extra excited because HubSpot's massive annual research report entitled "The State of Inbound" has just been released to the public.
Internally here at Kula we maintain a repository of current marketing research to help our team stay up-to-date on the latest trends, tactics and strategies in sales and marketing. As we were adding the updated 2016 State of Inbound report to the collection we began to think that we really ought to publish this curated list of top-notch marketing research.
So, without further ado, here are 18 excellent sources of 2016 marketing research that every inbound marketer should bookmark. It should be noted that none of these resources require actual payment, but many of them do require you to opt-in to email communication before accessing the full report.
[ Research published by HubSpot ]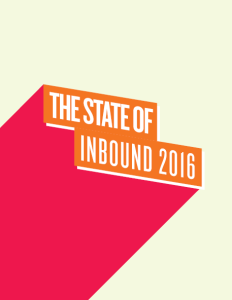 For the last eight years, HubSpot has surveyed thousands of marketers and salespeople around the globe about their challenges, priorities, and strategies. The annual State of Inbound report published by HubSpot is one of the most comprehensive studies in the sales and marketing industry.
This year over 4,500 respondents contributed to the report with the majority of those people being non-HubSpot customers hailing from marketing backgrounds in B2B small and mid-sized businesses. With data collected from all corners of the map, this document represents over 132 countries. A truly global community.
HubSpot has distilled these incredibly diverse insights into a concise overview of the state of the industry and also used emerging trends to make predictions about the future of inbound. So along with the benchmark data you've come to expect from the State of Inbound, this year's report also includes insights about new trends and technologies, too. The 2016 State (and Future) of Inbound holds some of the most informed predictions for the future of marketing and sales you're likely to find.
[ Research published by Percolate ]
Every year, Percolate publishes a list of The 50 Most Important Marketing Charts for CMO's. Last year many of the charts indicated that 2015 would be the year of mobile, as messaging apps exploded and started to converge with social networks. Another standout trend was ad blocking, as software became easily accessible to both desktop and mobile browsers.
This year Percolate undertook their largest study to date, surveying over 300 CMOs and senior marketers about the costs of producing content — and the results show that content costs are on the rise across industries. This year's report includes several new categories including research about creative workflows, customer experience, and streaming media – three things that are of increasing importance to marketers in 2016.
[ Research published by Kleiner Perkins Caufield & Byers ]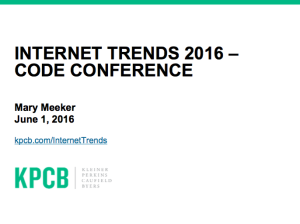 KPCB's Mary Meeker presents the 2016 Internet Trends report, 21 years after the inaugural "The Internet Report" was published in 1995. Similar to year's past, the 2016 edition covers key trends in today's internet growth and provides an in-depth look at key trends in global internet usage.
This year's report includes research about growth global internet usage in specific geographic regions, the state of internet advertising, increasing popularity of ad-blocking, the rapid growth of online-first brands and key trends in digital content production and consumption.
[ Research published by BuzzSumo & HubSpot]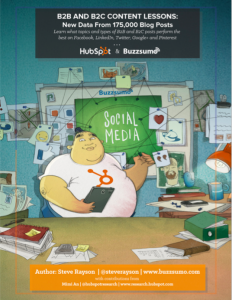 Ever wonder exactly what approach you should take when developing B2B vs B2C content? What types of blog headlines, word count, and topics will get more shares and leads on social? To answer these burning questions, HubSpot Research teamed up with BuzzSumo to dig deep into 175,000 blog posts.
This report breaks down the differences in social shares, content length, performance on social networks, and gives you guidelines on optimizing your own blog posts for the maximum amount of shares per social network. In this free report, you will receive insight into what content does well on Facebook, LinkedIn, Pinterest, Twitter, and Google Plus, as well as examples of top-performing posts on different social networks.
[ Research published by LinkedIn ]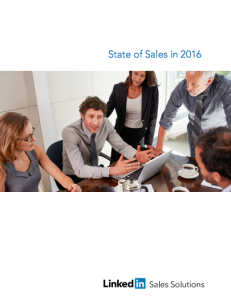 In today's competitive sales environment, sales teams want tools and tactics that give them an edge in closing deals. The "State of Sales in 2016" survey highlights the strategies that sales organizations use to gain deeper insights and build stronger relationships with prospects and customers. Among the key findings, the survey focuses on the value that top-performing salespeople place on sales technology to grow their business and close more deals.
[ Research published by Salesforce ]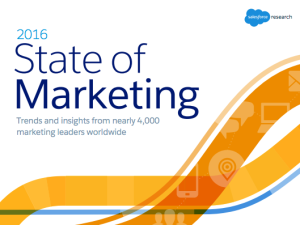 This report includes insights from more than 4,000 marketers worldwide. Detailed in more than 70 pages of insight, this report includes original data about the effectiveness of primary marketing channels including, email, mobile, social, and digital advertising. Furthermore, this report breaks down what high-performing marketing teams are doing to stay ahead and emerging industry shifts, like an increased focus on customer experience, that are changing the role of marketing today.
[ Research published by Content Marketing Institute ]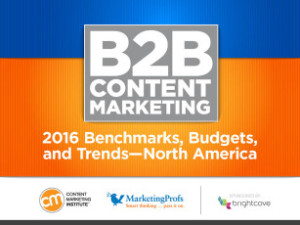 Since 2010, Content Marketing Institute has surveyed thousands of B2B, B2C, and nonprofit marketers to uncover insights about key trends in content marketing. Results from their annual studies have identified differences between effective content marketers and their less effective peers, which tactics are being used most often, which types of content are the most effective and what challenges content marketers are facing the most often.
The research is broken down into several specific versions:
And more!
[ Research published by Curata ]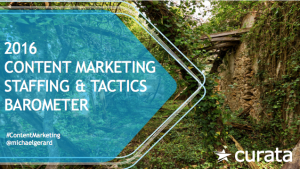 With more than 1,000 marketers contributing to this year's report, the fifth annual Content Marketing Staffing & Tactics Study is more in-depth than ever before.
In this 50+ page guide, you'll learn what how leading content teams are adjusting their strategies for 2016, data reveals the ideal content marketing mix, and the four areas of content strategy that successful marketers are focusing on most closely this year.
[ Research published by Visual Website Optimizer ]
This shopping cart abandonment report, compiled after surveying over 1000 online shoppers, doesn't just answer why cart abandonment takes place, it also explains how marketers can prevent these abandonments from happening in the first place and what they can do to get these hard-earned visitors back on their websites and ultimately 'convert'.
This study asked online shoppers a set of nine questions which uncovered actionable insights that, if used properly, can redeem 'lost sales' by as much as 60% in some cases.
[ Research published by Social Media Examiner ]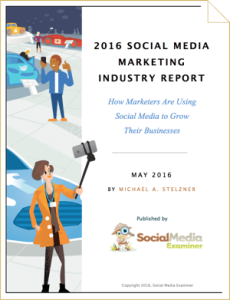 In Social Media Examiner's eighth-annual Social Media Marketing Industry Report, more than 5,000 marketers reveal where they're focusing their social media efforts this year. This report also shows you which social tactics are most effective and how content plays a role in social media marketing.
In this free report, you'll discover how much time marketers are investing in social media activities, the top benefits of social media marketing, the most common forms of content for social media marketing, and more. This report provides actionable and specific insight for B2B and B2C businesses alike. If you're responsible for managing social media marketing your business, you'll want to closely analyze this free 56-page report.
[ Research published by Litmus ]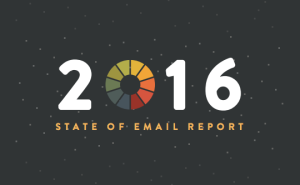 In the annual State of Email Report, Litmus offers the most comprehensive look at the trends that defined email marketing in the past year, and most importantly, equips marketers and designers with the intelligence needed to send more effective email in 2016.
This year, Litmus tracked over 13 billion opens worldwide using email analytics to highlight trends across all industries and verticals. Also profiled are updates to delivery and spam that could impact your campaign results, as well as summaries of all the new email applications and how to optimize for them.
[ Research published by Moz ]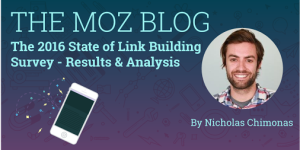 Link building has long been a core pillar of SEO. But with Google's algorithms constantly changing, link building also a bit of a moving target. Rapid change often creates confusion, and there doesn't yet seem to be a strong consensus on how link building teams should be constructed, where they fit in the marketing plan, and how much ought to be invested into link acquisition.
To bring more clarity and transparency to a complicated pillar of SEO, marketing software provider Moz released this comprehensive whitepaper to help sophisticated marketers craft more strategically focused and results oriented link building programs.
[ Research published by Scott Brinker ]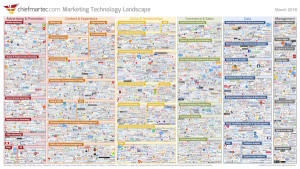 In 2016, technology certainly plays a central role in all effective marketing strategies. From marketing automation to social media monitoring and streaming video to influencer outreach, there has been an absolute explosion of marketing technologies in recent years.
Since technology plays such a critical role in modern marketing strategies it seemed like a natural fit to include The Marketing Technology Supergraphic in our list of excellent research resources. Scott Brinker has been publishing this annual 'supergraphic' of the marketing technology landscape since 2011. The graphic breaks down hundreds of marketing technologies by category to help marketers appreciate the incredible (but complex) assortment of tools at their disposal. While this report doesn't provide an analytical breakdown of the marketing technology landscape it will give you some comfort in visualizing the complex reality of digital marketing in 2016.
[ Research published WordStream ]
Whether you're doing PPC for the first time or you've been at it for a while, it can be difficult to benchmark your success against competitors in your specific industry. Good PPC performance for one industry isn't necessarily good for another.
This research provides detailed PPC benchmarks for dozens of industries so you can better understand what good results really mean in your niche. The data presented in this whitepaper include industry specific benchmark metrics for average cost per click, conversion rates, cost per acquisition and more.
[ Research published by AdRoll ]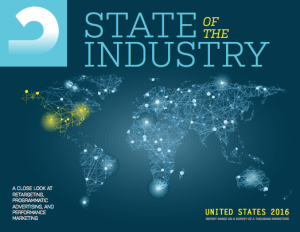 While programmatic advertising is still a relatively new field, adoption has spread widely and the industry is evolving very quickly. AdRoll surveyed 1,050 marketers based in the United States from a variety of industries to uncover how businesses are adopting new marketing opportunities brought about by programmatic advertising.
This report highlights how marketers are allocating budget towards programmatic advertising, why mobile retargeting is on the rise and why multi-touchpoint attribution continues to be such a hot topic.
[ Research published by ConversionXL ]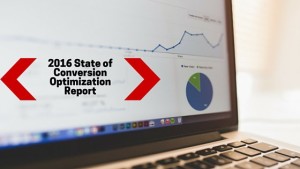 The practice of conversion rate optimization (CRO) continues to show signs of growth and increasing maturity but as the 2016 State of Conversion Optimization Report shows, the field is still a far cry from being mainstream.
The 2016 State of Conversion Optimization Report includes survey results from 722 people who work in the optimization space. Each respondent completed an in-depth 48 question survey, which in aggregate reveals new insights about the state of CRO and how marketers are using conversion optimization to improve the ROI of their marketing efforts. The results of this research highlight that many companies are still operating without a structured testing process, that many optimizers still have very little experience, and that many organizations have allotted little to no budget for CRO.
[ Research published by Demand Gen Report ]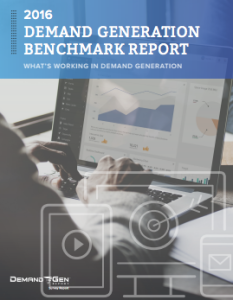 Demand generation budgets will continue their upward trajectory in 2016, with more than two-thirds of marketers expecting an overall budget increase according to respondents to the 2016 Demand Generation Benchmark Report.
As marketing budgets continue to rise across the board, adoption of sophisticated marketing automation tools continues to increase while a focus on lead quality vs quantity remaining to be a priority for many organizations again this year. This report includes responses from 131 marketers within a variety of industries with software / technology and business services / consultants as the top represented verticals. The majority of respondents were from companies with more than $10 million in annual revenue.
[ Research published by Criteo ]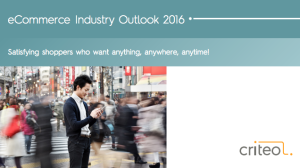 It's safe to predict that 2016 will be another year of rapid change for the eCommerce industry. This year consumers will increasingly shop online via multiple browsing devices, eCommerce competition will continue stiffen, and advertising will become more personalized, relevant and contextual than ever before.
In this whitepaper Criteo's CEO Eric Eichmann explains his predictions for eCommerce in 2016 and provides actionable tips to turn change into opportunity. Throughout the report Eric outlines the seven biggest trends emerging in eCommerce and the implications they will have for your business.
Want to learn more about the State of Inbound Marketing & Sales?
Download a free copy of the newly released State of Inbound 2016 now and get all of the latest research and insight about effective inbound sales and marketing strategies.