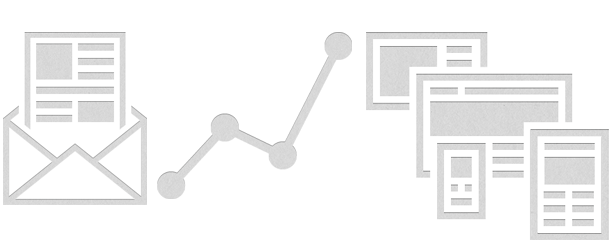 When we talk to marketers we often hear about common challenges– dwindling performance of traditional lead generation methods, difficulty staying on top of the ever-evolving world of online marketing, and measuring marketing ROI. We also see marketers making the same mistakes. These are three online marketing practices need to stop.
1. Purchasing email lists
When tens of thousands of email contacts are only a credit card swipe away it can be tempting to hop on the bandwagon and go purchase an email list. However, purchasing email lists is always a bad idea. Email marketing companies will make it seem like email lists are the best thing since sliced bread, promising high deliverability and data integrity, but this is rarely the case. The reality is that purchased lists are chalked full of bad data, including inaccurate job titles, email addresses and out of date information. Don't spend your time and money chasing contacts that don't exist.
What's worse than an unsolicited cold call? Unsolicited email (also known as spam). Blasting out thousands of non-personalized emails can have a damaging effect on your brand. Email marketing companies will stretch the truth by telling you that these contacts have "opted in" to receiving emails but this is also not the case. These contacts likely have no idea who you are, what your company does or how you got their contact information. This is not a good way to make a first impression.
So what's the solution? Social media has turned email marketing upside down. With the help of sources like Twitter, LinkedIn and blogs you can build a much more accurate profile of your prospects. Do the leg work and build targeted list of key accounts with the proper contacts within each account. Be resourceful and use online sources to confirm your prospects name, job title, role and responsibilities and general interests. Researching each contact can be time consuming but the conversion rates for your prospecting will be significantly higher than spamming a purchased email list.
2. Measuring Vanity Metrics
Vanity metrics are one of the most common mistakes in online marketing. As startup guru Eric Ries points out, "hits" is the most common vanity metric that executives love to toss around. One hit from a million people is much different than a million hits from one person. Vanity metrics commonly measure big numbers like total downloads, users, messages sent or gross sales. While it is important to monitor these metrics, it is nearly impossible to attribute success or failure to one specific cause. When vanity metrics are on the rise everyone will try and take credit, but when they are dwindling, fingers will be pointed in every direction. Actionable metrics are far more informative than vanity metrics. An actionable metric is one that ties specific and repeatable actions to observed results. Actionable metrics are admittedly much harder to identify and measure because they are typically not available in off-the-shelf analytics packages.
In order to build a report of actionable metrics teams will need to conduct A/B testing to refute or confirm hypothesis. When designing tests ask yourself, if this test turns out differently from how I expect, will that cast serious doubts on what I think I know about my customers?" If not, try something bigger.
3. Building websites, not business
One of the most blatant mistakes online marketers make is neglecting to collect visitor information. Websites that fail to collect visitor information do very little to build business. Once you have attracted a potential customer you need to get their information as quickly as possible to keep them in contact with your brand. You don't want potential customers coming to your website and getting away too easily. Far too many businesses lack any form of lead capture on their website. Without any form of lead capture it is extremely difficult to encourage repeat traffic. This is where inbound marketing really kicks off.
In order to incentivise a visitor to give you their contact information you need to give them something in return.  A strategy for inbound marketing should be established before you start building a new website. This way you can design your website around your inbound marketing mousetrap. You can think of your website like the body of a car– it can look great from the outside but without carefully engineered components that have been maintained over time, the body of the car would be worthless on it's own. Well executed business websites have thoughtful architecture that is designed around inbound marketing strategies driven by platforms like HubSpot and maintained by marketers trained in the art of online marketing.
Want to learn more online marketing best practices? Download our Executive's Guide to Inbound Marketing. This educational whitepaper examines how inbound marketing methodology is changing the way businesses attract, convert, close, and delight customers. Learn how successful marketers are using inbound marketing methodology to attract highly qualified sales leads, increase sales conversions, close more deals, and delight their customers.