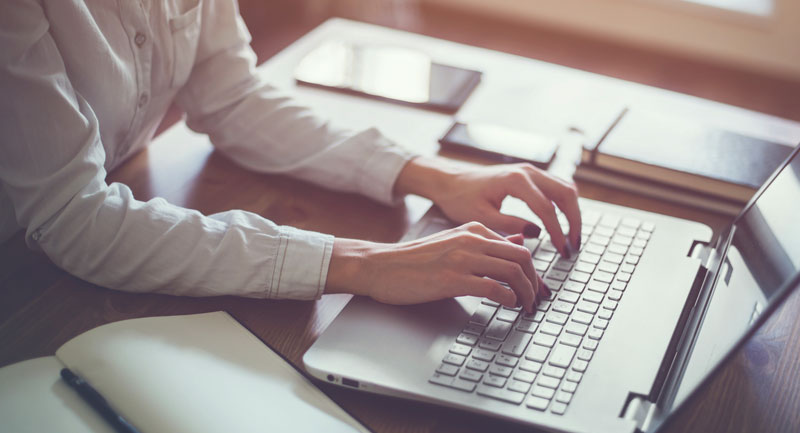 The Internet has fundamentally changed the way people find, discover, share, shop, & connect. To keep pace with these changes marketers are shifting their budgets away from traditional, outbound "interruption" advertising in favor of online, inbound "attraction" based marketing strategies.
Inbound marketing encompasses a wide array of strategies and tactics including social media, conversion optimization, email marketing, search engine optimization, blogging and more. In this post we will be focusing on blogging – one of, if not the most, important components of inbound marketing.

Blogging is the most effective way to increase organic website traffic, generate more leads and close more customers
Your customers begin their buying process online, usually by using a search engine to find something they have questions about. To ensure that these people find your website before your competitor's, or for that matter, find your website at all, you need to create keyword-rich content designed to match your ideal customers common search queries.
The first priority of a business blog is to provide interesting, valuable content to your ideal customers, known more formally as Buyer Personas. Results driven bloggers create content that answers their buyer persona's questions, addresses their common pain points and provides an educational experience. Creating high value, relevant content ensures you are attracting the right type of people to your website.
The second goal of a business blog is to increase your website's organic search rank for targeted keywords. Keywords, or search phrases, are the words that people enter into a search engine to research information about your product or service. When someone searches for information about your industry do you consistently rank in the top three organic listing on Google?
To rank in the top three organic search results you need to strategically pick keywords, analytically optimize your pages, create relevant content, and build links around the terms your ideal buyers are searching for.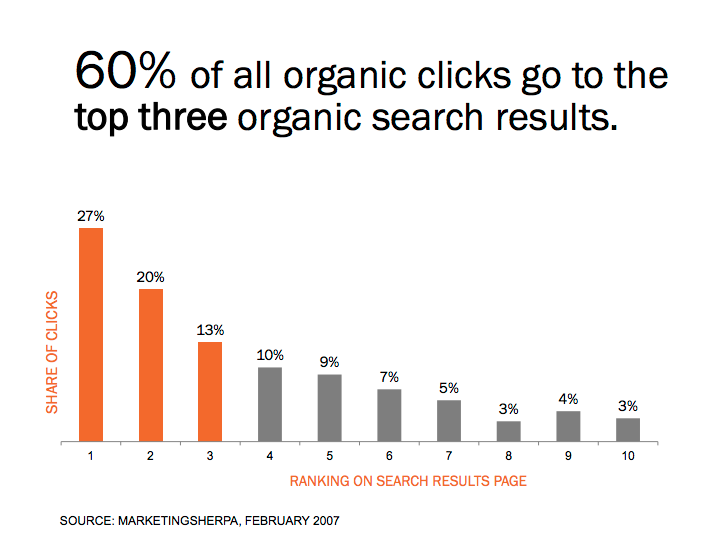 Quick tip: Google's Keyword Planner is a great tool to research keyword search volume and identifying targeted keywords to optimize for.
Blogging is a marathon, not a sprint – Start training now!
Perhaps you dipped your toe into business blogging and got cold feet before your ever gained traction? You are certainly not alone. Blogging tends to be a bit of a slow burn, but the results can grow exponentially if you put in your time. Businesses that blog more than twenty times a month get 5 times more traffic than those who blog less than 4 times per month!
Each blog post lives on it's own unique web page. As you continue to publish new blog content Google's web crawlers will scan your pages for keywords, links and page structure (among other things) and index new pages in their database. In general, the more high quality, properly formatted pages that you publish, the higher your search rank, which in-turn attracts more, high quality leads.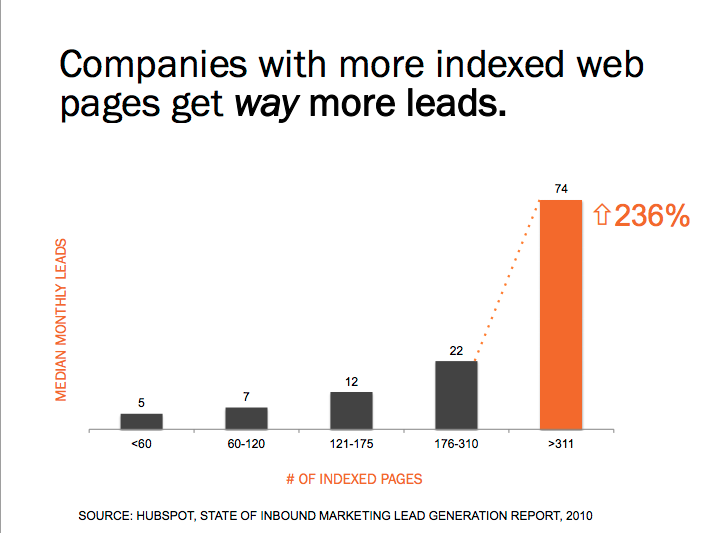 Quick tip: Want to know how many indexed pages your website has? Enter your website URL into http://marketing.grader.com/ and go to the SEO section of the report.
Organizations that blog consistently experience a significant lift in lead generation
If you are just starting a business blog you obviously aren't going to get to 300+ pages overnight, but starting to publish content consistently can drastically increase your online lead generation rather quickly. Typically we suggest publishing 2-3 blog posts each week, with approximately 500-700 words per post.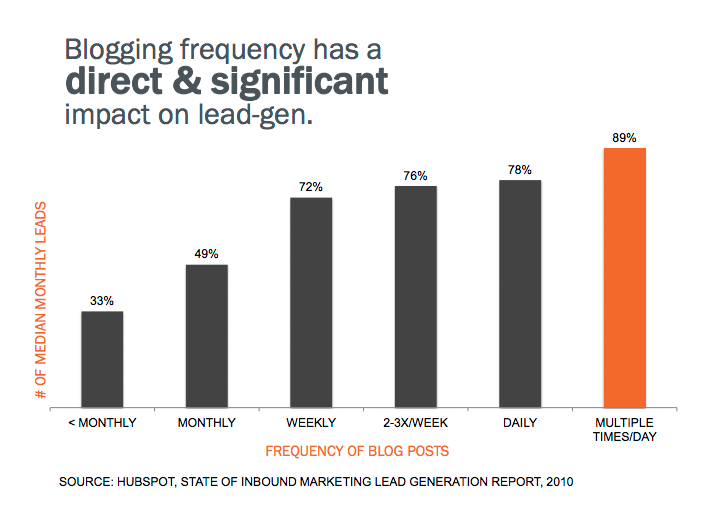 Inbound marketing delivers higher quality leads, at a much lower cost
If you are among the dwindling group of marketers that still focus on outbound marketing strategies you have likely experienced a decrease in email response rates, frustratingly poor results from of cold calling, and immeasurable ROI of traditional ad buys.
From the moment we wake up to the moment we go to bed, we are bombarded with marketing messaging. Our lives have become so oversaturated with advertising and interruption that we have learned to tune out the noise. As a result, the vast majority of investment that goes into outbound marketing falls on deaf ears.
Inbound marketing is just the opposite. Every dollar that is invested can be measured, analyzed and optimized to continually attract more traffic and convert more leads.
People don't mind being sold to, but they want to be sold to at the right time, in the right place, and at their request. Selling to people when they want to be sold to is far more cost effective than trying to interrupt unsuspecting, largely non-targeted groups of people. In fact, inbound marketing costs 61% less per lead than traditional, outbound marketing.

Key Takeaways:
60% of all organic clicks go to the top 3 search results
Businesses that blog more than twenty times a month get 5 times more traffic than those who blog less than 4 times per month!
Blog frequency has a direct and significant impact on lead generation
Inbound marketing delivers higher quality leads, at a much lower cost