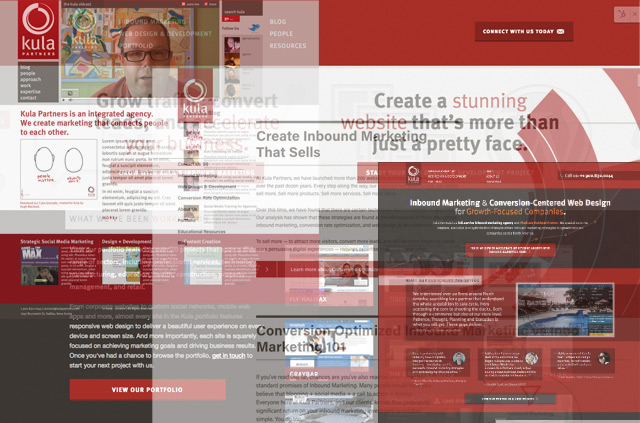 I'll start with a bonus sixth question—should you redesign your website right now? If you're even considering it, the answer is probably "yes". Recent research has shown that most organizations redesign their websites every three years or so.
We've been designing sites for clients at Kula for nearly 14 years now, and one thing that has changed significantly is that nearly all of the sites we create now are redesigns of existing web platforms rather than net new websites. In many cases, we're creating not the first or second version of a site for a client, but the sixth or seventh iteration of what has become the most important marketing tool in an organization's arsenal.
The challenges presented by a site redesign are inherently different than what happens when we undertake a new site design, although some of the steps are consistent between both processes. When building a new site, nearly everything needs to be created from scratch, from the content up. A rebuild, on the other hand, has to take into account the corporate memory, existing design materials, messaging content, and perhaps most importantly, search optimization preservation and improvement.
So, how do you make sure your website redesign is successful? Here are five questions you need to answer before you get started so that you can launch a new site that leapfrogs the old in terms of conversion, lead acquisition, and search.
Is Your Buyer Persona House In Order?
If you've been doing inbound marketing for any length of time, you know what a Buyer Persona is and why you need them for effective conversion. At their core, buyer personas are used to create a fictional representation of your ideal customer. You may have one persona—although in my experience this is pretty unlikely—or you may have several. Some organizations even think that they have dozens of different personas. While this may be possible, it's extremely difficult to manage, especially with a small or medium sized company.
As you create or refine your personas, make sure that you probe deeply into the triggers that cause your personas to initiate the search for your product or solution so that you can provide appropriate responses in your marketing workflows.
Your personas will also help you to develop a search-optimized information architecture or sitemap. Look for opportunities to use the actual terms your personas are searching for in the main and secondary navigation of your site. It will make the site more easily scannable when someone lands there via search or other means, and will signal to search engines that these are important topics for your organization. It's much better than burying your entire offering under a nav item called 'Products and Services'.
Should You Use Growth Driven Design Or A Full Rebuild?
Growth Driven Design (GDD) is a relatively new term coined by HubSpot to describe an iterative design process that sees a website build happen in stages, beginning with a launch pad site. It's essentially the 'minimum viable product' methodology applied to websites. It involves repurposing as much content as possible, and transitioning the site design in stages with the most important pages being the first to be converted to the new look and feel.
This fits with agile project management methodology, where the goal is to frequently release complete components of work that can stand on their own. The advantage of a GDD approach is that once a piece of the site has been deployed, you can immediately begin learning from its analytics, allowing for more frequent iteration and conversion rate improvement. GDD is especially useful when the old site has no conversion opportunities (save a contact form). The faster you're able to stand up a site with real content and real CTAs, the quicker you'll be able to start collecting leads and learning about the browsing and conversion habits of your audience.
The alternative is to complete a more traditional rebuild; one that requires that all content, functionality, and pages are finished before going live. This can be a more time-consuming endeavour, but allows you to more fully focus on the site design and content, ensuring that everything meets the needs of all stakeholders before putting the site live.
Both types of site builds will require a commitment of time from various members of a client team to approve or create content, but the latter option is much more intense and will take longer to launch and begin achieving results. No matter which process works better for you, once the site or any component of it is live, it's important to monitor your conversion and traffic acquisition data so that you can make improvements.
How Will You Use Existing Content?
As noted above, repurposing existing content can be one of the most effective strategies you can use to save time on a website redesign project. In many cases, as long as the content is not factually incorrect, it can be reused in an updated and intuitive layout. The goal with a GDD approach (and even sometimes with a traditional website rebuild) is to repurpose the old content in order to get a better converting site design live, and then figure out what content to rewrite first. Prioritize pages with the most potential for conversion (these may or may not be your most trafficked pages), but be careful to consider the current search ranking of those pages before making major revisions. You don't want to inadvertently wipe out content that was helping you rank for important terms.
Additionally, there are many forms of non-written content required during a site build including (but not limited to) photography, illustration, audio, and video. Repurposing this content can also save time in getting a new site launched, but having any original source files on hand can save time if images need to be scaled up to fit a new site layout, for example. In many cases, if your new website will use the same Content Management System as the old, you may be able to maintain access to any images, icons, infographics, or photos in the content of your site.
Which Content Management System Is Best For You?
There are probably more content management systems in the world than word processing apps, but that doesn't mean you should obsess too much over this decision. If your current site was built in the last five year, there's at least a good chance that you're using WordPress. It's the world's most common CMS, and it powers nearly a third of the sites on the web. It's relatively easy to use, integrates nicely with HubSpot and many other marketing automation platforms, and just about every web development agency worth their salt can help you with updates to the backend or templates.
But, that ubiquity has also made WordPress a target for hackers and other miscreants. If you're going to use WordPress, it's absolutely essential that the site and all of your plugins are kept completely up to date to maintain your site's security and search ranking. Choose a quality hosting provider than mandates frequent updates (or, better yet, implements the updates for you) and tests the site to ensure that it's still working the way you expect.
Despite this, WordPress is far and away the king of the open source CMS platforms. Drupal, Joomla, and others are far behind in terms of implementation (it should be noted that these platforms also need to be kept completely up to date). WordPress' ease of use and flexibility has played a large part in its preferential adoption numbers.
Of course, there are also closed source content management systems worth considering. Most 'enterprise' CMS platforms are difficult to customize and make it very hard to iterate marketing content quickly. They also tend to have user interfaces that are still stuck in the 90s, making it a chore to update even the most routine content.
If the primary goal of your site is as a mechanism for converting leads, WordPress is excellent—but getting to the next level of lead nurturing can be assisted by a CMS like HubSpot's COS. Dubbed the Content Optimization System, it makes it easy to tailor smart content to each site visitor based on where they are in the buyer's journey. The COS displays content very quickly and never needs to be updated, unlike WordPress, meaning your site is always secure and on the most recent version. It's not the best tool for a large scale integrated web presence that links deeply into an ERP or ecommerce system, but it makes conversion-optimized inbound marketing and site content updates a joy to complete and implement.
Should You Consider A Mobile-First Approach?
Go ahead and log in to your Google Analytics account. I'll wait. Load the Audiences section and click on Mobile: Overview. If your site is like most other sites on the internet, chances are good that a large percentage of your traffic is now coming from mobile devices. Some of Kula's clients see half to three quarters of their traffic arriving via mobile, not including tablets. Desktop and laptop-based traffic is seriously on the decline.
Think back to the personas we discussed at the start of this post. In addition to marketing triggers and objections that these potential buyers might have, consider how these users are most likely to visit your site. What is the context of their visit? Are they more likely to be viewing the site on a phone than a laptop? Once you've confirmed your historic traffic numbers from portable devices, you'll be armed with most of the data you'll need to decide if you should start with the design of your mobile site first.
In the recent redesign our firm undertook of RideTime's website, we decided to start the interface design process at the mobile device. We knew from analytics and our persona research that the majority of our traffic was coming from mobile devices, and that our ideal buyers were in a younger demographic that tended to mainly use the web on their phones. As such, maximizing the accessibility of the site on mobile was our core design priority. This is a great example of using persona information and current traffic analysis to make informed UX decisions.
With a significantly smaller screen, it's necessary to make smart choices around what to show on screen at any given time. Interactions need to be simpler, there's a greater propensity for scrolling, and driving users to the CTA or action we want them to take needs to be considered in the context of their use (are they walking? On a bus?). It's a very different engagement environment than what someone sitting at a table with a laptop experiences.
Putting It All Together
Redesigning a website is a complex undertaking as it is. Make it easier on yourself by making a number of important decisions before you get started. Knowing your target personas will help you tailor the messaging, conversion opportunities, and interface design to these specific people or groups.
Deciding to use a Growth Driven Design process will help you get a conversion-focused site live sooner, but may require you to simplify your initial launch site while you get your content plan together.
Try to repurpose as much of your existing content as possible and recognize just how much effort will be required to create new written or visual content.
Choose your Content Management System wisely, as you'll have it in place for a number of years. Don't make this decision based on corporate IT requirements, but on ease of use and appropriateness of the platform for your needs as a marketer looking for conversions.
Lastly, use your personas and analytics data to decide if you should start with a mobile-first design strategy and scale up to larger screen sizes.