"Over the past five years, we've witnessed a tectonic shift in how people work and live, and marketers have started to adapt. Engaging consumers is no longer about pushing out interruptive messages. It's about connecting with people in the places and on the devices they prefer. It's about integrating content and context for a richer, relevant, and personalized experience, from the time someone first hears about your brand to the point they're buying your product and telling their friends about it. It's about creating marketing people love: inbound marketing." Mike Volpe, CMO, HubSpot.
HubSpot's 2013 State of Inbound Marketing report revealed some amazing statistics about the growth of inbound marketing. Marketers from all industries, businesses models and company sizes are using inbound marketing to attract, convert, and close new customers. In 2013 60% of companies utilized some element of the inbound marketing methodology and 53% of CEOs/CMOs increased their inbound marketing budgets.
WIth 2014 just around the corner it's time to start planning for the new year! Here are five reasons why inbound marketing should play a big part in next year's plan:
1. Inbound marketing is less expensive
The goal of inbound marketing is to attract relevant prospects who are using the internet to learn about products and services. Traditional outbound methods like cold calling and direct mail are interruption based approaches to marketing wherein businesses push their messages to prospects. Organizations that focus on inbound marketing experience a 61% lower cost per lead than organizations that predominantly leverage outbound marketing.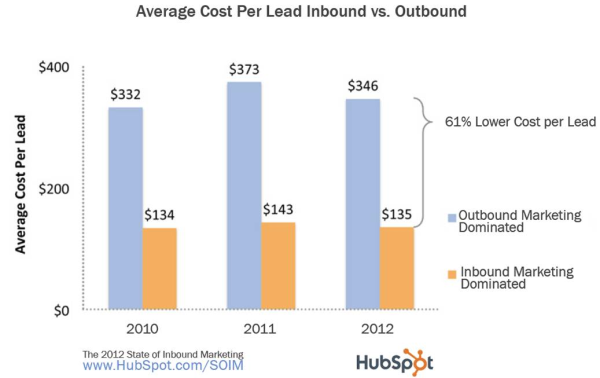 The survey also asked participants to classify the cost of their lead generation activities. Once again, inbound marketing came out on top. Blogging ranked as the most cost effective lead generation method while outbound methods like trade shows, telemarketing and direct mail ranked as the most expensive methods of lead generation.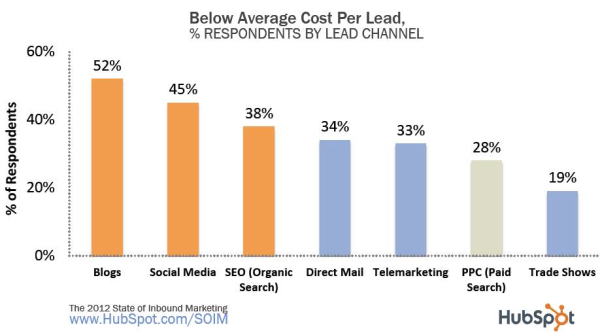 2. Inbound marketing is more effective
Based on results provided by over 3,300 executives, the 2013 State of Inbound Marketing reveals that inbound marketing delivers 54% more leads into the marketing funnel than traditional outbound approaches. Additionally, these inbound leads provide a superior cost-per-lead and cost-per-acquisition. On average, inbound marketers spend 13% less to acquire a new lead.
3. Inbound marketing produces measurable ROI
Unlike traditional outbound marketing methods, inbound marketing efforts can easily be measured. With the help of powerful software like HubSpot, marketers can measure the performance of every piece of content from social media posts to whitepapers and landing pages. These metrics enable marketers to gain real-time insight and make data-driven decisions to improve marketing programs.
4. Inbound marketing is an annuity
Outbound techniques like print ads or cold calls only produce results for a short window of time. Once the ad is out of circulation or you stop calling people, the results come to a hault. With inbound marketing, every piece of content you create will continuously produce results. Blog posts, whitepapers, videos, and every piece of content you publish becomes indexed and findable by Google. Over time, visitors will continue to find your content and convert on your offers. The more content you create, the more opportunities there are for visitors to find you, visit your website and enter your funnel.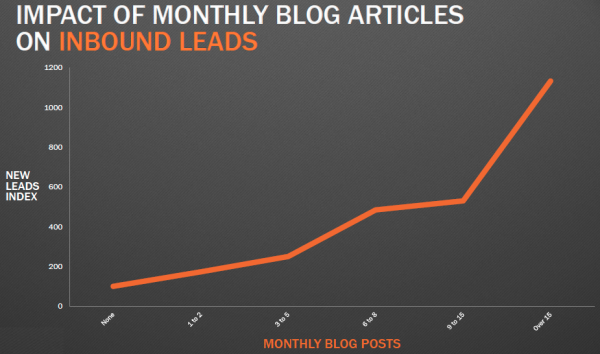 5. Inbound marketing is not an option
B2B companies have embraced inbound marketing. In fact, 65% of B2B companies have implemented inbound practices and in 2013 marketers allocated 34% of their overall budgets to inbound tactics — 11% more than they dedicated to outbound strategies. Outbound tactics are becoming less effective and more expensive as people continue to be bombarded with thousands of marketing messages everyday. Without an investment in inbound marketing you are simply putting yourself at a disadvantage.
Want to learn more about how blogging can help grow your business? Download our Executive's Guide to Inbound Marketing. This educational whitepaper examines how inbound marketing methodology is changing the way businesses attract, convert, close, and delight customers. Learn how successful marketers are using inbound marketing methodology to attract highly qualified sales leads, increase sales conversions, close more deals, and delight their customers.