As a HubSpot Certified Agency Partner we frequently write guest blog posts that are published on the HubSpot blog. This post originally appeared on The HubSpot Insiders blog, a section of the Inbound Hub.
—
Unless you are a red carpet celebrity or a mega brand, creating a Twitter profile is certainly not a case of "build it and they will come". Organically attracting a large following on social media tends to be a bit of a slow burn.
There has been a lot of talk lately within the startup marketing community about "Growth Hacking". As Twitter Product Manager Paul Rosania describes it, the job of a growth hacker is to try "a lot of ideas, ruthlessly optimizing successes and quickly discarding dead ends." There is no one thing they do to achieve growth.
The "growth hacker" mindset is very applicable to inbound marketing. There are a number of growth-hacking tactics that can help to supplement the organic growth of your Twitter following with periods of accelerated, yet targeted growth.
The tips and tricks outlined in this post will not only help you accelerate the growth of your Twitter following, but help you identify the Twitter users that matter the most for your business.
1) Create Targeted Lists of Twitter Users
One of the lesser-known features of Twitter is the ability to add people to "lists". Lists are essentially a way to curate targeted groups of Twitter users. Apart from the ability to distill a relevant stream of Twitter conversations, adding people to lists is an effective way to grow your Twitter following.
If you have ever been added to a Twitter list you may recall receiving a push notification or email:
Browser notification:

Mobile Notification: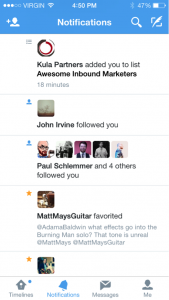 You can think of these notifications as a nice soft touch point that lets people know that you are interested in what they have to say and that you might have content that speaks to their interests.
Adding people to lists one-by-one is tedious. To make this strategy scalable you will need to use a Twitter list building application. There are a number of startups building applications that allow you to search for users based on bio keywords, location and minimum / maximum follower count.
Twitter allows you to create up to 50 lists, containing a maximum of 5000 users per list. While this technique is still a relatively new strategy, marketers have reported conversion rates of 0.5-1%. That means if you execute the strategy well, you could easily attract hundreds, if not thousands of targeted followers.
2) Follow Your Competitors' Followers
While this technique almost seems too simple to mention, sometimes it is the simple techniques that prove most successful.
Businesses from nearly every product and service category are successful using Twitter to build communities of like-minded people. Chances are your competitors and even tangential product and service providers are active on Twitter. If you have properly defined your buyer personas you should be able to identify the Twitter accounts that your buyer personas follow.
For instance, if you sell water ski and wakeboard gear your buyers likely follow other similar Twitter accounts. These might include the Twitter accounts of your direct competitors, powerboat manufactures, popular athletes or extreme sports lifestyle brands.
If your competitors have built a following on social media there is a good chance those same followers might be interested in following you as well.
Go to competitor Twitter profiles and click on "Followers", from there you can quickly scan through the list of people who follow your competitor's Twitter account. Read peoples Twitter bios and look for the characteristics that identify your ideal buyers. These characteristics might include things like job titles, interests or geographic location. Following or engaging with these twitter accounts is a easy way to harvest your competitors most qualified Twitter followers.
3) Favorite Relevant Tweets
Similar to how adding people to Twitter lists sends a push notifications and/or email, favoriting relevant tweets also sends a notifications. Favoriting tweets is simply another method of sending soft touch points to targeted Twitter users.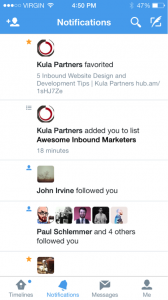 Growth hacking tactics tend to stir up debate over quality vs. quantity, automation vs. personalization, engagement vs. self-promotion. The bottom line is that you need focus on highly targeted and strategic actions rather than using these tactics in a spammy way. Automation can help, but you need to keep a close eye on quality control.
4) Manage Your Twitter Community
Some of the growth hacking tactics we have suggested involved binging and purging followers. For instance, if you create a targeted Twitter list you may want to try and follow all of the people on the list with the hope of receiving a follow back. The same applies to the harvesting your competitors' followers, some people will follow you back but a large percentage won't.
Twitter allows you to follow up to 1000 people a day as long as you stay within a 2:1 ratio of following-to-followers. If you are aggressive with these tactics, which you should be, your ratio can get a little out of sync.
Community management tools like ManageFlitter, JustUnfollow and Unfollowers are very helpful in identifying which accounts have followed you back, who is not following you and managing your following-to-followers ratio.
5) Integrate Twitter Into Your Landing Pages
If you are already focused on driving website traffic to landing pages you may want to test adding Twitter Users Name as a field on your landing page forms. Following and engaging with the leads that have converted on your landing pages is a great way to bring a more sales focused approach to your social media efforts.
Another way to integrate Twitter into your conversion process is to allow visitors to access your exclusive content by "paying with a tweet". Sometimes people just don't feel comfortable giving you their contact information or they would simply rather Tweet a link to access your content than give up their email address or phone number.
As HubSpot recently explained, Pay With a Tweet is a nifty startup that offers a "social payment system" that essentially allows website visitors to access your exclusive content without having to "pay" for it by giving up any personal information on a form – all they have to do is share it with their own networks on Facebook, Twitter, LinkedIn or Xing to access the content.
6) Incorporate "Click to Tweet" Links Into Your Content
Another simple way to increase your Twitter engagement is to incorporate tweetable quotes and stats in your blog posts or website content. Click to Tweet is a simple application for creating tweetable links without any need for custom code or integration.
Here are a few examples of links that have been created with Click to Tweet:
Check out these 6 Simple #GrowthHacking Tricks & Tips to Grow Your Twitter Following [Source: @HubSpot Author: @KulaPartners] (Click to Tweet!)
Companies that use Twitter average 2x more leads than those that don't. (Click to Tweet!)
While the debate about the definition of "growth hacking" is far from over, I think Paul Rosania's explanation of the growth hacker mentality is bang on – Try a lot of ideas, ruthlessly optimize success and quickly discard dead ends.
Just like any other strategy, the 6 tips and tricks we have provided may not work for every business but you won't know what works best for you and what doesn't work until you give it a try.
As always, I would love to hear your feedback about these tactics in the comments section below!