It's an exciting time to be involved in inbound marketing. With the adoption of mobile devices, proliferation of social media and ever evolving consumer behaviour, the role of the modern marketer is constantly changing. With working in such a rapidly changing space comes a number of exciting opportunities and challenges.
As we look forth to 2014 there are some notable emerging trends that have the potential to have a significant impact on inbound marketing. While some might argue it is impossible to predict the future, we're going to give it a shot anyway. Here is a list of the 8 trends that we feel have potential to change the face of inbound marketing in 2014.
1. 'Context' will become the biggest inbound marketing trend
You may have noticed a lot of buzz about contextual marketing. The rise of the term "context marketing" has largely been spurred by the launch of HubSpot's Content Optimization System (COS). The COS is part content management system, part personalization system. COS essentially enables marketers to serve targeted content based on a website visitor's lifecycle stage and previous engagement with marketing content. If you believe that content is king, well, context is essentially the kingdom.
This is no doubt that contextual marketing capabilities will revolutionizing the way marketers deliver a seamless customer experience. HubSpot's COS is simply a glimpse into the future of website user experience. In 2014 we expect to see competitive product offerings go head-to-head with HubSpot's COS, bringing contextual marketing to the mainstream and redefining personalized website user experience.
2. The expectation for quality content will reach a new level
No matter what product or service you are marketing, your content is constantly competing for readers attention against the rest of the internet – Huffington Post, YouTube, BuzzFeed are only a click away.
With over 92,000 new articles posted on the internet every day, it's no longer enough to post content to your site on a regular basis and expect to see quality results. Most organizations simply can't compete based on sheer volume. In 2014 we expect to see a shift towards higher value, more strategic content.
Producing high value content begins with a solid content strategy, including:
3. Inbound marketing will become ubiquitous in almost every vertical
HubSpot's 2013 state of inbound marketing highlights the fact that inbound marketing now reaches nearly every major industry. Further, Marketing Prof's annual report notes that 93% of B2B marketers engage in some form of content marketing.
In 2013 inbound marketing approached the tipping point of ubiquity in almost every major industry. The debate on whether or not to invest in inbound marketing feels an awful lot like the decision organizations faced a decade ago when they questioned whether they needed a website or not. No need to explain the verdict of that debate.
In 2014, inbound marketing is no longer an option, it is required to remain competitive. If you're still not convinced, ask yourself what you would do if your direct competitor implemented a results driven inbound marketing strategy, because if they haven't done so already, it's likely in the works.
4. Determining the key metrics to measure success will be more important than ever
In the past marketers measured the success of their content based on a few high level metrics like website traffic or page views. These metrics provide valuable insight, but they can often be misleading. One hit from a million people is much different than a million hits from one person.
With independent marketing applications for publishing, optimization and measurement there's certainly no shortage of metrics available to be analyzed. For some, the wealth of marketing data can be overwhelming to deal with.
To avoid 'paralysis by analysis' marketers need to hone in on a small selection of key performance indicators (KPIs). These KPIs are determined based on an organization's content goals and ultimately their business objectives. Is the goal to attract more website visitors, convert more leads, or maintain an engaged community? The answer is often a combination of all three, nonetheless, KPIs need to be identified early and measured often. Selecting proper KPIs is one of the most crucial steps towards measuring inbound marketing ROI.
5. Mobile use will surpass desktop and tablets
During 2014 we will mark two significant milestones in the evolution of consumer technology and access to the internet:
The number of mobile devices is predicted to exceed the number of desktops and laptops
Mobile devices will become the primary device for internet consumption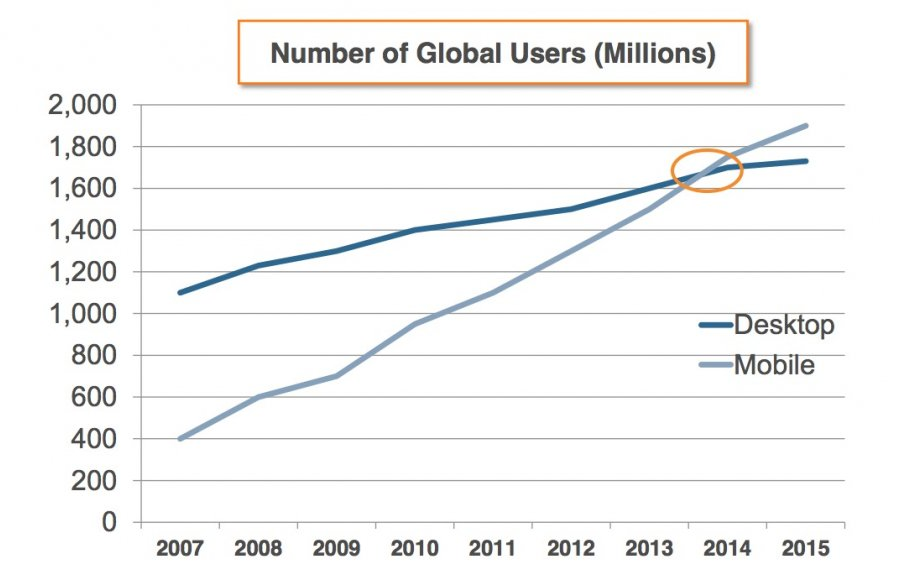 The importance of delivering a web experience that can be viewed across any screen size has never been more evident. In 2014, organizations that have not optimized their websites for viewing on mobile devices will simply be losing customers at the doorstep.
Leveraging responsive web design, marketers can deliver websites that can reconfigure themselves according to the screen size of the device the visitor is using. This allows for consistent experience across a wide range of devices, making websites much more productive and profitable.
6. New Social Media Landscape
2013 brought notable fragmentation in the social space. Typically organizations have focused their social media efforts on the big social networks – Facebook, Twitter, LinkedIn, and Google+.
In 2013 Facebook lost popularity amongst teenagers as they flocked to SnapChat. Meanwhile, Google+ gained popularity thanks to an update to YouTube's commenting system. Instagram, Pinterest, SnapChat and Vine all emerged as big players in social media and marketers are taking note.
Given the ongoing evolution and growth of social media, trying to be active on every social channel leads to a lot of wasted time and resources. It is increasingly important to understand where your ideal customers hang out online, how they like to communicate, what types of questions they have.
7. Agile marketing will spread from startups to the enterprise
Within the startup community there has been a lot of talk about the rise of agile marketing – a management approach that adapts agile software development methodologies to marketing projects.
If you have ever worked in a large organization you are likely well aware of the inefficiencies that often plague the corporate environment. Fighting for budget, getting approval and navigating bureaucracy can turn two month timelines into a 12 month battle. Marketers working on one year "plans" can't keep up in todays fast paced world.
Agile marketing methodology supports ongoing conversion optimization, flexibility and favors iteration over big-bang campaigns. At it's core, agile marketing is about eliminating waste by shortening the cycle time between idea and implementation. This is done through validated learning designed to quickly improve marketing efforts based on real world results.
8. Rise of the short video
In 2013, we saw Instagram play to the rising trend of mobile video. All indications point to 2014 being a year dominated by online video. Short form video can be an effective way to communicate the values of your product or service while giving the viewers an engaging sense of your brand. "Video engages in a way that other forms of media simply can't", Dharmesh Shah, CTO and Co-Founder, HubSpot.
When we talk to clients about their plans for 2014, video is consistently coming up as a priority for the new year. One of our favourite organizations doing an amazing job with online video content is Charity Water. Check out their site to get some inspiration.
As we have seen in numerous cases over the past few years, trends that start in the B2C space quickly influence B2B marketing. B2B inbound marketers looking to dip their toe in the video water can start relatively easily by recording webinars, interviews with industry thought leaders, or creating "How To" videos.
Want to learn more about how inbound marketing can grow your business?
Download our Executive's Guide to Inbound Marketing. This educational whitepaper examines how successful marketers are using inbound marketing methodology to attract highly qualified sales leads, increase sales conversions, close more deals, and delight their customers.