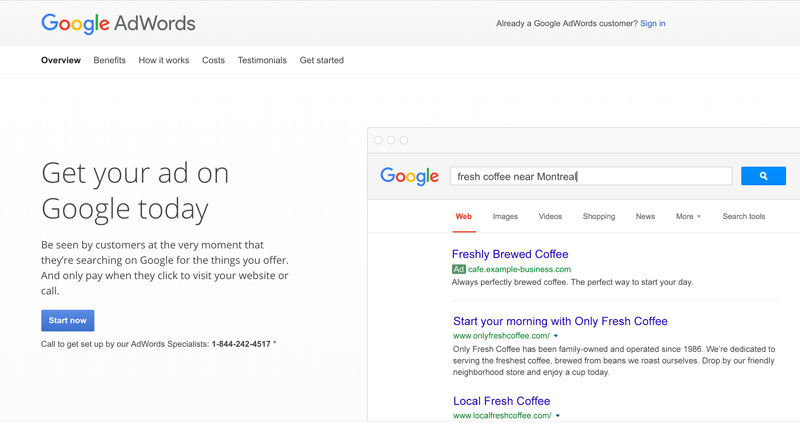 Google recently held their annual Performance Summit to talk about new releases to their Adwords and Analytics toolsets. Although many people think of Google as primarily a search company, with a bent for innovative products like Google Glass or the Android mobile operating system Google is, at its core, the king of ad technology.
As they mentioned numerous times throughout the keynote, some of the things that were released during the presentation could only be created by them. For example, only Google has the data and the horsepower to analyze the data from over a trillion searches per year, and only Google has the mobile device footprint to measure how we use our smartphones, where we go, and what we buy. It's a tremendous amount of data and, even if it does sometimes sound a bit creepy, Google has figured out how to help consumers (and hence, advertisers) get to what they're looking for quicker and easier—with more confidence in the results than almost any other technology company.
All inbound marketers know that gone are the days when winning at search marketing was as simple as stuffing keywords into a web page. We now rely on our devices to know not only what we're searching for, but to also understand the context of those searches and our intent when we're searching. Since over half of all search queries now come from mobile devices, it's more important than ever to ensure that the ads and content we're serving to our potential customers are relevant, timely, and helpful. Context and intent were one of the biggest themes that ran through the keynote.
Inbound marketers using HubSpot and the associated COS platform have known for a while how important it is to surface Smart Content to site visitors. We want to serve up content that knows where the user is coming from, what device they're using, and whether they've been to the site before, so we can customize their experience and guide them to the content that helps them along their buyer's journey.
The other thing that inbound-focused marketers also know is that pay-per-click ads work well as part of an overall inbound marketing strategy. Highly targeted search-based ads are only seen when someone is looking for what you're selling and, as such, you only pay when they click on your ad and visit your site. In fact, our agency has regularly seen that visitors coming to our client sites via PPC channels often convert at more than double the rate of those arriving via organic search results. So, let's get into some of the coming changes to the AdWords and Analytics platforms that will help marketers get better results via paid search.
1) Google will now allow much longer text in ad titles and descriptions
Over the past year, Google has been making some changes to the way that search results pages (SERPs) are displayed on desktop and on mobile. For example, the sidebar ad block on desktop browsers was removed in 2015, so that the experience would more closely mirror the layout of mobile ads.
More recently, Google has been testing the length of text in mobile ads, as they found that users on mobile devices were looking for additional context on mobile and advertisers needed a bit more space to explain their product or service. The longer ads drove a 20% higher click through rate than shorter ads, so Google is increasing the length of all Adwords ads by 50%.
You'll now have even more characters with which to write (and test!) both headlines and descriptions for AdWords. This is great news, especially if you've often bumped into the character limit while trying to write compelling ad copy. Obviously, marketers should continue to test ad copy to see what drives the best results, but it's nice to have an opportunity to try out different options.
2) The formatting of Google Display ads is becoming more automated
While we don't often recommend display advertising for our inbound clients, there's no question that display advertising in the context of remarketing can be very valuable for some companies. Traditional display advertising is expensive, with very poor click through rates and a far lower ROI than PPC. However, if you are doing remarketing via the Google Display Network, one of the biggest pain points with display advertising is the requirement to prepare ad creative in every possible format to ensure it looks its best on every device.
In the future, advertisers will be able to simply supply Google with an image, a headline, body copy, and a target URL. Google will do the rest. The ad will be reformatted to the appropriate size, with text and image scaling that match the visitor's device and context. As a designer, it makes me cringe a bit to lose control over the precise formatting of these ads—but, with the right image and a well crafted-headline, this could save marketers a good deal of time.
3) Individual bids can now be adjusted for each device
This is something that PPC managers have been requesting for a long time, and the announcement garnered one of the biggest rounds of applause of the entire keynote (marketers sure are a nerdy bunch). When PPC for mobile devices was initially introduced, it was very simple—mobile ads were less expensive versions of desktop browser ads, and desktop ads were the core focus for most marketers. Now that mobile search has overtaken desktop search, a more sophisticated system is required to be able to make intelligent bids on ads, depending on platform.
You'll now be able to choose your best-performing device—whether that's desktop, mobile, or tablet—make your bid, and then adjust that bid by up to 900% in either direction for the other devices. On top of that, you'll be able to serve different creative to each device so that you can take advantage of the context and intent of the user.
4) Location-based search queries dominate mobile device usage
When smartphone users pull their phone out of their pocket and conduct a mobile Google search, they're usually looking for location-based information. In fact, location-based searches are growing at a higher rate than any other type of search. You may be looking for a restaurant near your hotel when travelling, a gas station while driving, or the best place to grab a cup of coffee for a meeting.
Google also knows that we still mainly purchase goods at a physical store. In fact, 90% of purchases are made in person—so even though we may be doing our research online, we still prefer to touch a product before we fork over the cash. As noted above, Google is also the only company that can track when a mobile device that was used for a location search shows up in a store.
So, think about how you might utilize the buyer's context in a B2C relationship when writing ads for mobile users—there's a good chance that, with the right compelling offer, they may show up in person to make a purchase.
5) Closed-loop analytics are coming to in-store visits
As an extension to point #4, Google is now able to use its vast mapping database of outdoor and indoor locations to know exactly who has visited a location (and who hasn't). They are also adding beacon technology to select retailers to be able to track users even more closely. Sure, this technology will initially be limited to a few select organizations due to the scale required, but it is certainly something all advertisers should watch for in the future. As inbound marketers know, there's nothing more important than being able to show exactly what content, ad, or campaign brought in results, and this is the next step on that journey for PPC ad buyers.
6) New opportunities for targeting expanded audiences are around the bend
Google's immense data set and ad network allow it to have an incredibly detailed sense of not only who is searching for what content, but also where they go on the web in general. As such, they're able to suggest potential audiences for advertisers that have a similar profile to the one you're already targeting, allowing you to expand your ad reach in a very targeted way.
Perhaps even more exciting is the ability to serve demographically targeted ads to searchers based on age, gender, and more. If your product is primarily intended for retired people over 65, there's next to no point in surfacing an ad for it to millennials. This allows your spend to be even more directly focused on your core buyer, increasing your effectiveness and improving ROI.
7) The AdWords dashboard has been improved immensely
Any marketer who has spent time in the AdWords dashboard knows just how difficult it can be to navigate. Even worse, it's nearly impossible to glean insights about the performance of your campaigns from a quick glance at the tool. The new AdWords dashboard has been designed to provide an excellent overview of the performance of your ad program, and it breaks down the information according to device, platform, demographics, and more.
In addition, they've made the creation of ads both more simple and more robust. In the past, there's been a high 'tax' for users who don't understand the AdWords interface and end up spending more than they wanted to on the wrong ads and audience. In keeping with the focus on context and intent, you'll now be able to have the resulting clickthrough on an ad do more than simply go to a web page. You can have the result of a tap or click on your ad do any of the following:
Start a phone call
Provide directions to a location
Buy the product directly online
Install an app
Interact with an app that's already on your phone, or
Express interest on your website (which I assume means to link through to your site)
All of these interactions take advantage of the device user's context and intent, and surface an appropriate action to the visitor. Although we as marketers may want to be able to control how our audience perceives everything about us by forcing them to visit our web presence, there's a good chance that we can be more helpful to them by making it easier to do business with us via the channels they prefer.
8) Data Studio 360 Analytics Reporting
While most of this post (and the majority of the Google keynote) focused on the ad products they offer, the other major announcement was the release of the new enterprise-level Analytics product. While this version of Analytics is aimed squarely at the large enterprise market (with a price tag to match), there are a number of features that may make it worthwhile to mid-market inbound marketers as well.
The good news is that there will be a free version of the reporting tool, allowing marketers to quickly and easily build up to five live reports, leveraging the 360° analytics now available in Google's latest platform. Creating custom reports in Analytics can be daunting, so this is a welcome product announcement. I'm certain that as adoption of this new platform grows, the best features will begin to trickle down to make it affordable to mere mortal marketers.
Wrapping up
With this series of announcements, Google has clearly staked out its territory and dominance in the ad technology space even further than before. It shows that the search giant is intent on making it even easier to target potential customers with ads that are relevant, anticipated, and desirable for visitors looking to accomplish a specific goal as part of their buyer's journey.
Inbound marketers will likely find tremendous value in the new contextually-aware advertising products from Google. Being able to customize the experience of your potential site visitors before they even arrive at your site, combined with more precise bidding and tracking tools and ways of expanding your reach to a targeted audience will be a boon for smart marketers. As noted earlier in this post, we've found that paid sources tend to convert at double the rate of organic channels, and these new ad tools could help drive a significant return on your marketing investment.
Google has said that the roll out for the new platforms will be taking place in the coming months and (for some of the tools) into 2017. We can't wait to give some of these new tools a spin—what are you most excited about from the Google Performance Summit keynote product releases?