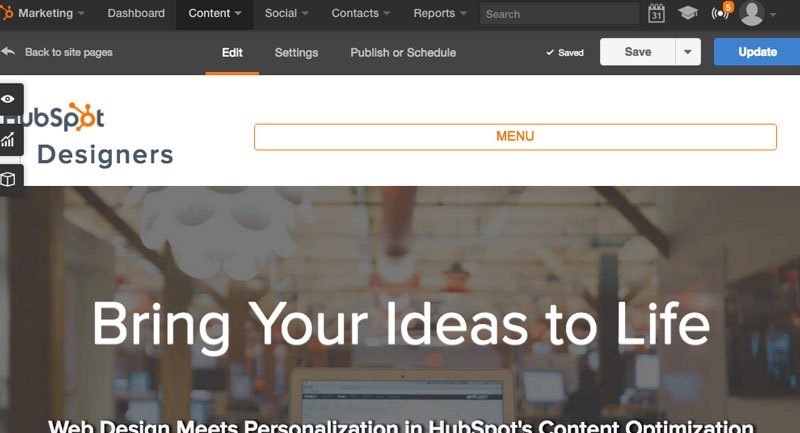 If you're familiar with HubSpot, you're probably aware of its marketing & analytics capabilities. But how does it fair as a content management system? In order to be an effective tool, a CMS must allow its user a certain degree of flexibility, while offering an elegant user experience. We'll take a look at the HubSpot Content Optimization System as a CMS and review a list of pros & cons, along the way offering a bit of insight into how we are using this unique tool.
Pros
(Note: By far the biggest pro is the fact that the HubSpot COS is fully integrated with the entire HubSpot suite. Features such as Smart Content, Personalization, and Calls-to-Action allow developers to create rich, dynamic sites. For this article, we'll focus on the actual build process and the tools used.)
Easy-to-use interface
The HubSpot interface is just plain nice to use. It's clean, clear, and free of distractions. Many content management systems suffer from what I'll call 'option overload', where the user is constantly bombarded with additional buttons and links that don't really serve a purpose for the current task. This can make learning the tool much more difficult. The HubSpot interface is simple, and shows you exactly what you need to complete a task.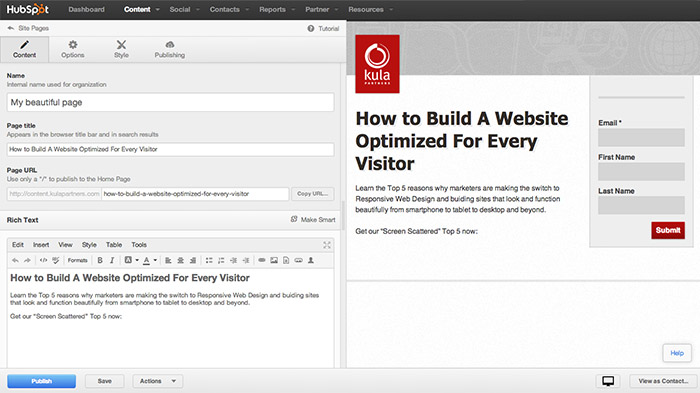 Plenty of useful tools
The HubSpot COS offers a wide variety of tools, both for developing and testing, and for varying levels of technical experience. The Template Builder is split into two sides: the Layout Builder and the Code Editor.
The Layout Builder allows the user to create templates using a simple drag-and-drop system, and requires little experience with HTML & CSS. The downside here is that you don't have full access to the markup of the template, which can limit customization. On the other hand, the Code Editor allows the user full access to your template files, but requires a higher level of proficiency.
Layout Builder tool
The HubSpot COS also offers some excellent tools for testing. When using the Template Builder, you can easily Preview the file you are working on, and when editing a page you can choose to view the content at various different screen sizes. But the real winner is the Email Preview tool. HubSpot brings the power of Litmus into the COS, allowing developers to easily test emails in a large variety of apps & clients. Email development is a pain, but this tool is a great benefit.
Solid foundation
If you choose to build on the HubSpot COS, you're won't be starting from scratch. Each new template includes CSS for base functionality, as well as CSS for each of the built-in modules. As well, the COS uses Twitter Bootstrap as its framework. Templates built using the Layout Builder are responsive by default, and will automatically use the grid classes and structure of Bootstrap. If you want to use the Code Editor, and are familiar with Bootstrap, you can easily incorporate these same classes into your HTML markup.
Cons
Customization is limited
For all the tools it offers, the COS is still somewhat limited in its customization capabilities. At this point, you cannot modify the markup of many of the built-in modules, which can sometimes limit certain parts of a design. This is most apparent with forms. The HubSpot form builder is an excellent tool to use, but doesn't offer a lot of options when it comes to layout. However, HubSpot recently implemented the ability to create multi-column forms, which was a huge addition, so I'm certain this will lead to more control in the future.
Dealing with lag
Everyone hates to wait, no matter the situation. Developers *really* hate to wait, especially when they're right in the middle of a task. At times the HubSpot COS can become slow, sometimes to the point of timing out. However, as HubSpot has grown, and the COS has progressed, I've experienced these issues less and less.
No elegant option for developing offline (yet)
HubSpot is a SaaS product, which means that all of its data is hosted in the cloud. As a developer, this can become somewhat of a barrier if you want to build & manage your files on your local system. What we typically do is design and build our sites offline with static markup, and once the layout and styling is complete, implement these files into the Template Builder. However, once you have integrated HubSpot functionality into your template, it's only going to function properly within the COS.
There's still the option to continue to manage your files locally, and simply transfer your changes over into HubSpot, but this is rather tedious. The best solution would be to allow FTP access to the HubSpot File Manager, allowing developers to easily upload changes, but at the moment this option is not available (but it could be in the future).
The verdict
As a content management system, the HubSpot COS is robust enough to allow developers to create dynamic, manageable websites, and the pros definitely outweigh the cons. No system is perfect, but with the COS you have access to a wide variety of tools that would typically only be accessible over many different platforms or services. Building on the web isn't easy, but the HubSpot COS makes it easier.