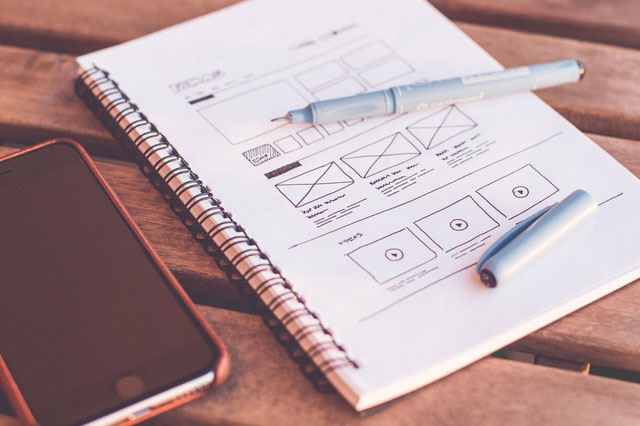 Your website can impact every facet of your business, from reputation and future prospects to today's bottom line. And yet, we regularly speak with business owners and decision makers who think the idea of investing in a website redesign every few years doesn't need to be a top priority for success.
The truth is, an outdated website could be having a severely negative impact on your business. Consider that one survey found 70% of respondents would not purchase from a company with a poorly designed website, and the writing on the wall becomes very clear—if a potential customer doesn't trust your website, they probably won't trust your company.
So why might a visitor not trust your website? There are many reasons:
It has an outdated look and feel –

Simply put, if your website gives off the same vibe as the official site for the 1996 film

Space Jam

, there's a good chance your visitors may have a laugh—which is probably not your desired intention.
It's not mobile friendly –

Every year, more and more people access the web primarily on their mobile devices. If your website doesn't render properly on a user's mobile device, odds are they'll quickly search for a competitor's website that will.
It's difficult to navigate –

Over the course of time, a website can quickly devolve into a bit of a Frankenstein's Monster. Pages are added or removed without consideration for the information architecture or user experience, resulting in a site that becomes bogged down and difficult for visitors to use to find the information they need.
Your branding has changed –

Still showing off your company's old logo on your website? In the eyes of your customers, you may also be showing off a lack of attention to detail.
Your offering has changed –

As your company evolves, so can its focus. If your website is highlighting products and services that have changed—or are no longer available—it can be confusing for visitors.
It's being outranked on search engine results pages (SERP) –

If it's been awhile since your site has seen an update, your competition may be churning out fresh content regularly and boosting their SERP rankings. According to SEO-Hacker,

over 42% of clicks on a SERP go to the first result

, with the second place result getting 4x less clicks! The further down your site is on a SERP, the less effective it's able to be.
Its tech stack is at the end of its life –

Technology is constantly evolving, and the cutting-edge tools you integrated your site with years ago may now be obsolete. An outdated tech stack means your systems may no longer be talking with each other and essential tools may no longer be functioning—possibly resulting in an unpleasant user experience for your visitors, security breaches, and more.
If any of these things sound familiar, it's time to consider a website redesign for your business. Luckily, there are different ways to go about taking on a website redesign project. We're going to take a look at two of them: a traditional rebuild, and Growth Driven Design. We'll lay out the benefits of each, as well as some of the considerations you need to take into account before deciding whether it's time to evolve your website or blow it up and start from scratch.
A Traditional Rebuild
As the title suggests, a traditional rebuild is the type of website redesign with which you may be most familiar. Many organizations who choose a traditional rebuild typically undertake a full redesign every 18 to 24 months. A traditional website redesign is more than just a fresh coat of paint—it often includes a complete overhaul of the existing site and starting from scratch.
This may seem like a large project to undertake all at once, and the reality is that it can be. A typical traditional rebuild can take over three months of work and involves a carefully laid out plan for every page on your site. Every element is addressed using a mix of design trend projections and research collected about your target audiences and visitor browsing habits, with the goal of delivering a website that is complete and ready to come to market on a fixed timeline.
A traditional rebuild allows your team to focus on the design of the site, as well as the content contained within it, before it goes live. While this can be a very resource-intensive process, when conducted successfully the result is a fully realized site that reflects the agreed-upon vision of all stakeholders.
If you're undertaking a dramatic shift in branding or your marketing focus, haven't completed a significant website redesign in many years, or your content has become completely outdated, you may want to consider a traditional rebuild to reflect your new positioning better.
Growth Driven Design
Growth Driven Design offers a dramatic shift away from the traditional redesign process. Instead of emphasizing a complete overhaul, Growth Driven Design takes an iterative approach to website design—allowing you to roll out components of a site, learn how these elements are performing using analytics, and then use the data collected to inform future design direction. Growth Driven Design takes place on an ongoing basis, beginning with the minimum viable product and expanding from there.
Growth Driven Design starts with laying out a strategy which seeks to help you understand the factors that drive value for your site visitors. This information is then used to produce a launchpad site. A launchpad site is a slimmed-down version of your website that foregoes making broader assumptions on what a user may want and instead focuses on its core functions and features. It represents the minimum viable product you can come to market with and is built with the Pareto Principle (or the 80/20 rule) in mind. In the business world, the Pareto Principle states that 80% of your profits come from 20% of your customers. Translated into web design, this principle suggests that 20% of your processes can generate 80% of your results. With this principle in mind, a launchpad site can quickly be produced and rolled out into the real word to collect user feedback and data. With this real-world information, you can start making continuous, data-driven improvements to your site on an ongoing basis. If you already have a collection of quality resources and content, Growth Driven Design provides plenty of opportunity for repurposing. You can fine tune your existing content for SEO, freshen it up with updated information or statistics, and get it back in the hands of your visitors quickly.
Growth Driven Design allows for steady learning on how your visitors are interacting with and experiencing your website. This information allows you to make well-informed decisions about your site on an ongoing basis—often resulting in a steady build of momentum and impactful results for your stakeholders.

If you already have a relevant collection of blogs and quality content for repurposing, and want to launch quickly and make iterative, data-driven decisions on the direction of your site on an ongoing basis, Growth Driven Design may be the best option to help you achieve your goals.
Choosing the Appropriate Website Redesign Path
Traditional rebuilds and Growth Driven Design each have their place in the website redesign conversation, and the right choice for you ultimately comes down to determining the process that best suits your needs. If you're not sure whether you need to evolve or completely blow your website up, here are a few bits of reasoning to consider.
It's important to note that your decision shouldn't necessarily hinge on these considerations. Instead, think of them as valuable kickstarters to get your website redesign conversation started.
Take Stock of Your Existing Content
As we've already mentioned, one of the great advantages of Growth Driven Design is that it allows you to repurpose pieces of existing content. Of course, to make use of pre-existing content, it has to remain relevant and still reflect your current business realities. To get a better understanding of where your content stands, you may want to consider conducting a content audit, which is a detailed qualitative analysis of your current content. A content audit can help you determine what remains useful, what can be omitted or revised, and what new material to create. Remember, content can include site copy, images, blog posts, infographics, how-to guides, podcasts, and more.
If you determine that your existing content offers an accurate reflection of your current business reality and represents what you want to deliver to your market, then a Growth Driven Design approach can help you maximize what you already have. On the other hand, if a content audit reveals outdated, irrelevant content that no longer reflects your current branding or market positioning, a traditional redesign, complete with new content built from the ground up, may be the right option for you.
Can You Fuel the Conversion Fire Early?
When looking at your existing website, do you see opportunities to start improving your conversion rates immediately? Such opportunities may include:
Adding clear calls-to-action throughout a page

Introducing social proof to build trust

Tailoring content for different stages of a visitor's decision-making process
Say, for example, your current website includes quality content that accurately reflects your organization's current reality, but includes no opportunities for a visitor to convert into a lead other than a "Contact Us" form. Using a Growth Driven Design approach, you can add additional opportunities for visitors to convert throughout your site (examples of opportunities to convert include downloading a free resource, accessing a case study, or signing up for a monthly newsletter) and set them live immediately. Once implemented, these opportunities can quickly begin generating both leads and useful analytics data, informing future design decisions and iterations of your website.
If there are no clear early wins on your existing website, and the reality is that you're going to need to implement a larger collection of changes to start seeing meaningful results, a total rebuild approach is probably going to be a more appropriate solution.
Don't Discount Your Traffic Volume
Taking a closer look at the volume of traffic your site receives can also play a role in determining which website redesign path will be best for your business. The fact is that if you see a consistently large amount of traffic on your site, you can use this data to inform your decision-making process. A site with outdated content and no clear initial wins can still be a viable candidate for a Growth Driven Design process if its existing traffic and conversion rates can provide useful data to inform which changes you make.
A Total Redesign Gone Wrong Could be a Total Disaster
Take a moment and think about your timeline every time Facebook rolls out a redesign (large or small). What does it look like? My guess is that it's full of people complaining about intrusive changes, claiming they'll never use the platform again, and showcasing the diversity of certain four-letter words in the English language.
The reality is that some people just don't like change, and that's important to keep in mind during your decision-making process. If your total website redesign doesn't have the impact you expected, or even worse, has a negative impact on your conversion rates and bottom line, then you'll have an expensive problem on your hands that needs an immediate remedy.
A total redesign approach requires serious research and understanding of your audience. And even then, there's no guarantee that your audience will react as intended. Alternatively, Growth Driven Design allows you to reuse existing content, and potentially site architecture, to focus on single issues at a time—allowing you to make improvements without investing in a huge redesign that has the potential to elicit a negative response from your user base.
Your Redesign Strategy Should Embrace CRO
Irrespective of the decision you make when weighing your website redesign options, you need to be sure you're ready for what's coming next. Taking advantage of conversion rate optimization (CRO) is essential if your organization is serious about evolving its site to meet the growing needs of its users and staying ahead of the competition.
At its core, CRO is a process of optimizing your website to improve user experience and conversion rates. Informed by user data and feedback, CRO offers a framework for identifying the needs of your visitors and addressing them—ultimately building toward an increase in the number of users who complete the desired course of action on your website.
By taking full advantage of CRO for your website, you'll have the ability to run tests, collect feedback, and continuously improve site performance. Whether you're unveiling a brand new website or tackling one element at a time, CRO will help ensure you achieve your goals over both the short and long term. For a complete primer on CRO, be sure to check out our Beginner's Guide to Conversion Rate Optimization.
Evolution or Revolution: Which Website Redesign Option is Best?
There isn't necessarily a one-size-fits-all answer when it comes to choosing a traditional rebuild or Growth Driven Design—you need to base your decision on your organization's specific needs, circumstances, and budget. Ask yourself: how far down the proverbial road will you need to travel to bring v. 1.0 of the new site live? If your existing content and layout needs to be completely overhauled and doesn't reflect the current reality of your business, a total rebuild could be the appropriate course of action. Alternatively, if your existing content is repurposable, you could take a Growth Driven Design approach, start with smaller iterations and make ongoing improvements based on active data collecting. Regardless of the route you choose for your redesign, you need a clear understanding of your goals and a plan in place once your website vision becomes a reality.
To learn more about maximizing the impact of your upcoming website redesign, and to get a better sense of the right option for your organization, download our Inbound Marketing Website Redesign Guide.