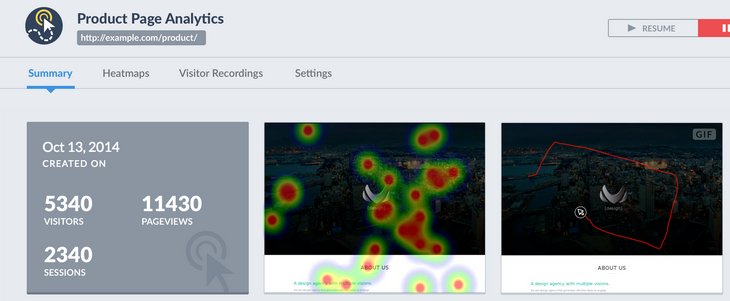 I think most inbound marketers will agree that data isn't that hard to find these days. Frankly, we're swimming in it. However, it's far too easy to be full up with data and starved for insight.
Tools like HubSpot certainly help — bringing closed loop analytics to put a face and name to actual browsing behaviour — but they only go so far in delivering insight into your buyer personas' site experience. So what's the inbound marketer to do if they want to go beyond the numbers to get a real sense of how prospects are engaging with their site? Enter visitor recordings.
What is Visitor Recording?
A relatively new arrow in the inbound marketer's quiver, visitor recordings are just that: video screen recordings of a visitor's journey through your website. As a Visual Website Optimizer agency partner, we've been enjoying this beta feature for a while now. It makes for a hugely powerful addition to VWO's full suite of conversion optimization tools.
Naturally, you're not limited just to VWO when choosing visitor recording software. Other players, including notable upstart HotJar, also offer visitor recording to help power your inbound marketing analysis.
Is it easy to get started?
Getting started with visitor recording couldn't be simpler. With VWO, it's a simple matter of installing the code site-wide (similar to installing the Google Analytics or HubSpot tracking codes, for example) and then starting the campaign with just a few clicks. From there, your site visitors' sessions are being screen recorded—meaning mouse movements, scroll and click behaviour, even form data entry—are being recorded for further review and analysis.
What do you see?
Here's a screen capture of a VWO visitor recording. The red line indicates the mouse trail – in this example, you'll notice that the visitor's mouse was following the copy as they read… a common user behaviour.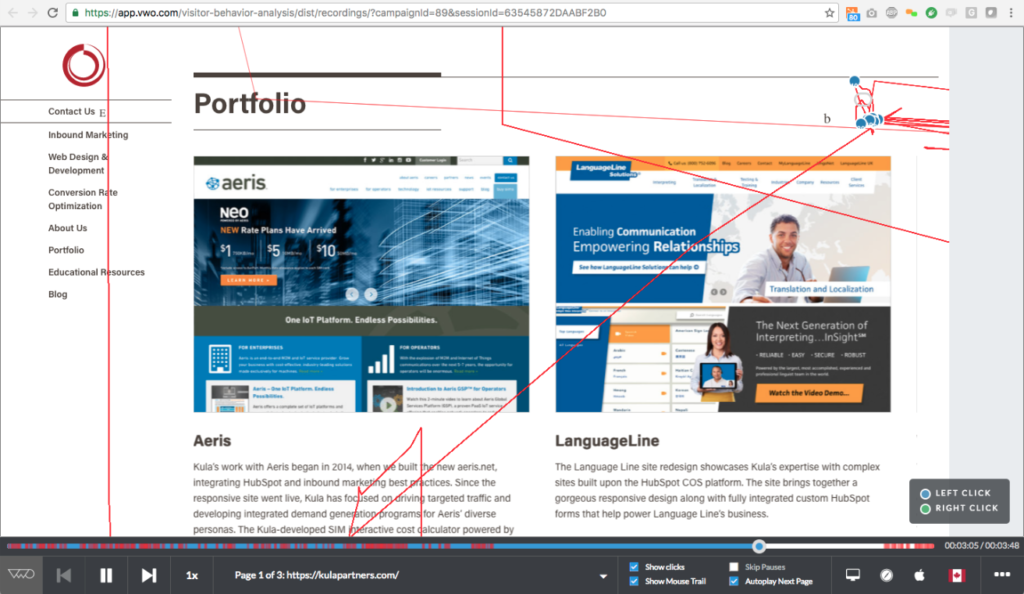 With every visitor recording, you'll see:
mouse movement / tracking
clicks
form entry
page engagement
scrolling
basically, everything
Why is visitor recording analysis better than user testing?
First off, I'm not saying user testing is dead. It obviously has its place. That said, if you're looking for insight into how real prospects are experiencing your website, there are a few reasons why I prefer visitor recording analysis over user testing:
Real Prospects
One of the key differences weighing in favour of visitor recording analysis is the fact that your visitor recordings are from real life prospects—not people recruited to participate in a user test. No matter how on target your test group recruitment is in matching your real buyer personas, it's hard to beat the accuracy of analyzing real prospects.
Users Are Aware They're Being Tested
Simply put, people behave differently when they know they're being watched. Users recruited to participate in a user test are aware that they are participants in a user test, and as a consequence their website browsing behaviour differs from real life visitors.
Imagined Scenarios Never Equal Reality
User test scenarios, almost out of necessity, lack the nuanced reality of real life site visitors. While user testing of a single conversion flow (like an e-comm check out, for example) can be incredibly useful, if you're looking for broader site analysis, user test scenarios can be quite limiting. Here, the richness and texture of visitor recordings wins hands down.
Combining With HubSpot's Contact Timeline
It's a lovely moment when you're reviewing a visitor recording and the visitor navigates to one of your landing pages and completes a form. In that moment, if you're a HubSpot customer, you're able to match the contact data entered in the form to the contact's timeline record in HubSpot. From there, you will quickly find yourself exploring the timeline record with considerably more insight, gaining a better understanding of what information was important on the path to conversion, and what potential stumbling blocks presented themselves. Truly, the opportunities for learning from visitors is endless.