New Research Reveals This Year's Most Surprising CRO Trends, Tactics, and Opportunities
Earlier this month marketing think-tank eConsultancy, released the 8th annual Conversion Rate Optimization Report. The comprehensive 70+ page document details major trends, challenges, and opportunities emerging in the field of conversion rate optimization (CRO).
While many of the findings presented in this year's report are rather intuitive and in keeping with previous year's research, there are a number of emerging trends, tactics, and opportunities which are particularly noteworthy for inbound marketers. To give you an overview of the research, we have distilled the key findings from the report down into this short but educational article.
Without further adieu, here are the key findings from the 2016 Conversion Rate Optimization Report and how they will impact inbound marketers:
CRO is now seen as an essential component of effective inbound marketing strategies
Since the report's inception, marketers have increasingly agreed that CRO is an essential component of effective online marketing strategies. This year 55% of companies surveyed indicated that CRO was a 'crucial' part of their overall digital marketing strategies and a further third of respondents ranked it as 'important'.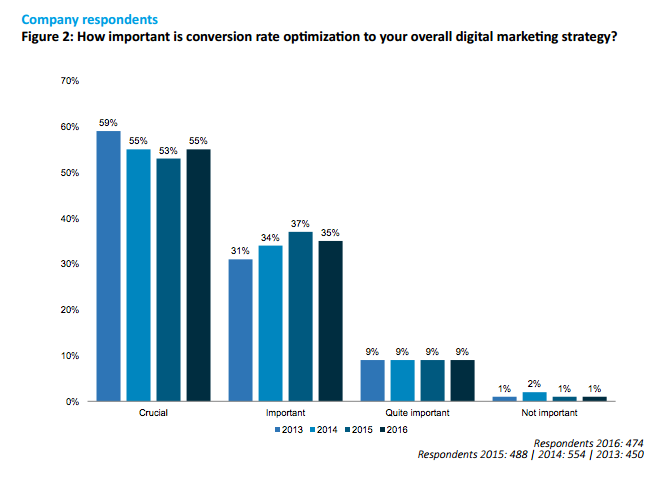 Separate Econsultancy research released earlier this year indicated that 46% of companies planned to increase their investment in A/B testing or multivariate testing in 2016, with 40% planning to increase investment overall for their conversion and optimization tools.
CRO is an increasing priority but several barriers to entry still remain
While marketers clearly agree that CRO is important, several barriers to entry still seem to be holding organizations back. Each year since the report was initially published in 2009, a 'lack of resources' has been cited as the most significant barrier to improving conversion rates. In the context of this research, a lack of resources is largely referring to a shortfall of qualified and experienced people to execute CRO programs. Again this year, marketers agreed that a lack of resources continues to be a major barrier. In fact, the proportion of marketers who cited a lack of resources as a major barrier has actually increased by 16% since last year.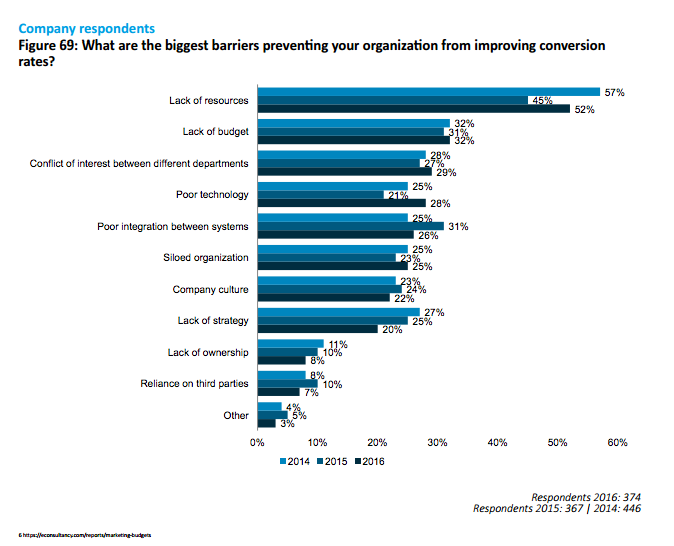 Furthermore, a 'lack of budget' continues to be the second most commonly cited barrier. Additional research published by Econsultancy echoed these concerns, citing that 43% of marketers have a restricted budget for all areas of marketing, and 34% of teams simply lack the number of staff required to implement the desired changes resulting from CRO tests.
Lastly, data consolidation and dissemination is another key issue that continues to hold many organizations back from taking full advantage of CRO. If you're investing in inbound marketing you likely already appreciate the importance of integrated data and closed-loop analytics. Unfortunately, in many disjointed organizations, data sources are so difficult to integrate and analyze that acting upon any insights is still a pipe dream.
As the adoption of CRO is on the rise, key trends are emerging about effective testing methods and frequencies
A strong majority of survey respondents have seen an improvement in online conversion rates over the last 12 months. When asked which CRO methods increase results most favorably A/B and multivariate testing emerged as two of the most valuable methods for improving conversion rates, with more than half of respondents deeming these types of testing 'highly valuable'.
When it comes to testing complexity, most companies tend to run simple tests that involve text or images changes most often. Complex tests are deployed very rarely. This year's results show that A/B testing and Usability testing are the most popular testing methods across mobile apps, tablet, mobile websites and desktop sites.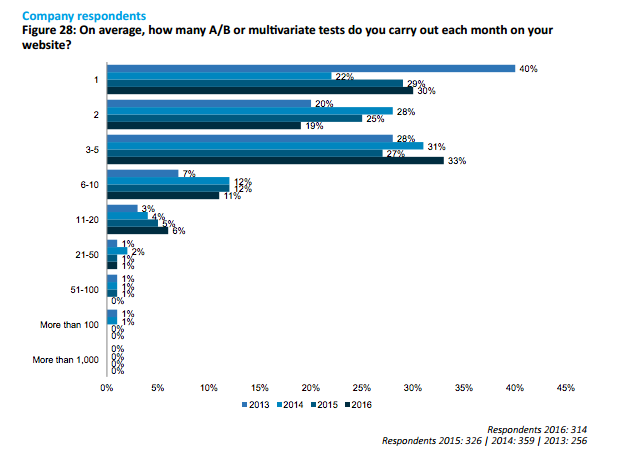 From a testing frequency perspective, the survey results show a significant increase in the proportion of companies doing three or more tests per month. However, when you correlate the frequency of testing with actual results, those doing lots of tests are somewhat surprisingly seeing their results either reduce or their level of satisfaction with their CRO efforts drop dramatically. Based on the data presented, marketers who are running three tests per month actually seem to be gaining the biggest conversion improvements and reporting the highest levels of satisfaction.
A structured approach for CRO leads to significantly improved results
The proportion of companies with a structured approach to improving conversion rates has been growing steadily, with just over a third (35%, up from 33% in 2015) of respondents saying that's the case. This increase points to a growing awareness of the need to incorporate the practices into wider business goals. Without a strategy and clear goals, CRO can be overwhelming due to the range of channels and processes available.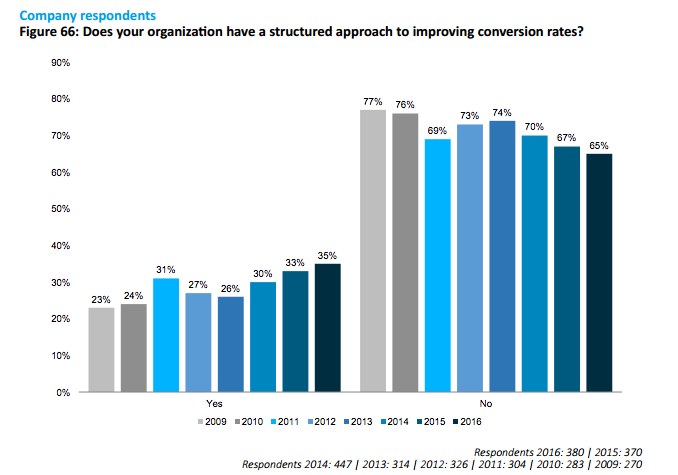 "Like any management discipline, CRO requires proper methods and structures. Ad-hoc initiatives are better than doing nothing, but what truly differentiates mature organizations is a structured approach to understanding visitor hesitations, fears and pain points that result in the best optimization ideas and opportunities."
Paras Chopra, Founder, VWO
Implementing personalized marketing is a top priority this year
There is a wide range of methods that can be employed when it comes to CRO, so respondents were asked which of these they are using or planning to use. The method that most respondents are planning to use is website personalization (55%), followed by event-triggered / behavioral email (47%) and customer journey analysis (45%).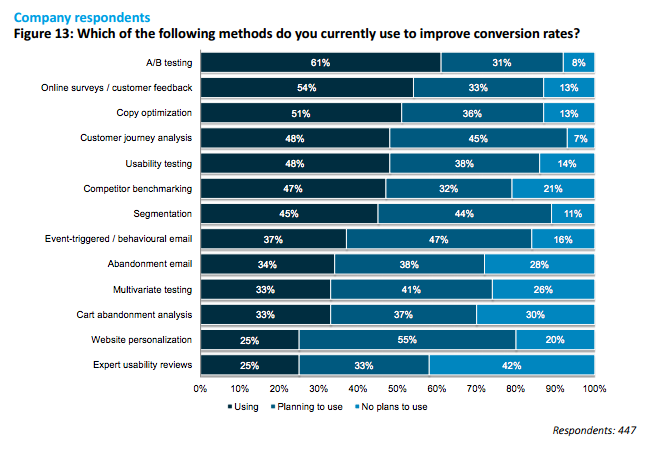 "Personalization was ranked as the highest value method for improving conversion rates by agencies responding on behalf of their clients, noticeably higher than companies running personalization themselves. The majority of personalization solutions today require significant investment in resources to implement and maintain, so it is very likely that the dedicated resource of an agency or partner is the deciding factor in the value companies see from personalization. As solutions become more user-friendly and companies invest further in resources dedicated to personalization these numbers should become much closer."
Tai Rattigan, Head of Partnerships EMEA, Optimizely
Unsurprisingly, email is the channel through which most respondents use personalization, with 88% of companies and 92% of agency clients personalizing here. This is a significantly higher number than all other channels. Personalizing through the website is the second most common method, used by only 45% of companies and 57% of agency clients.
While personalized email marketing has become rather expected and ubiquitous, personalized search engine marketing has shown the best conversion rate improvement results, with 48% experiencing a 'major uplift' in conversion rates as a result.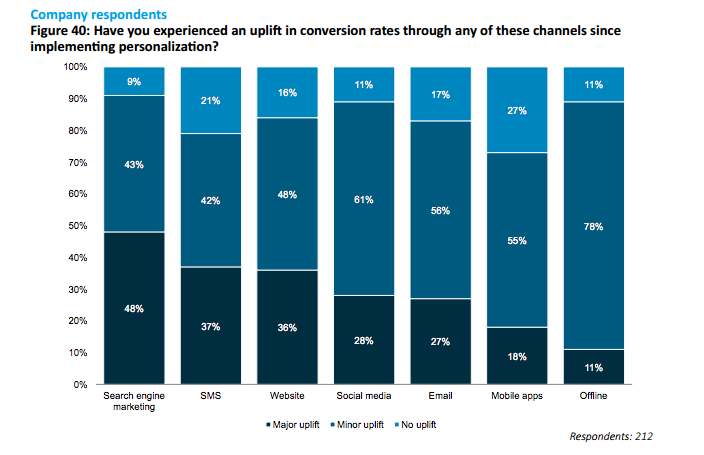 "The majority of companies utilizing personalization have seen a major uplift in the conversion rate of their SEM channels and we can see this number has continued to improve significantly over the last three years. Using symmetric messaging and other personalization techniques to improve the visitor's experience when first landing on a site is fundamental, as this is when their attention is shortest. The uplift in conversion rates for SEM channels has a direct link to revenue savings and can free up spend for further investment in SEM or other company initiatives."
Tai Rattigan, Head of Partnerships EMEA, Optimizely
As companies embrace CRO, adopt new testing methods and increase their focus optimization budgets are consistently on the rise
In a new question for this year's report, respondents were asked how they expect their budgets for CRO to change over the coming year. Encouragingly, just over half of both company (54%) and agency (53%) respondents said that their organizations' or clients' budgets would see an increase.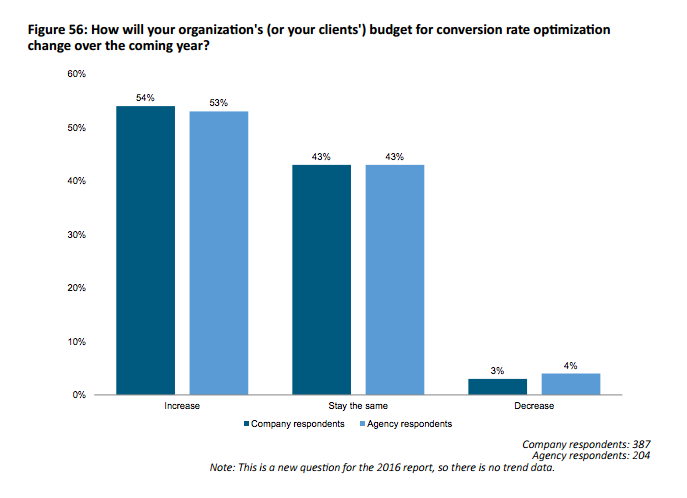 The average increase expected by companies is 29%, while agencies expect their clients to increase budgets by 23% on average. These are healthy figures and suggest that CRO is regarded as valuable. With budgets set to increase by around a quarter or more, organizations will be able to experiment more with their techniques and as such deliver better overall results.
Final thoughts
In conclusion, CRO has become a core component of effective marketing strategies in 2016. As the research highlights, budgets will continue to increase, marketers will continue to gain experience conducting conversion optimization programs and personalized marketing experiences will become more mainstream. Those organizations who are able to effectively adopt CRO, implement structured testing processes and leverage data will be well positioned to increase customer acquisition via CRO.
TL;DR version:
CRO is seen as an essential component of effective inbound marketing strategies in 2016
Several barriers to entry still hold many organizations back from adopting CRO including budget, resources and data quality
A structured approach for CRO leads to significantly improved results
Implementing personalized marketing is a top priority for organizations this year
As companies continue to adopt CRO, budgets are consistently on the rise