If you've ever tried Pay Per Click advertising (PPC), you probably know how difficult it can be to launch and optimize a successful ad campaign. Not only is there is a steep (and often expensive) learning curve for each advertising network, but it can also be difficult to measure whether or not you efforts are actually driving a measurable return on investment.
Today at the INBOUND 2015 conference, along with a number of other major product releases, HubSpot revealed their new Ads platform. If you're looking to get started with paid ads, or you want to measure and optimize the ROI of your ads more accurately, you'll want to give it a look. The HubSpot Ads platform aims to make it simple to setup paid ads, and even simpler to measure your results.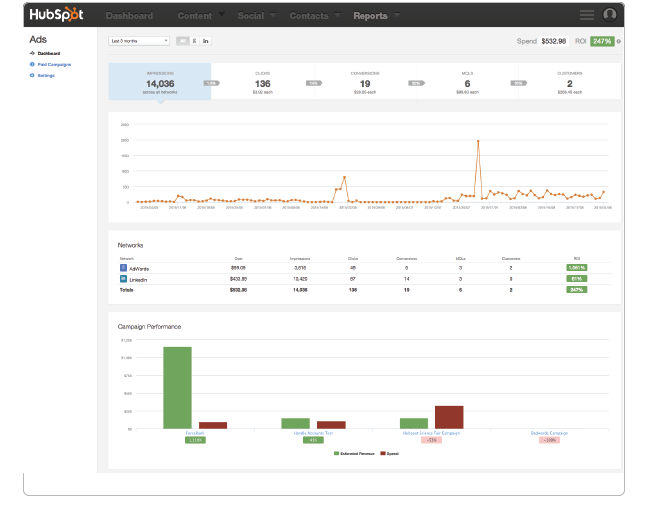 You might be thinking, HubSpot is releasing an Ads platform? That doesn't sound very inbound…

You could argue that paid advertising is more of an outbound, interruption based strategy, but you can't deny that there is almost always a place for targeted ads in an inbound marketing strategy.
In fact, HubSpot recently surveyed their customer base to learn whether or not they were using paid ads as a part of their inbound marketing efforts. The research revealed that 53% of Hubspot customers have tried paid ads in the last year.

In many cases HubSpot customers are actually using a number of paid advertising channels, the most popular being Google Adwords, LinkedIn Sponsored Updates and Promoted Tweets.
Based on this customer feedback and staying true to the vision of being an all-in-one platform, HubSpot set out to build an in-app advertising management platform.
With HubSpot's Ads add-on you can even surface the number of leads, customers and resulting ROI down to the keyword for your social and PPC ad campaigns. By combining paid media data with HubSpot, this new tool provides a clear and simple view of how your ads perform beyond just clicks.
The HubSpot Ads will help inbound marketers in two major ways:
1) You'll be able to set up new campaigns right inside of HubSpot
Not only has HubSpot has made it possible to set up new campaigns and measure the results all without leaving HubSpot, but they've managed to make it incredibly easy. The Ads platform will help you surface the content that is already doing well, target your buyer personas and even create a budget to maximize the reach of your content.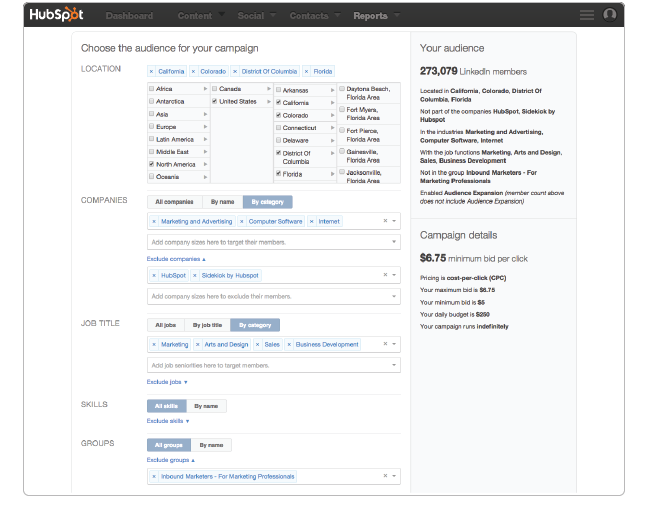 2) You'll be able to easily & accurately measure the ROI of your ad spend
The second major thing that HubSpot is looking to solve with the Ads platform is the big ROI question. Most ad platforms will only show you things like impressions, clicks and maybe the number of conversions. But with HubSpot Ads, you will be able to take things a few steps further.
With the HubSpot Ads you'll be able to see things like how many of your conversions turned into MQLs, the number of MQLs that became customers and because the tool is tied directly into your CRM you'll be able to see the exact amount of revenue gained from the ad spend. This effectively closes the loop for advertising, making it simple to measure ROI.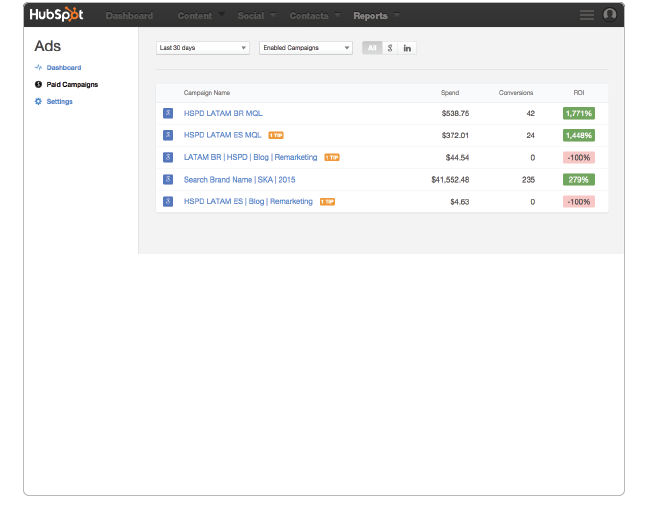 HubSpot Ads Pricing & Launch Timeline
The HubSpot Ads will be launched immediately, but only with the LinkedIn ads functionality. Very soon thereafter they will be launching the Google AdWords portion of the tool.
The HubSpot Ads product is an additional $100/month on top of your existing HubSpot subscription.
As a little getting started perk, if you're a current HubSpot customer and you're new to LinkedIn Advertising you will receive a $100 LinkedIn Sponsored Updates credit when you sign up for a 30 day trial of the HubSpot Ads platform!