This afternoon at INBOUND 2014 HubSpot announced some major new product advancements including a powerful new CRM platform, a sales acceleration app called Sidekick and numerous new features and functionality upgrades to their core inbound marketing platform.
Here is a quick recap of what was announced:.
HubSpot CRM
Traditional CRMs are helpful for the person running sales who wants track activity and progress, but they are particularly burdensome for the people who actually to make the sales. The new HubSpot CRM platform has been built from the ground up to meet the needs of the modern sales team.
At Kula Partners we have been beta testing the platform for a month or two, and we've been really impressed with this CRM's ease of use, powerful capabilities and simplicity of adoption. The platform is easy to use, has all of the basic CRM features you would expect and makes sales and marketing alignment a complete non-issue.
Unlike many other CRM platforms we have tried, the new HubSpot CRM is a platform that your sales team will want to use.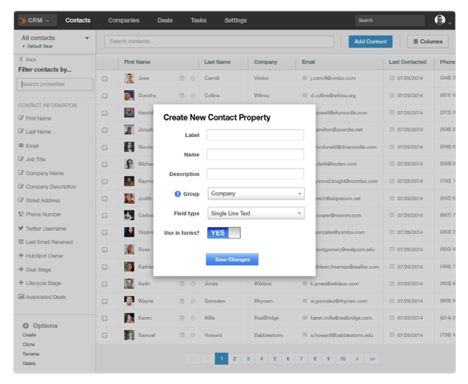 It will be remain in beta for the next few months, then to a limited release to Signals and HubSpot customers and eventually it will be offered for free to absolutely anyone who wants to try it at some point in 2015.
Sidekick
This time last year HubSpot announced Signals, a sales acceleration app that helps you track your emails, schedule emails to be sent later, and see user profiles right in your email. Today HubSpot released Sidekick – which is essentially a relaunch of Signals with a ton of awesome new features. Like Signals, Sidekick connects to your inbox and your CRM system, giving you valuable details about the contacts and companies you meet during your day, everywhere you go.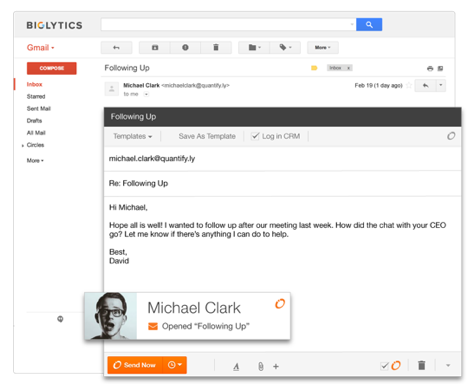 The biggest feature addition is a sidebar called Sidekick Insights. Insights surfaces company profile data as reps move around from site to site. Sidekick lives in your browser and follows you throughout your day, giving you valuable details about the contacts and companies you find and interact with in your inbox and on the web.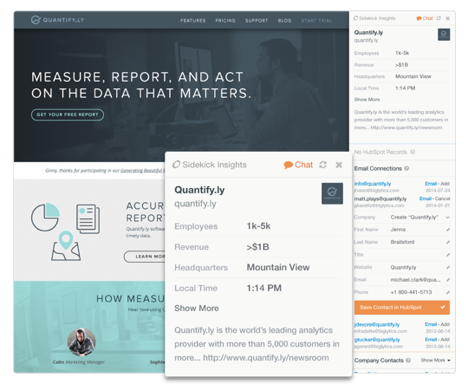 Similar to Signals, at launch Sidekick will be free for up to 200 notifications/month.
A Bevy of New Inbound Marketing Features:
Anonymous Personalization
To date, delivering a personalized web experience was only possible once a lead converted into a HubSpot contact. The ability to segment contacts into various lists was really the engine that powered personalization of content during return web visits. Now, with anonymous personalization, you can deliver targeted messages to visitors who have never even been to your site before.
Let's quickly explain how this will work.
With anonymous personalization you can deliver targeted messaging based on three things:
A visitor's country (based on IP address)
The device the visitor is using
Traffic source
Anonymous personalization has some interesting use cases. For instance, you could serve up lighter content for visitors who are viewing your site on a mobile device, you could display local phone numbers and prices based on location, or target your site content based on traffic source that brought a visitors to your site.
Editorial Calendar
Blog managers and editors are high fiving about this update. HubSpot has built an editorial calendar directly into their inbound marketing software so blog editors can manage content production in a much more streamlined fashion. The editorial calendar brings together planning, production and project management features in very a collaborative tool.
Attribution Reporting
This new functionality is designed to help marketers better understand which marketing efforts are leading to conversion throughout the funnel by pinpointing the source, page URL, or referrer that contributes to the most conversion for your site. Essentially allowing you to break down a visitor's journey and discover which channels are driving the most success.
Revenue Reporting
For HubSpot users who've already integrated HubSpot with Salesforce you may be familiar with seeing some revenue numbers inside your marketing dashboard. HubSpot has now taken these revenue reporting capabilities and baked them right into their core product.
When you integrate your inbound marketing data with HubSpot's new CRM, revenue reporting becomes a thing of beauty. You will now be able to easily see the revenue that each tactic, channel and campaign is responsible for right inside the marketing dashboard.
Email Optimizer
Email is arguably the most effective but competitive channel to own. HubSpot's new Email Dashboard and Optimizer will provide you with advice on how to optimize your email right from within the HubSpot tool. The tool will analyze your emails and help you optimize in three core ways: sending, subject, and body.
Branching Logic
This feature has been widely requested and is now being delivered to all HubSpot customers. Branching logic helps you optimize around the goals of workflows. It's a rather complex feature so it will only be available at Pro and Enterprise level accounts.
The key with branching logic is that it enables marketers to create advanced marketing automation workflows that adapt and change depending upon the action a recipient takes with your email. As a basic example, if you're working with a 5 message automation sequence, you can have two different Email #2's, sending one to people who opened your first email, and another to people who ignored your first email.
While that is admittedly a fairly basic example, the power of this feature is huge. It will enable your marketing automation campaigns to be executed and customized based upon each contact's specific interaction with your email marketing messages. Powerful stuff.
Tally Feedback App
Tally is a simple app you can use to get and store feedback from your visitors and users in real time. The app allows you to create a question and plant it on any page of your website or web-app.
When someone responds to your question they'll see a custom message based on their response, allowing you to gather actionable feedback. Because Tally is integrated with HubSpot, all feedback is stored in the visitor's contact record and can be used for future segmentation or nurturing.
A commitment to support more international languages
As a Platinum HubSpot Partner Agency, we are always excited to see the international HubSpot community grow. During today's keynote at INBOUND 2014, HubSpot CEO Brian Halligan made a commitment to support more international languages. Here at Kula, we think it might be time to polish up on our Dutch 😉
Want to learn more about the new HubSpot CRM platform?