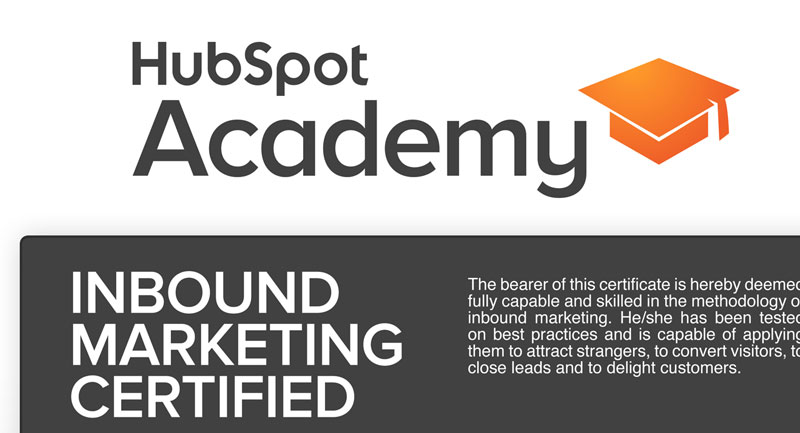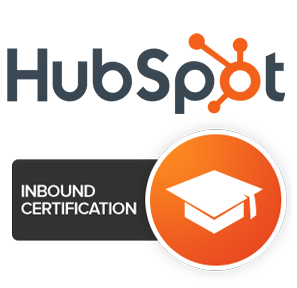 Want to seriously up your inbound marketing skills? If so, HubSpot's Inbound Marketing Certification is a perfect place to start. This amazing educational resource will teach you how to attract more traffic, convert more leads, close more business and delight your customers by applying inbound methodology.
Whether you're looking to learn the basics of inbound marketing, brush up on your skills for an upcoming interview or to master a certain aspect of inbound, the twelve on-demand classes included in the Inbound Certification are packed with actionable advice, tips and tricks.
And the best part of the Inbound Certification? It's completely free – no strings attached.
I know, I know. There is no such things as a free lunch…you get what you pay for…I get it, but every now and again there is an exception to the rule and this is one of those circumstances. This course, taught by HubSpot's amazing team of Inbound Marketing Professionals, will teach you both the methodology and practical skills required to become an inbound marketing pro.
Here are the 12 Lessons You'll Learn by Taking the Inbound Marketing Certification.
Lesson #1 – How to Create an Effective Inbound Marketing Strategy
The first class of the Inbound Certification introduces students to the essential elements of an effective inbound marketing strategy. This class will teach you the differences between outbound and inbound, the four stages of the inbound methodology and why understanding your buyer personas is one of the most important elements of a successful strategy.
Lesson #2 – How to Optimize Your Website for Search Engines
Ever wonder how search engine optimization (SEO) really works? Admittedly, frequent updates to search engine algorithms can make SEO a bit of a moving target. Fortunately for you, HubSpot's Inbound Academy Professors will teach you about today's SEO best practices. You will learn about how search engines choose which sites to show in their search results, how you can optimize your site to rank higher, how to go about choosing winnable keywords and how to measure your success.
Lesson #3 – How to Create Content with a Purpose
Are you curious about the best way to connect with your customers? Potential customers need a reason to connect with your business. This class deals with what makes some content stand out and how you can use it to meet your customers where they are in the buyer's journey. The main purpose of this class is to identify what sort of content your customers are looking for and help you to provide it for them.
Lesson #4 – How to Master the Fundamentals of Blogging
Companies that blog regularly attract almost 7 times more organic web traffic than those that don't. This class will cover the research that's necessary to figure out what you should blog about and when as well as how to measure your progress. It also gives real life examples of what great posts look like.
Lesson #5 – How to Amplify Your Content with Social Media
Social media helps you connect with your customers and with your industry in a truly powerful way. This class will show you how you can use social media to keep up to date with industry trends, and how to optimize your social media accounts for a clean, crisp look across all platforms. Finally, it will talk about how to measure the effectiveness of your social media accounts as well as offer some real world examples of what great social media content really looks like.
Lesson #6 – How to Create Enticing Calls-to-Action
So you've created something great and you've got people's attention. What next? This class deals with how to use create functional, successful call-to-actions. It will highlight best practices for where your CTAs should be placed, what they should say and how they should look. Finally, you'll learn how to measure and optimize the performance of your CTAs.
Lesson #7 – How to Create Landing Pages that Convert
Landing pages are key components of every inbound marketing strategy. They are responsible for converting nameless visitors into qualified leads.The Hubspot team will explain what landing pages are, what kind of information you can gather from them and their importance in the buyer's journey. From there, it will cover what makes a great landing page and how to determine if you're using it effectively.
Lesson #8 – How to Guide Your Visitors Next Steps with Thank You Pages
The value of showing your customers how important they are and how much you appreciate them cannot be understated. While a simple thank you goes a long way, this class will cover what a Thank You Page is and how it helps foster relationships with your customers. It covers how you can build effective Thank You Pages, what sort of information should be included and how they can guide your customers to the next stage in the buyer's journey.
Lesson #9 – How to Send the Right Emails to the Right People at the Right Time
With the number of emails that we send and receive in the course of a day, it's not hard to understand how important it is to master email marketing. This section discusses how important it is to send the right email, at the right time, to the right person and what a great email looks like.
Lesson #10 – How to Align Your Sales and Marketing Teams
Every business understands how important it is to have the whole team on the same page. But how do you help sales and marketing teams come together into a cohesive unit? Enter Smarketing. This class deals with how to align your marketing and sales departments for a seamless customer experience and includes the importance of reporting procedures and what makes a great smarketing meeting.
Lesson #11 – How to Adopt an Inbound Approach to Sales
Today's top performing sales teams understand that customers don't want to be sold to, they want to control as much of their purchasing process as possible. This class will help you remove friction from your sales process and adopt a more inbound approach to sales. If you are tired of making cold calls all day, this class will give you a refreshing glimpse into the day to day life of an inbound sales rep.
Lesson #12 – How to Delight Your Customers and Harness Referrals
A lot of people think that "closing the sale" is the end of the road. However, as the fourth step in the inbound methodology highlights, there are numerous benefits to going above and beyond to delight your customers . In this class you'll learn about how to cultivate happy customers and harness the power of referrals.
Key Takeaways
These classes, brought to you by the team at Hubspot Academy, will help you become a certified inbound marketing pro. At Kula Partners, we use this training to help onboard new hires; we also always suggest that our clients take the certifications as well.
Whether you are a complete rookie or a seasoned marketer, Inbound Marketing Certification will teach you many valuable lessons that you'll continue to use on a daily basis. Completing the Inbound Certification is certainly time well spent.
If you'd like to get started with the certification you can check out the HubSpot Academy page for more details.