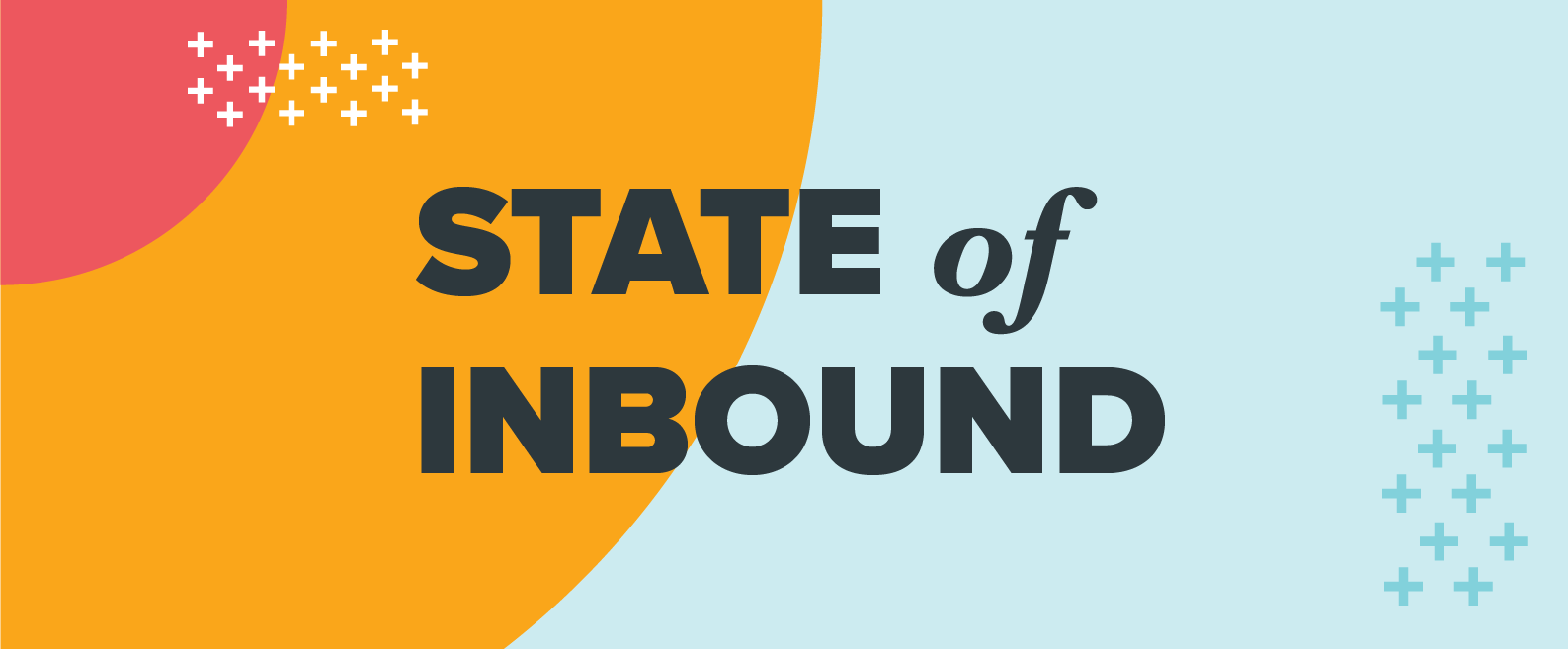 HubSpot just released the State of Inbound 2017 report. This annual report is must-read material for those focused on crafting strong, cohesive inbound marketing strategies. It is filled to the brim with in-depth analysis of global industry trends—providing readers with a complete picture that represents where inbound marketing was, where it is today, and where data suggests it is going in the future.
The latest installment of the State of Inbound offers a great deal of insight, particularly on sales and marketing alignment. We'll take a look at this information in this post, break it down, and offer practical tips to bring the sales and marketing teams together in your organization.
A Brief Overview of Sales and Marketing Alignment
It's easy to assume that a marketer's job is to generate leads, and a salesperson's job is to convert those leads into customers. At a base level, this is true, but there's also a common misconception that these two departments should be like oil and water—never mixing. This simply is not the case, and as inbound marketing continues to evolve, sales and marketing departments that are on the same page are becoming essential for your inbound marketing strategy—and your business—to succeed.
Think sales and marketing alignment is just a buzzy concept without real-world implications? Think again. In 2015, HubSpot noted that disconnects between sales and marketing—resulting in decreased sales productivity and wasted marketed efforts—cost $1 trillion dollars a year.
Yes, trillion.
There's no doubt about it; it's time to get your sales and marketing departments working toward common goals.
The State of Inbound 2017 Report on Sales and Marketing Alignment
With more than 6000 respondents, the State of Inbound 2017 is the most comprehensive report on the growing influence of inbound sales and marketing around the world available today. Let's take a look at some of the statistical highlights related to sales and marketing alignment.
Overall, a Majority of Respondents Believe Sales and Marketing are Tightly or Generally Aligned

44% of survey respondents say sales and marketing are generally aligned, while 22% go a step further and say their departments are tightly connected. On the flip side of this, nearly 35% of respondents indicated that their sales and marketing are rarely aligned, misaligned, or are not sure how they stack up.
There is a Disconnect Between C-Level Executives, Managers, and Individual Contributors
C-level executives (CEOs, CMOs) are very confident in their teams, with 31% indicating sales and marketing are tightly aligned. However, the numbers tell a different story when we look at the responses provided by managers and individual contributors, where only 17% of each indicate feeling their sales and marketing departments are tightly working together.
An Excellent Relationship Between Sales and Marketing Departments is a Signifier That a Company is Growing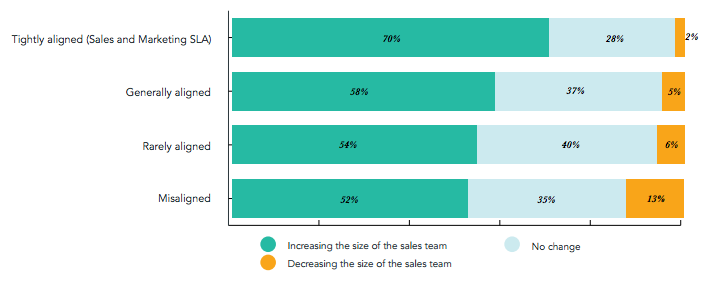 70% of companies who described their sales and marketing departments as tightly lining up are expecting to increase the size of their sales teams. On the other hand, companies who described their sales and marketing positioning as misaligned are a little less sure about their prospects. While 52% of these companies suggest they'll be increasing in size, 48% indicated they expect no change or may even be preparing to see a decrease in the size of their sales team.
What Does This Data Tell Us?
First and foremost, it says that companies around the world that have developed a strong connection between sales and marketing are seeing positive results. The data collected for the State of Inbound 2017 report also makes it clear that there is room for improvement in bringing together sales and marketing (even in the most confident of organizations). Furthermore, organizations understand that effectively uniting sales and marketing takes a concentrated effort, and should be prioritized. One respondent to the State of Inbound survey noted that, "Retraining the sales team in the Sales and Marketing alignment and processes is a constant challenge that disrupts the inbound marketing strategies and procedures for three to six months." This tells us that bringing salespeople together with the marketing department early on is crucial for continued successful alignment in the future.
So, it's clear that bringing sales and marketing together early is important. It's also apparent that getting sales and marketing to the point that you'd consider them "tightly aligned" takes work. Luckily, whether you're taking your first steps toward a closer relationship, or are looking for advice on how to continue the process, we have some useful tips to share with you.
5 Tips for Bringing Your Sales and Marketing Teams Together
1. Ensure your teams are focused on their common goals – While sales and marketing departments have different tasks, they're both ultimately working toward the same goals of generating new customers for your organization, so it's important that the teams be in communication with each other. Information and resources should be shared back-and-forth, and team members should sit in on meetings together.
A recent study shows that communication is the biggest challenge when it comes to maintaining a connection between sales and marketing. While ensuring each department is in contact with the other and working toward their common goals is not the all-in-one solution for unifying sales and marketing, it does provide a framework for building a mutually beneficial, productive relationship.
2. Define your common language – With your sales and marketing teams in communication with each other and working toward common goals, it's important to ensure that critical terms mean the same things to both departments. For example, what are the fundamental differences between a lead, a marketing qualified lead, and a sales qualified lead? How should you determine when to discard leads? When should a lead be handed off from marketing to sales? You may be surprised to discover each team answers these questions differently, which can lead to miscommunication and, ultimately, missed opportunities. Taking the time to define common language and metrics can help ensure each team is on the same page and can effectively communicate when interacting.
3. Establish a Service Level Agreement (SLA) and shared benchmarks between sales and marketing – An SLA is a contract between your sales and marketing departments that defines the level of service expected from each team. It allows you to define the relationship between the two teams clearly and seeks to hold both accountable to their commitments to each other. Examples of the commitments commonly established in an SLA include:
The number of sales-ready leads that will be delivered annually to the sales department by marketing

The amount of information required before a qualified lead is identified as ready to be passed on to sales

The turnaround time between marketing sending an SQL to sales and a sales representative following up with them

The type of information a sales representative will present to an SQL

The number of times (and over what length of time) a sales representative will follow up with an SQL

The timeframe for a member of the sales team to provide feedback to marketing on lead quality
Ultimately, an SLA acts as a shared benchmark between sales and marketing against which you can assess productivity. It details the goals of both departments, how to achieve these goals, and the commitments made by each team to support one another.
HubSpot offers an excellent Marketing and Sales Leads Goal Calculator for free that you can use to develop your SLA, determine the dollar value of your marketing leads, monitor lead source performance, and benchmark sales close rates.
4. Embrace a collaborative atmosphere – Collaboration is essential for unifying sales and marketing. This can start with regular meetings between the sales and marketing teams. These meetings can allow the sales team to become involved in the marketing process (and vice-versa), while also helping to ensure critical information is being shared and messaging remains consistent.
When sales and marketing teams collaborate, they can work together to create marketing material and sales enablement tools that are relevant to your unique buyer personas and better hit the mark. More importantly, they can quickly get a better understanding of what's working and what is not. If a particular type of marketing collateral is connecting with leads, sales can work with the marketing department to produce similar content. Conversely, if a piece just isn't connecting, the teams can work together to develop a better resource that is more in tune with the needs of your leads.
5. Take advantage of the tools at your disposal – There are many tools available to you that help your organization establish a connection between sales and marketing, but you have to be taking advantage of them if you want them to work! For example, are your sales and marketing teams actively taking advantage of the features found in HubSpot's CRM? HubSpot's CRM allows your sales and marketing teams to:
Quickly identify which content a lead has consumed, and where they are in their buyer's journey

Share contacts instantly

Manage and track deal progress through the CRM dashboards

Create and share reports to clearly identify which sales and marketing collateral is working, which can be eliminated or adjusted, and ensure everyone is on the same page
HubSpot Sales Pro is another invaluable tool for sales and marketing departments. When used in conjunction with the CRM, you can:
Instantly ping the sales department when notable leads appear (and reappear) on your website

Make it easier for your sales team to access and leverage marketing content created with your leads in mind

Setup sales automation processes (such as timed email sequences) that can be personalized, ensure you never lose touch and preventing leads from slipping through the cracks.
By taking advantage of these intuitive tools, you can take much of the legwork out of bringing together sales and marketing, all while tracking your progress.
Sales and Marketing Alignment Doesn't Happen Overnight, but the Effort is Worth it
Forming an alliance between your sales and marketing departments is essential for your organization to establish a successful lead generation process, and ultimately increase your revenue and growth. That said, achieving tight unification between these two departments is not a simple as flipping a switch. It takes time and consistent effort to connect the two but the efforts are ultimately worth the payoff. To learn more about sales and marketing alignment and how it ties into your greater overarching organizational gameplan, check out our Epic Guide to Creating an Inbound Marketing Strategy, which has recently been updated using the 2017 State of Inbound Report stats and figures.