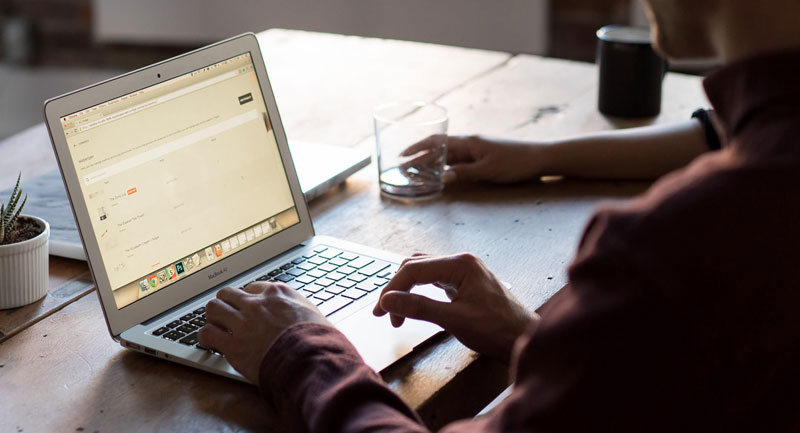 Let's face it… we are all growing a bit tired of generic old emails, landing pages and downloadable PDFs.
These days, if you want your inbound marketing strategy to really stand out from the crowd you not only need to be different, but better. This is exactly why savvy inbound marketers are beginning to shift their focus towards creating more visual and interactive forms of content.
Several recent research studies have shed light on the advantages of developing interactive content. Higher conversion rates, more informed prospects and high quality backlinks are just a few of the advantages of interactive content.
If you happen to follow Copyblogger you may have noticed a recent article titled Why Interactive Content May Be the Most Exciting Marketing Tactic of 2015.
In the article, Scott Brinker (@CheifMarTech) explains that as the adoption of content marketing has become increasingly mainstream it has become that much harder to create content that can actually break through all the clutter and noise.
"The world is deluged with white papers, webinars, ebooks, and infographics.

How many white papers have you downloaded and only briefly skimmed? How many webinars have you signed up for and never attended?

How do you stand out? How do you grab and hold the attention of an audience?

Interactive content provides a new arsenal for content marketers to battle the flood of "meh," passive content."
Before we go on, you might be wondering, what exactly is "interactive content"?
To clarify, interactive content most often includes things like price calculators, product recommendation tools, assessments, surveys, contests, ROI calculators, and so on. On the other hand, passive content typically refers to things like blog articles, whitepapers, worksheets, and eBooks.
As a common example of interactive content, if you've ever taken out a car loan or a mortgage you may have used an interactive online payment calculator to estimate your monthly payments, total interest and payback period. This type of interactive calculator functionality is a rather common form of interactive content that can used for in almost any industry.
As an inbound marketing agency, we've been building interactive content tools for a number of years. Based on our experience, we've found that because interactive content offers provide such a different and valuable user experience they tend to convert at a much higher rate than most other content offers like downloadable whitepapers or worksheets.
Putting our personal opinions and experiences aside, in writing this article we wanted to see if there was any research out there about the impact of interactive content. As we found, the data certainly points to a big opportunity for savvy marketers to incorporate interactive content offers into their inbound marketing strategy.
Here are 5 Reasons Why Interactive Content Should be Part of Your Inbound Marketing Strategy
---
91% of B2B buyers now prefer to consume interactive and visual content (Click to tweet)
A recent study asked B2B buyers how their content consumption habits have changed over the last year. The study revealed that an overwhelming number of buyers (91%) agree or strongly agree that they now prefer more interactive and visual types of content.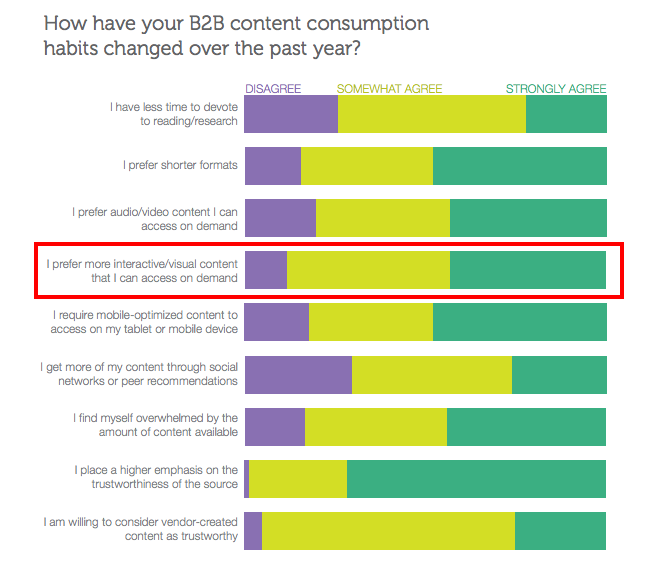 Source: 2015 Content Preferences Survey: Buyers Value Content Packages & Interactive Content
2. Most inbound marketers still haven't gone beyond using standard whitepapers and eBooks
If you dig into the data about the adoption of content marketing you'll find that the majority of B2B organizations still focus almost completely on passive, text based content marketing tactics like blog articles, whitepapers, case studies.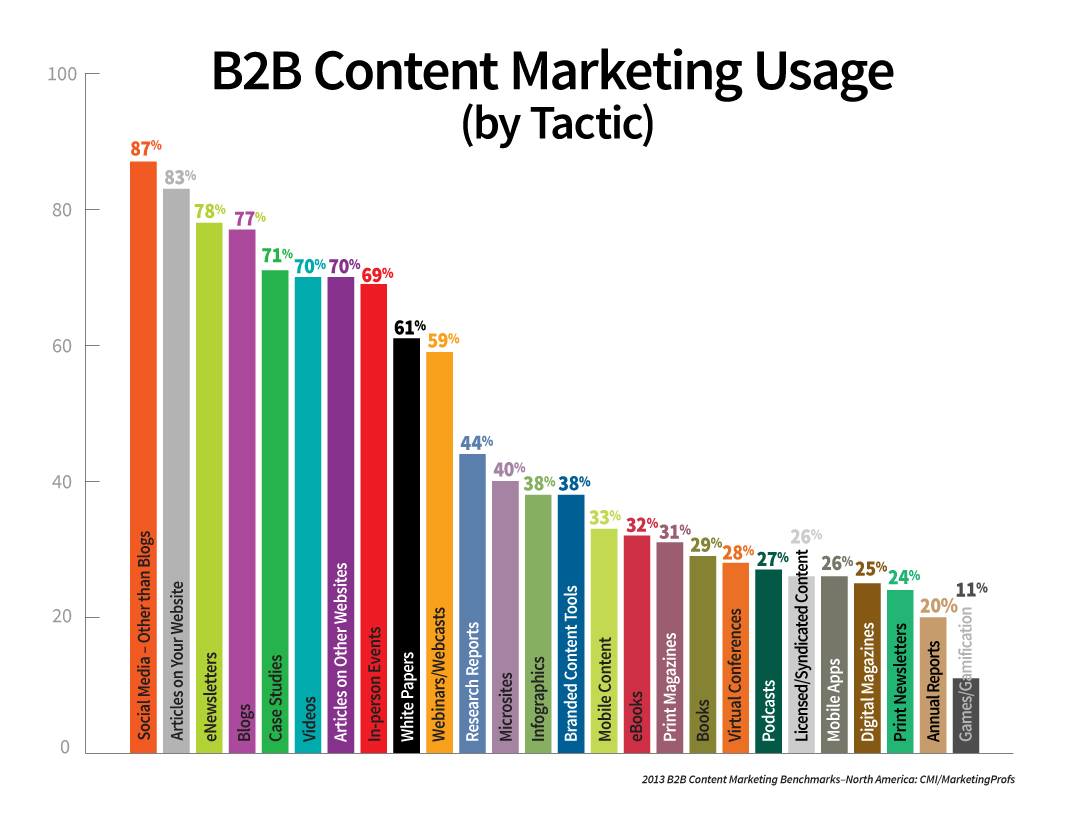 Just turn your head sideways for a moment and take a look at the labels on that chart! As you'll see, almost every content marketing tactic listed is a form of text based content – articles, newsletters, blog posts, case studies, white papers, etc. Without a doubt, this means there is a huge opportunity for savvy marketers like you to create more interactive and visual content offers and standout from the crowd.
3. Interactive content is more effective at educating buyers

A recent study asked marketers how effective their content marketing efforts are, more specifically, the study examined the effectiveness of interactive vs passive content. As the research revealed, 93% of interactive content users said their content was somewhat or very effective in educating buyers, but only 70% of passive content users reported the same level of effectiveness.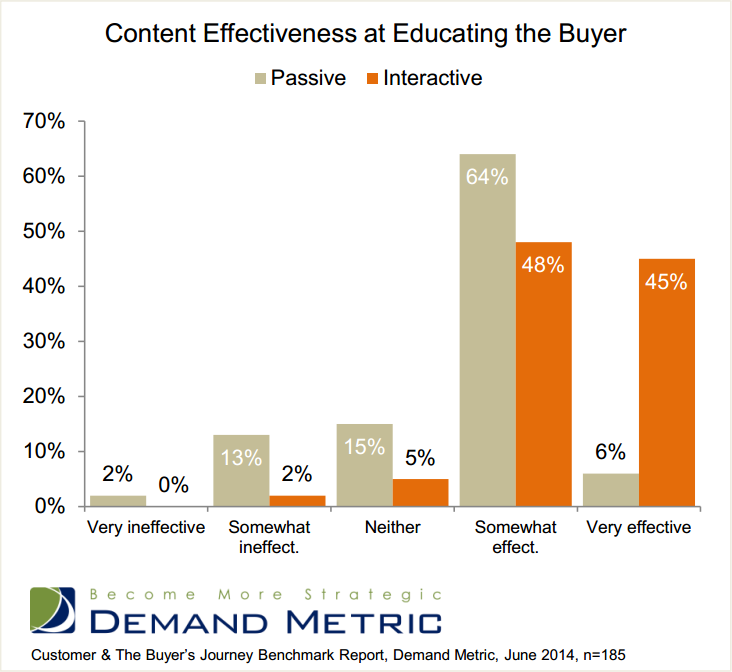 Due in part by the oversaturation of poorly produced marketing content and buyers changing content consumption preferences, B2B marketers are moving away from shorter text-based content formats to more in-depth assets and interactive content formats. With interactive content you can provide an original experience that offers more value than a blog post or whitepaper.
4. Interactive content is more effective at creating differentiation
As you would likely agree, content marketing has become rather ubiquitous. Just about every website you go to these days offers free content is one form or another – blog posts, whitepapers, ebooks, worksheets, video, and so on. The thing is, very few businesses are taking advantage of interactive content. Offering interactive content will not only help differentiate your brand from the competition but is also be more valuable, interesting, user-friendly and memorable.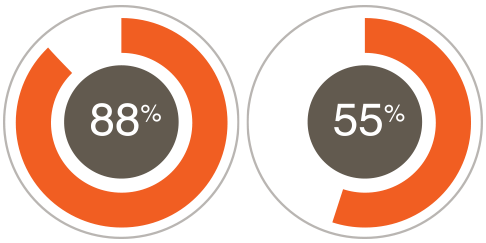 Source: Ion Interactive
As the 2015 Demand Metric report Enhancing the Buyer's Journey highlights, only 55% of marketers say passive content is effective at differentiating
 their brand while 88% of marketers say 
interactive content is effective at differentiating their brand.
5. Interactive content converts more leads

To top things off, several reports highlight the fact that interactive content tends to produce significantly higher conversion rates that passive content. Take a look at these findings from the 2014 Content & The Buyer's Journey Benchmark Report. The survey asked respondents to rate how effective their interactive content is versus passive content offers. Nearly twice as many respondents report that their interactive content converts moderately well or very well versus passive content.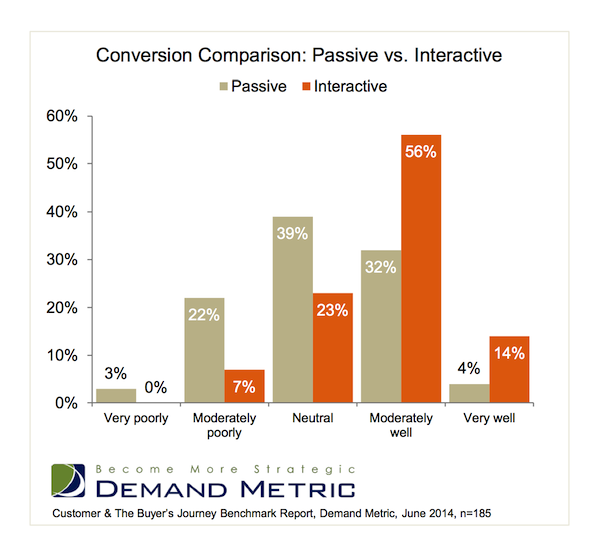 At the top of the scale, the "very well" category has 14% for the interactive group and just 4% for the passive group — a greater than 3x difference.
The Opportunity for Interactive Content for Inbound Marketing

---
Interactive content can effective for companies of pretty much every shape and size. For instance, we've built payment calculators for orthodontists, product recommendation tools for national telecommunications companies, hot tub selectors for pool companies, and ROI calculators for software-as-a-service startups. The opportunity to leverage interactive content is really quite endless.
In review, let's recap the 5 reasons why interactive content presents such a big opportunity for inbound marketers:
Buyer's content consumption preferences have shifted to favor more visual and interactive forms of content
Most B2B organizations are still only using long form text based content marketing tactics
Research shows that interactive content is more effective than passive content at educating potential buyers
Interactive content is more effective at creating differentiation than passive content
Interactive content tends to produce significantly higher conversion rates than passive content
Hopefully by now the opportunity for interactive content has become rather clear. To give you a little inspiration for how you can put interactive content to work for your organization, here are a few great examples of interactive content from around the web.
Examples of Interactive Content:
---
HubSpot's Interactive ROI Calculator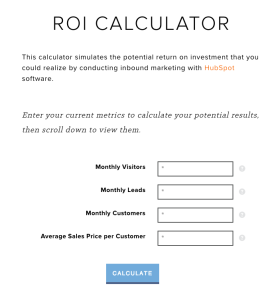 This is a great example of how a simple piece of B2B interactive content can provide huge value for your website visitors.
To use the calculator, all you need to do is enter four basic marketing metrics and the tools will calculate the potential return on investment of using HubSpot. Give it a try here.
As we've covered over on the HubSpot Developers blog, it is fairly straightforward to develop this type of interactive calculator using the HubSpot COS platform.
BuzzFeed's Interactive Quizzes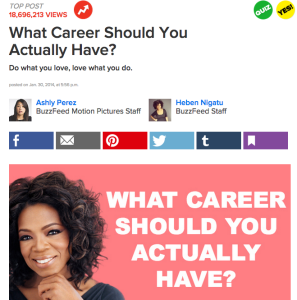 BuzzFeed Quizzes are by far one of the most popular forms of interactive content these days. This BuzzFeed quiz titled What Career Should You Actually Have? is among the most popular they have published.
Although these quizzes are often a little quite silly, it doesn't take much of a stretch of the imagination to see how similar functionality can be applied in a more business focused way to generate leads and nurture prospects.

The Office of National Statistics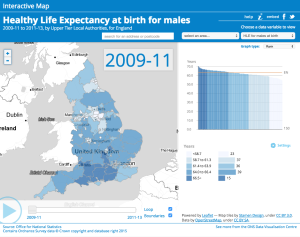 Taking things a step further, the Office of National Statistics has published several interactive reports and maps that are truly impressive.
It's worth giving this one a try – Interactive map of Healthy Life Expectancy for males and females. This interactive format is much more interesting and engaging than any white paper presenting the same information could ever be.

Google – The Wilderness Downtown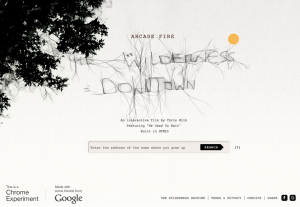 Interactive content doesn't need to be limited to simple calculators, surveys and assessment tools.
Google obviously has a lot more resources to put towards the development of interactive tools than the average company, but this example is inspiring nonetheless.
The Wilderness Downtown Project allows you to enter the address where you grew up and then it will create a personalized augmented reality music video.