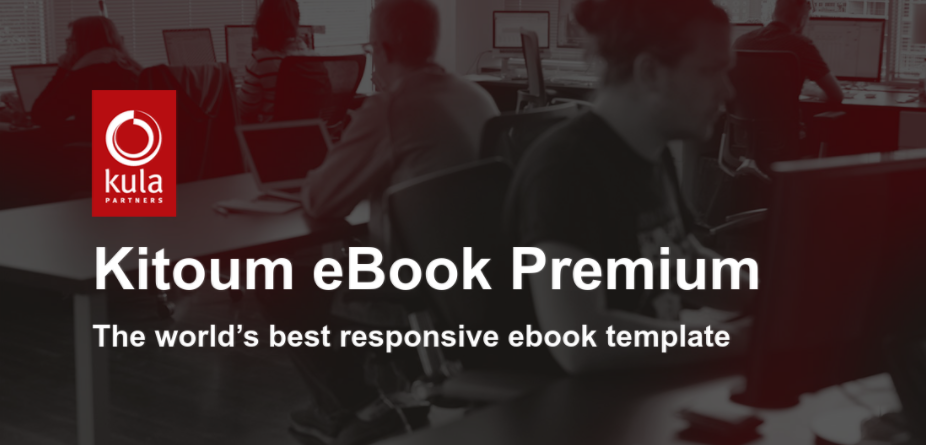 In March of 2017, we introduced Kitoum: a first-of-its-kind COS eBook template that fully embraces mobile-first design principles, allowing users to deliver their high-quality content on flexible web pages that they can view on any device. Since launching, Kitoum has been adopted by more than 100 users, fundamentally changing the way they deliver valuable content to their prospects, and we're excited by its success.
That said, we never intended to rest on our laurels. In fact, since launching Kitoum, we've been hard at work developing new features and modules that offer even more opportunities for users to create completely bespoke, web-based eBooks and whitepapers. The result of this work is the Kitoum eBook Premium Template which is now available in the HubSpot Marketplace.
Kitoum is the Future of Premium Content Distribution
The Kitoum eBook Premium Template allows you to create completely customizable interactive web pages to house and present high-value content offers (such as eBooks and whitepapers) to your site visitors. Before Kitoum, your only real option for delivering premium content was via PDF. We've made our feelings about the PDF clear a few times, but we're always happy to recap: the PDF has outlived its usefulness, is potentially negatively impacting your conversion rates, and has to go.
The Kitoum eBook Premium Template includes all of the features found in the base version—offering a range of functionality that the traditional PDF just can't compete with, including the ability to:
Adapt based on screen size – More than 50% of email open are done on mobile devices. Content created with Kitoum adapts based on the device it's being viewed on, eliminating the need for readers to annoyingly pinch and swipe their way through a document.
Quickly edit and update content – With new research comes new data and information. If your content isn't updated, it can quickly start to look outdated. Of course it's possible to update PDFs, but it's a far more onerous process. Kitoum addresses this problem head on, giving you the ability to easily edit and update your content as required. Best of all, once updated, readers won't need to redownload the latest version; it will simply be reflected the next time they view your content.
Easily tie your content to a CRM – Kitoum gives you the ability to embed forms and widget associated with your CRM directly into your offer—something that is simply impossible with a PDF. With this connectivity, you have the ability to incorporate tools such as HubSpot's Meetings calendar directly into your content, making it that much easier for readers to get in touch.
Add rich media – The State of Inbound 2017 makes it clear that marketers are investing in video content. Kitoum makes it possible to easily embed your videos directly into your eBooks and whitepapers, all without impacting portability.
Add Custom Icons – Kitoum's custom icon module allows you to easily add a Font Awesome icon to your page. This module allows you to choose from a wide assortment of popular icons, or, if the icon you want isn't on the list of popular icons, you can enter your own Font Awesome icon class. From here, you can set the size of the icon, add a background, and even add a caption for more context.
Collect analytics data – Before Kitoum, it was impossible to gain much insight from your content once it was "out in the wild." However, content created with Kitoum allows you to gather analytics data about how it is performing, who is engaging with it, and how.
Implement progressive downloading – Sometimes referred to as "lazy loading", progressive loading helps long documents load quickly—lowering your bounce rates and ensuring readers won't have to wait for extended periods of time to receive their content.
The Kitoum eBook Premium Template Takes Your Content to the Next Level
In addition to the benefits mentioned above, the Kitoum eBook Premium template includes a number of exclusive additional modules to help you customize your content even further, including the ability to:
Add customized charts and graphs – The Kitoum eBook Premium Template includes three custom modules that allow you to create original SVG charts (including pie charts, line charts, and bar charts) and graphs. You can easily adjust the width of these charts and graphs for maximum impact and add captions for additional context. And, because you can easily edit content, you can update your charts and graphs as required—ensuring you're always presenting the latest data in a way that is clear and easy to understand.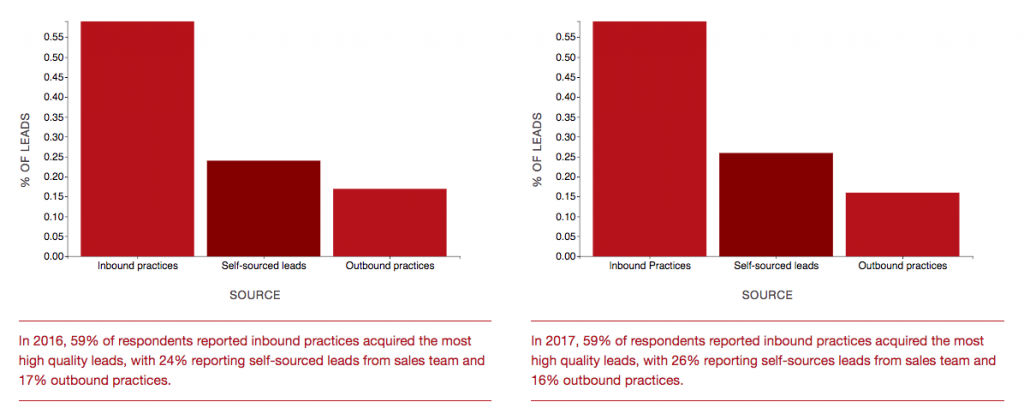 Customize social sharing options – With Kitoum Premium, you have more control over the sharing of your content on social media networks (Facebook, Twitter, Google, LinkedIn, and Pinterest), including the ability to add customized share text, and a unique share image. With these modules enabled, you can ensure your content is presented on high-traffic social networks exactly as you want it to be. Additionally, while this module defaults to being included at the bottom of your page, it can be moved and included as you see fit throughout your content.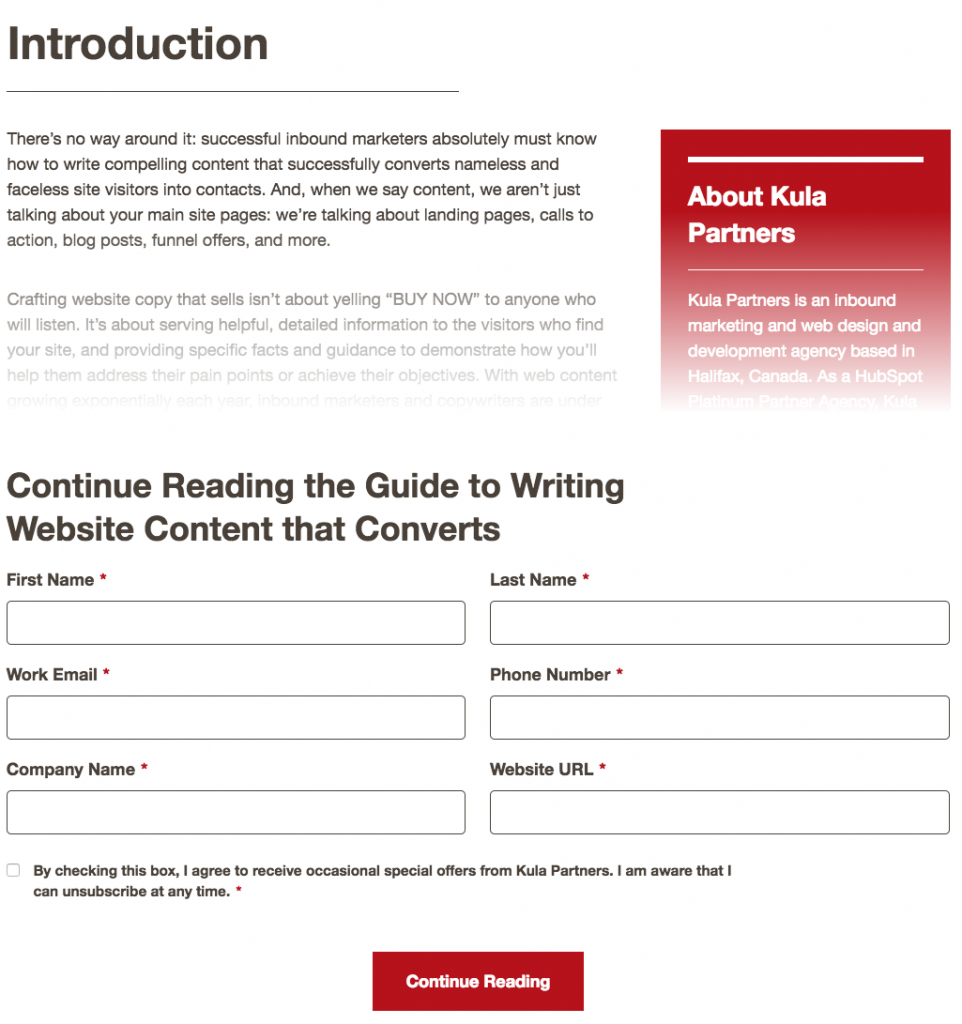 Gate Your Content On-Page – It's not uncommon for readers to want a sample of what they're in-store for before committing to converting on an offer. With the Kitoum eBook Premium Template's gated content feature enabled, you will have the ability to provide that sample. This setting gives you the option to hide the majority of your on-page content behind a gated form submission. When enabled, you can tease a portion of your content to a reader, and present a clear call-to-action encouraging them to provide their contact information in exchange for complete access. Best of all, when enabled, you can still choose to have your entire offer indexed by search engines, while still gating it from view by prospects. The ability to gate your content on-page also eliminates the need for multiple landing pages—ultimately streamlining the entire experience for your visitors.
Embed recent blog posts – The ability to offer your reader more relevant content is beneficial, as it helps establish your brand as knowledgeable and helpful. It is with this in mind that we included the ability for you to easily display posts from your HubSpot-hosted blog within content created using the Kitoum eBook Premium Template. When in use, you can choose the blog posts you want to include as part of your content as well as enable metadata to show the author's name and post date. This feature also allows you to customize the number of posts included within your content.
Ensure Your Content is Easy to Cite – If you're sharing original content, your readers may want to cite your research within their own work. With the "Cite This Page" widget enabled, they can do so easily. To do so, readers can simply click the widget and copy the citation to their clipboard. They can even choose from different citation styles (APA, MLA, and Chicago), depending on the style guide they are using.
Display a Sticky Table of Contents – With Kitoum eBook Premium, you have the option to set your table of contents to be sticky. With this option enabled, your content's table of contents will remain visible as a reader scrolls down the page.
Further customize your content blocks, images, and section headers – The Kitoum eBook Premium Template provides options to add greater customization to your content blocks, including the ability to set your content to fade in from a chosen direction.
For images, it provides greater control over your images, allowing you to set a caption to overlay an image, offset its positioning, crop its shape, apply a color overlay, link long descriptions, and set an image to face in from the direction of your choice.
Your Audience Deserves a Better Way to Consume Your Content
With the Kitoum eBook Premium Template, you have the ability to provide everyone—from first-time site visitors and leads to returning customers—with content that is easy to access, fully customizable, and viewable on any device screen. Stacked with a wealth of new features, the Kitoum eBook Premium Template refines the content creation experience—future-proofing your valuable resources and maximizing their impact.
Get your copy of the Kitoum eBook Premium Template today in the HubSpot Marketplace, and never force your customers to look at an anti-mobile, outdated PDF ever again.