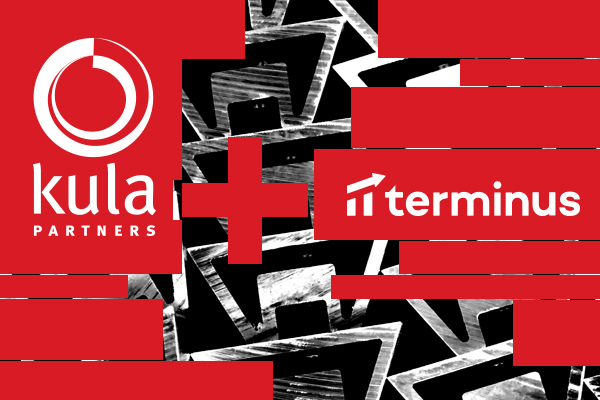 Kula Partners—a marketing agency serving B2B manufacturers across North America—has become the first manufacturing-focused agency to partner with Terminus, the world's leading account-based marketing (ABM) platform.
Led by co-founders Jeff W. White and Carman Pirie, Kula Partners helps B2B manufacturers craft digital experiences that transform how they engage buyers, serve customers, and outpace their competition online.
Led by CEO Tim Kopp, a recognized marketing and technology executive with more than 20 years of experience at global B2B and B2C brands, Terminus is the world's leading full-funnel account-based marketing platform. The Terminus account-based platform provides savvy marketers with the tools they need to drive demand, achieve better revenue outcomes, and establish long-term brand loyalty with their best-fit accounts.
"We know the traditional marketing and sales funnel is flawed, especially for B2B manufacturers operating in niche spaces with limited total addressable markets," says Pirie. "An ABM approach puts your ideal customers—and the stakeholders within them—at the heart of your marketing and sales strategy, helping you focus your resources on building relationships with the people that can actually buy from you. As Terminus' first manufacturing marketing agency partner, we're excited at the prospect of powering ABM strategies with sophisticated technology that enables ultra-targeted advertising and account intelligence—ultimately helping the firms we serve to bring in more qualified opportunities and drive bottom-line impact."
Pirie has been extolling the benefits of an ABM approach and people-centered marketing, most recently in interviews with popular marketing and sales podcasts like Confessions of a Marketer, SalesPOP!, and Intended Consequences.

Recent episodes about ABM have been among the most popular on Kula's own podcast, The Kula Ring, where Pirie and White interviewed both Daniel Englebretson—long-time Terminus customer, formerly of manufacturer Phononic—and Terminus co-founder Sangram Vajre, where they discussed the transformational nature of ABM.
"We're excited to have Kula Partners become our first manufacturing marketing agency partner," said Dan Griffin, Director of Strategic Partnerships, Terminus. "We see tons of opportunity to help more North American manufacturers achieve exceptional results with ABM by combining Kula's manufacturing marketing expertise with the capabilities of the Terminus platform."
About Kula Partners
Kula Partners is an agency committed to helping leading B2B manufacturers craft digital experiences that transform how they engage buyers, serve customers, and outpace their competition online. Kula Partners is headquartered in Halifax, Nova Scotia, Canada and works primarily with North American-based manufacturing clients marketing within complex B2B selling environments. Kula Partners hosts The Kula Ring, a manufacturing marketing podcast featuring leaders at the forefront of B2B marketing and sales across North America, including guests from Avery Dennison, GE Power, Klein Tools, Fellowes, Gartner, Deloitte, Google, and many more. For more information, visit kulapartners.com.
About Terminus
Terminus is the leader of the account-based movement and the crucial link that connects B2B marketing and sales teams with their ideal customers. The Terminus solution arms marketing teams with an account-centric platform that delivers the intelligence and automation needed to scale ABM and revolutionize the way B2B marketing is done. Hundreds of organizations worldwide, including 3M, Acuity Brands, and Hexagon Manufacturing, turn to Terminus to more effectively target, engage, and grow their best-fit accounts. Terminus offers savvy marketers the technology and proven expertise to radically improve ABM strategies and campaigns, increasing ROI and producing exceptional results. For more information, visit Terminus.com.