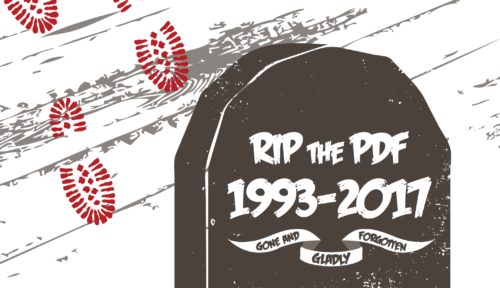 Halifax, Nova Scotia – Kula Partners Principals Jeff White and Carman Pirie today announced their plot to kill the PDF. Citing an outdated, mobile-unfriendly content type, Kula Partners is the first inbound marketing agency to leave the PDF for dead and move toward an ever-present, far more future-proof format: the web page.
Whitepapers, guides and eBooks offer opportunities for organizations to showcase their unique thought leadership and provide leads and prospective customers with valuable content they can't find anywhere else. Unfortunately, choosing to place this content in a PDF file makes it time-consuming for users to download and cumbersome to access via mobile devices. Kula Partners believes that housing this information on custom web pages is a smarter choice—one that is easily accessible on any device while allowing for immersive elements, analytics tracking, and immediate updates through content management tools.
When pressed for details on the plot to eliminate the not-so-beloved file format, Carman Pirie made no bones about it, "The PDF is getting in the way of doing inbound marketing right and it's amazing to me that we are the first to formally talk about it. PDF files are difficult for non-designers to create and edit, offer limited interactive functionality, and have zero analytics capability," said Pirie. "Business is always evolving, but once someone downloads information in a PDF, there is no mechanism available to keep that information up-to-date. Contrast that to a web page that can be updated at a moment's notice with the latest data, and there's really no comparison at all."
Jeff White believes that compatibility with mobile devices is the biggest reason to kill off the PDF for good. "Mobile devices are quickly becoming the way most users view the web—for many, desktop devices are a secondary touch point," said White. "For marketers, this means that their content needs to be consumable across an almost infinite number of different screen sizes. This is where the PDF format really fails marketers. If you're creating your conversion offers via PDF, you must either over-invest in creating multiple sizes of clunky-to-update PDFs for different screens, or choose to ignore the user experience for an increasingly large percentage of site visitors. That really sucks. Building your conversion offers as custom, responsive web pages fixes all of that and gives your users what they really want and expect on the web—an interactive experience optimized for every screen."
What is Kula Partners proposing? "It's simple," said Pirie. "Kill the PDF."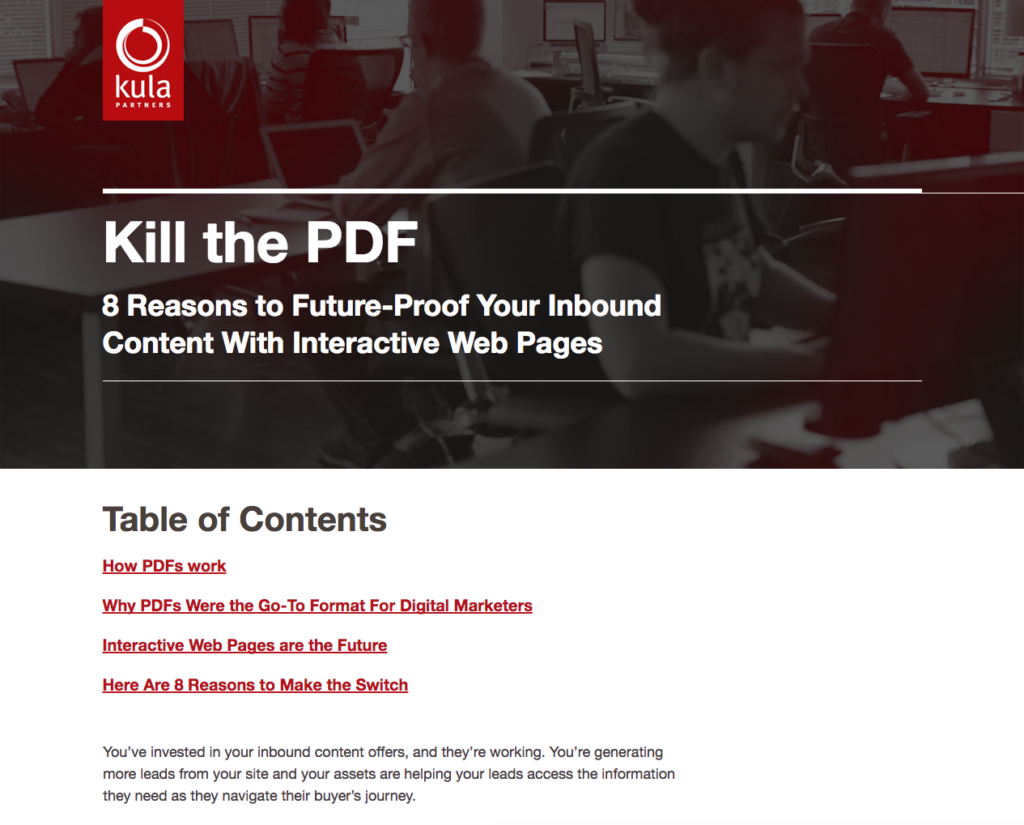 In order to kill the PDF and get away with it, Kula Partners has released Kitoum—HubSpot's first-ever eBook template. The Kitoum eBook template is now live in the HubSpot Marketplace, and allows anyone to create web-based whitepapers and eBooks that are immersive, responsive, and data-rich. For those interested in learning more about the template or the Kill the PDF initiative, contact Jeff White at 902.832.0244, or read more in this blog post.
About Kula Partners
Kula Partners is a conversion optimized inbound marketing agency based in Halifax, Nova Scotia. As Canada's first Platinum HubSpot Partner, we have launched more than 200 websites and inbound marketing strategies over the past dozen years. Every step along the way, our objective has been to help our clients sell more. Sell more products. Sell more services. Sell more ideas.