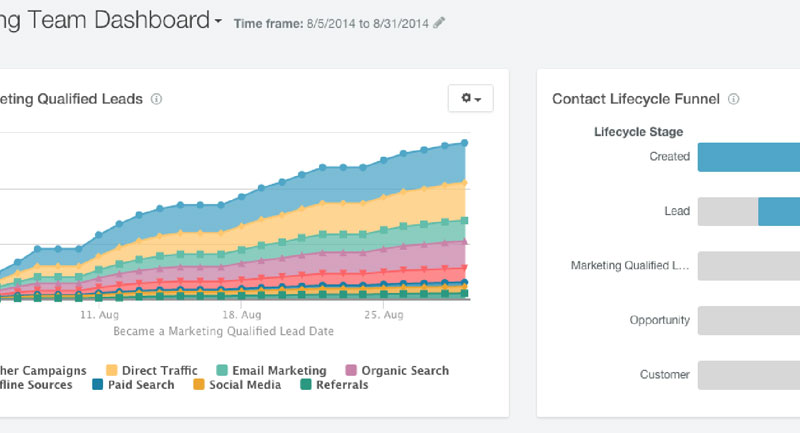 Even with all of the analytics tools we have at our disposal, reporting continues to be a challenge. Inbound marketers need to be reporting on everything they do from the number of leads they have generated, to the conversion rates of their landing pages, and the revenue their efforts have resulted in.
On top of this, reporting continues to become more complex as your company grows and expands into more sales verticals. There is never really one metric that accurately sums everything up, instead there are typically quite a few key performance indicators (KPIs) to consider.
This is exactly why HubSpot customers are so excited about the new Reporting too. The Reporting add-on allows every HubSpot user in your company to create a customized reporting dashboard that highlights the metrics that matter most to them.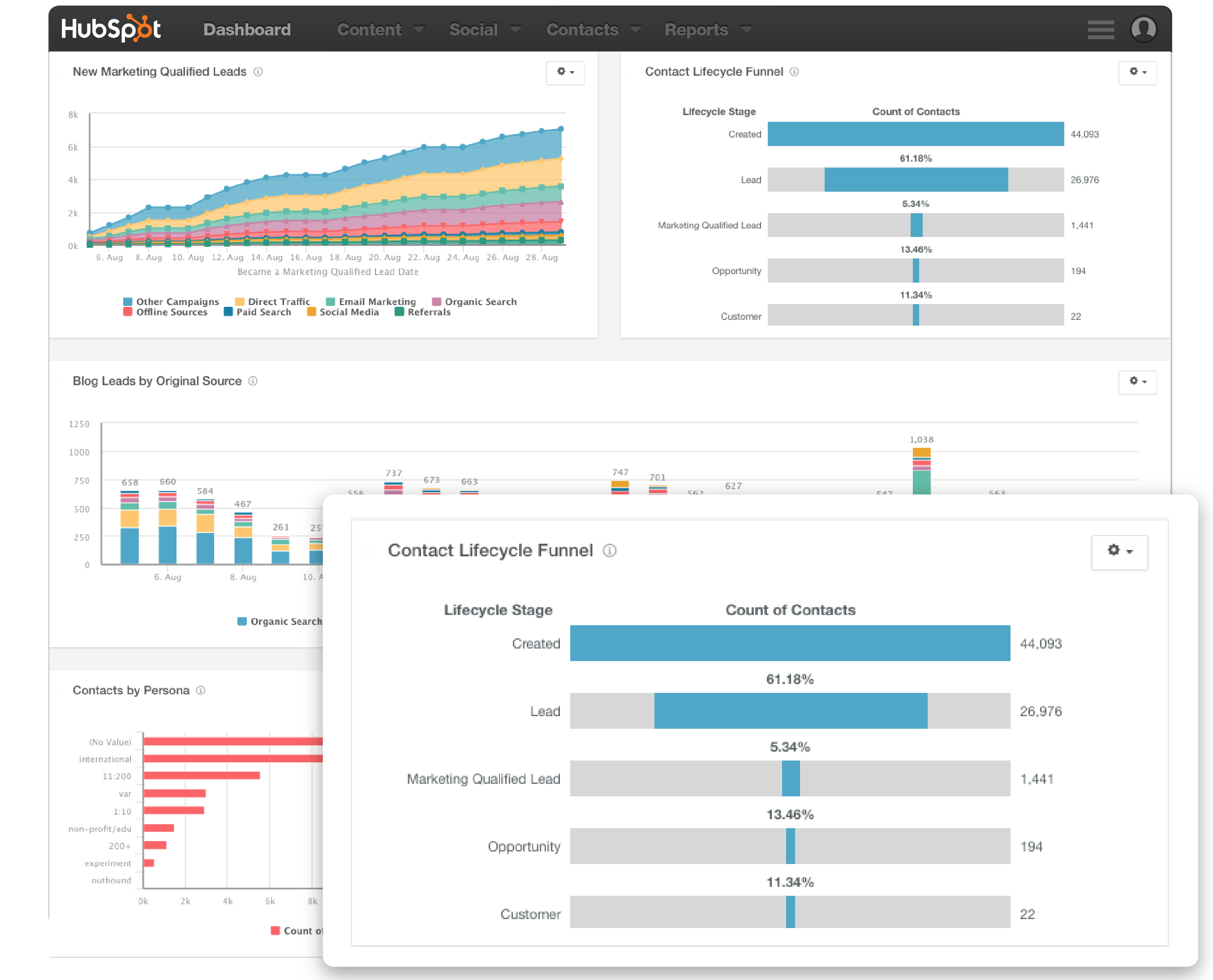 HubSpot customers have been asking for better reporting capabilities and that is exactly what the new Reporting tool delivers. The announcement during today's keynote at the INBOUND conference in Boston was met with great excitement from the crowd of more than 10,000 inbound marketers.
HubSpot Reports is a central dashboard that combines all of your marketing and sales reports into one interface. With the HubSpot Reporting add-on anyone from marketing or sales will be able to create a customized dashboard that tracks all of the key metrics they are accountable for as well as their progress towards their goals.
Rather than switching between various tabs, software tools, account log-ins and interfaces, you'll have one login, one username and one password to access all of your sales and marketing reporting needs.
Here are 6 features of the new Reporting tool that HubSpot customers are excited about:
1) The usefulness for everyone in sales and marketing
One of the most brilliant aspects of the new HubSpot Reporting tools is how flexible it is for pretty much anyone, in any organization. No matter if you oversee one marketing channel, one sales pipeline, or manage a full sales or marketing team, the dashboard will be applicable regardless of how advanced you are.
2) The customizable dashboard views
The Reporting dashboard is much like a digital bulletin board – a place to pin all of your most important sales and marketing reports. Within each customized dashboard you can add several types of reports, including:
Funnels
Leaderboard
Comparison
Timeline
Stats
Marketing Performance
As you'll see in the Marketing Team Dashboard example shown below, with the Reporting add-on you can get all of your sales and marketing reports in one beautifully designed, centralized dashboard view.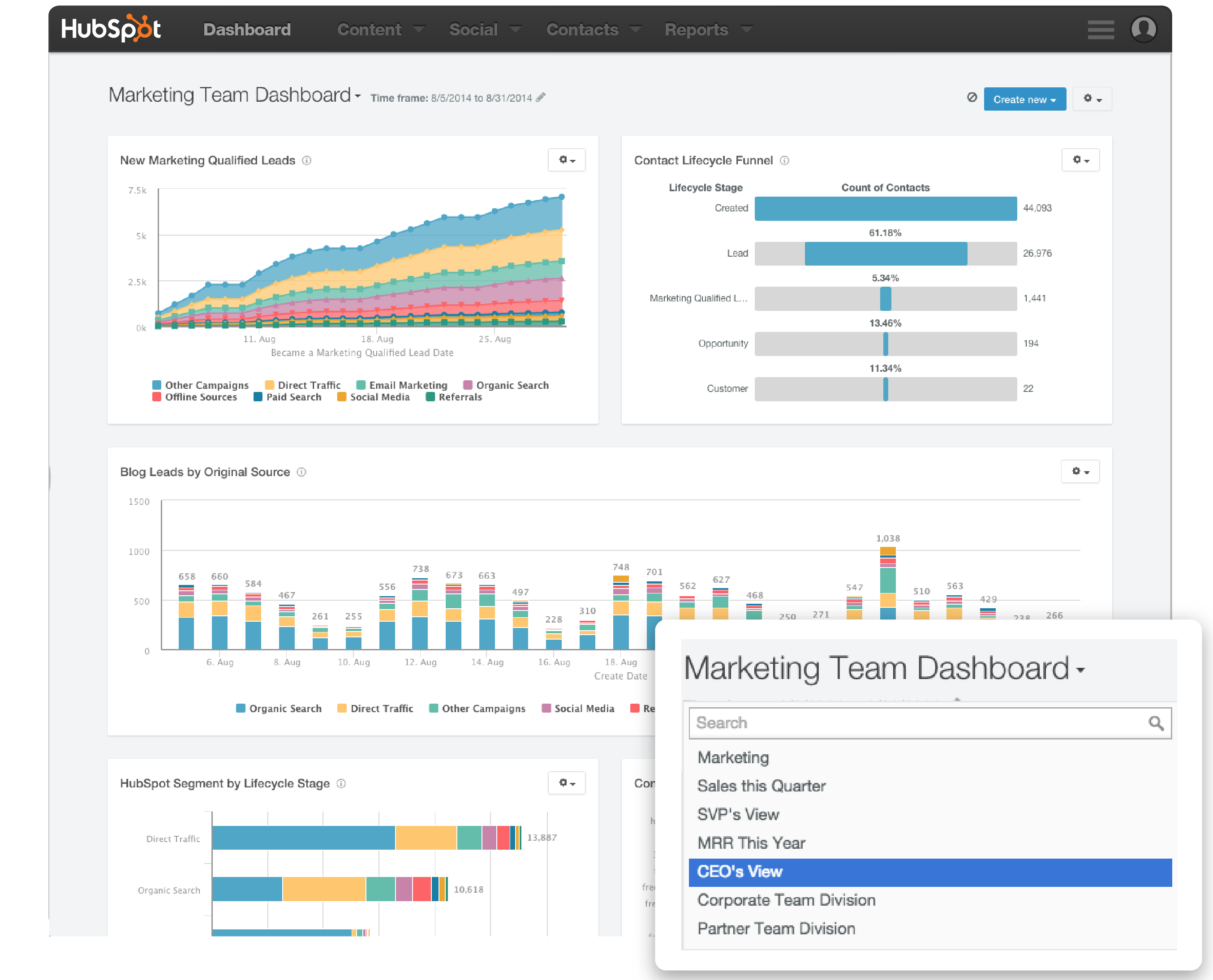 3) The pre-built reports that help you get started
As you set up the tool you'll be able to choose from over 20 pre built reports. The report templates are organized by two categories – sales and marketing. There are sales reports to help you measure your prospecting activity and your deal flow while the marketing reports focus on contacts and companies.
You can use these report templates, or edit them if you'd like to measure a certain list, change the date range or make any other change to the reporting criteria.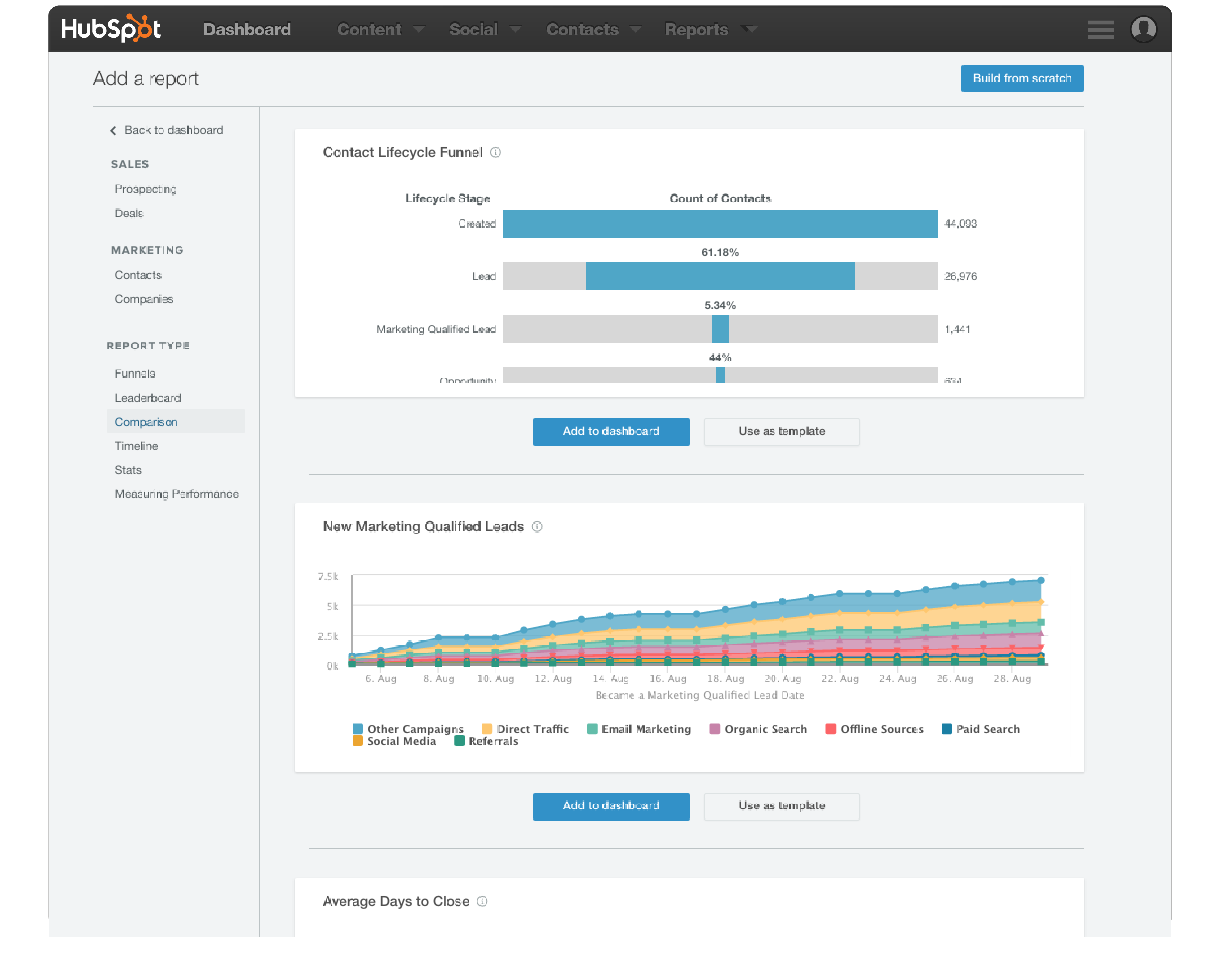 4) The ability to create completely customized reports
The Reporting tool really begins to shine when you start creating customized reports. In the custom report builder you can choose from six different types of reports:
Contacts – this will build a report based on the individuals in your database
Companies – this will build a report based on the number of accounts in your database
Deals – this will pull in data from your CRM if it's connected
Engagements – this will show how your sales team interacted with their potential customers
Contacts Funnel – this will show the conversion rates of contacts through various sales cycle stages
Deals funnel – this will show the conversion rate of deals through each deal stage
Custom reports can incorporate any number of criteria, in fact you can use any piece of data from your entire HubSpot database. If you use the HubSpot CRM, this will work with both the marketing and sales data. You can choose to report on a certain segment of your database by choosing a specific marketing list or a CRM view or filter your report based on any timeframe – weekly, monthly, quarterly, yearly, rolling date range or a custom date range.
5) The helpful graphs, charts and data visualizations
With so many metrics to monitor, every marketer has a certain soft spot for colorful graphs and charts. Once you've built a custom report you can even choose how you'd like to display the information. As shown below, you can choose to visualize your data as a summary, bar, column, line, table, or area graph.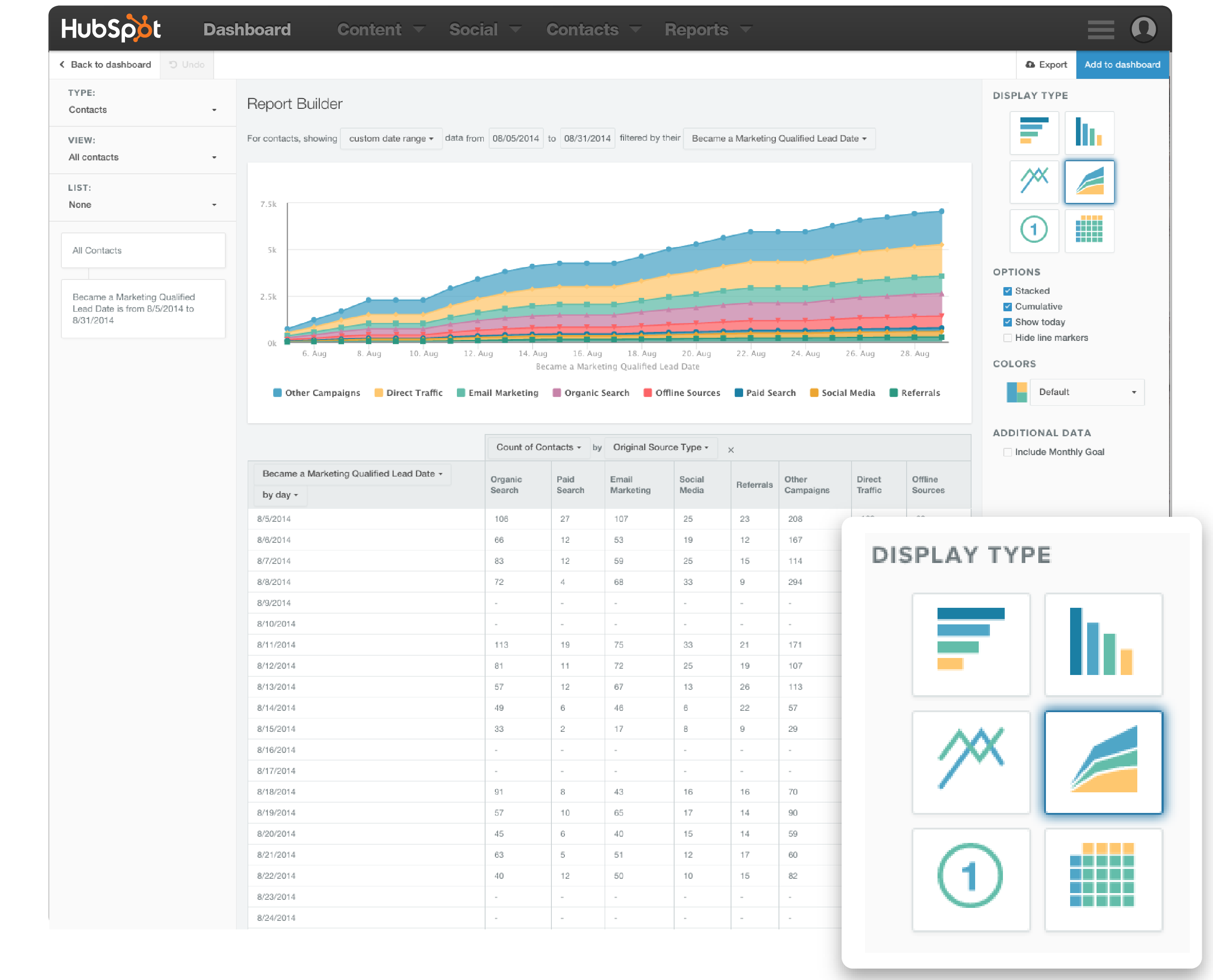 6) The added business intelligence
HubSpot has managed to incorporate reporting features similar to much more expensive and complex business intelligence tools into their new reporting add-on. Not only is the HubSpot Reporting add-on well priced at just $200/month, but it is very easy to use and incredibly powerful.
To give you a better sense of how the new reporting add-on will work, here is a quick video that does a bit deeper dive into some of the core features and functionality of the platform:

HubSpot Reporting Add-on Pricing & Launch Timeline
The HubSpot Reporting add-on will be cost and additional $200/month on top of you existing HubSpot subscription. The add-on is available for Professional and Enterprise Customers.