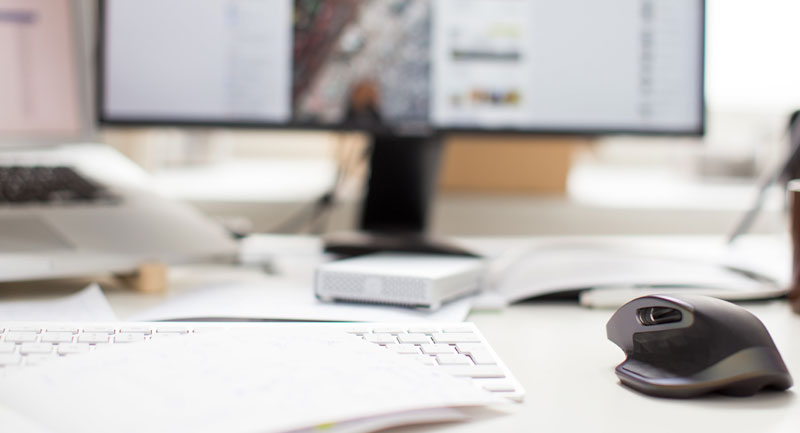 Each year HubSpot surveys thousands of the world's foremost marketers and salespeople at companies of all sizes around the world. The results of this annual survey are compiled into a comprehensive document which uncovers major trends in the adoption, execution and return of inbound marketing. HubSpot recently released the 2015 State of Inbound report, and as always, it is packed with fascinating data about the ever evolving world of online marketing.

To give you a bit of context about what went into creating this year's report, here is a quick breakdown of the mix of survey respondents who participated in the study:
The research includes feedback from 3,957 respondents

Companies from 150 countries are represented

Only ⅓ of the respondents have an affiliation with HubSpot

Half of companies represented in the data generate less than 1 million in annual revenue while the other half generate over 1 million in annual revenue

Organizations included in the research are 65% B2B, 24% B2C, 5% non-profit
This year's State of Inbound report is a bit different that previous years. Because inbound marketing has already become a rather entrenched practice in most industries, rather than highlighting the adoption of inbound marketing this year's report focuses more heavily on the inbound marketing tactics and strategies that leading marketers are using to drive results.
As the research reveals, there are four common things that all leading marketers do differently. Applying these four tips will help you better demonstrate the ROI of inbound marketing, unlock additional marketing budget, generate more results and scale your inbound marketing strategy.
Marketers who check their analytics 3X+ times per week are 20% more likely to achieve positive ROI (Click to Tweet)

As the saying goes, what gets measured, gets managed. In this case, the research indicates that marketers who check their marketing analytics more than three times per week are significantly more likely to achieve positive ROI.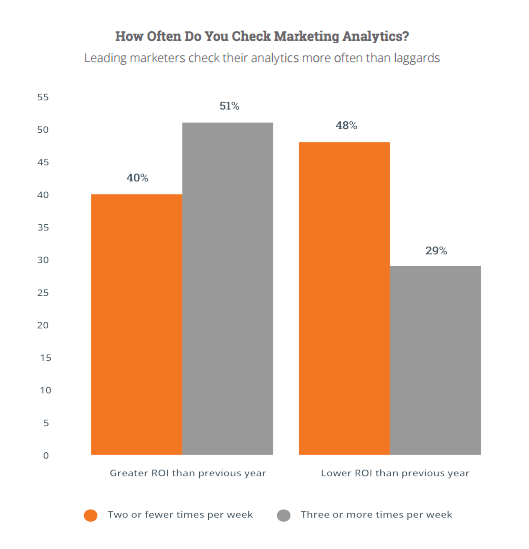 Quite frankly, this makes total sense. If you are frequently monitoring your marketing metrics to asses how things are going you can then begin to make data-driven decisions to improve results much more frequently. On the other hand, if you are only looking at your marketing metrics in retrospect every few weeks or at the end of the month, there is no going back to make changes.
Leading marketers let results drive decisions


This year's survey asked respondents to identify the factors that caused a change to their inbound budget. As was the case in 2014, no single factor was more important in driving a higher inbound budget than past success with inbound marketing.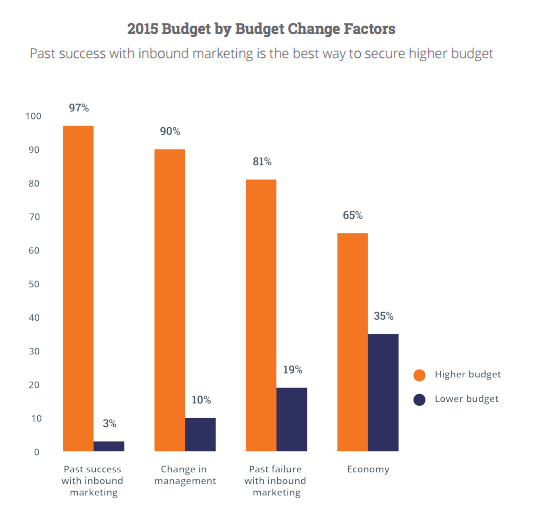 Interestingly, past failure with inbound doesn't necessarily deter organizations from increasing their budget. Of those who failed with inbound last year, 81% actually increased their budget for 2015. What does this mean exactly? Top marketers realize that inbound is a long game. If you get off to a slow start, you shouldn't back off. In fact, you might consider doubling down.

3. Leading marketers track ROI, prove success, and reap the rewards

Best-in-class companies prioritize measuring the ROI of their inbound marketing efforts right from the beginning. Respondents were 20% more likely to receive a higher budget in 2015 if ROI was tracked in the first place, and twice as likely to see an increased budget if that tracked ROI was shown to be higher than in 2014.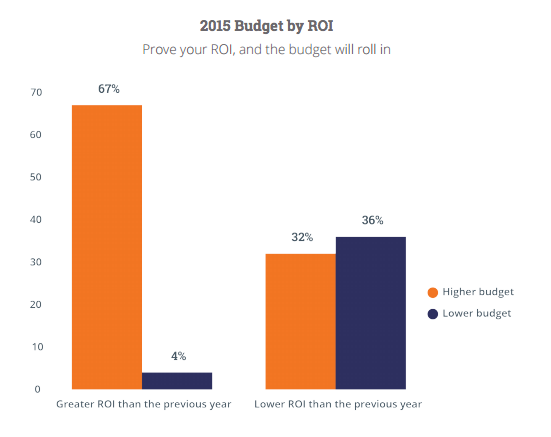 By tracking year-over-year returns,, and subsequently demonstrating positive ROI, leading marketers are able to consistently increase their budgets as they scale their inbound marketing strategies. Conversely, respondents were nine times more likely to receive a lower budget if they failed to demonstrate a positive ROI from previous investments in inbound marketing. With this in mind, there is a strong case to be made for dedicating time and resources to establishing links between marketing activity and results.
Leading marketers source their content from both in-house and outsourced writers
This year's data shows a significant increase in the number of marketers who use freelance writers and agency partners for content creation. In fact, as you can see in the graph shown below, it seems as though the shift towards outsourced content creation actually means that less internal staff are contributing to content creation efforts.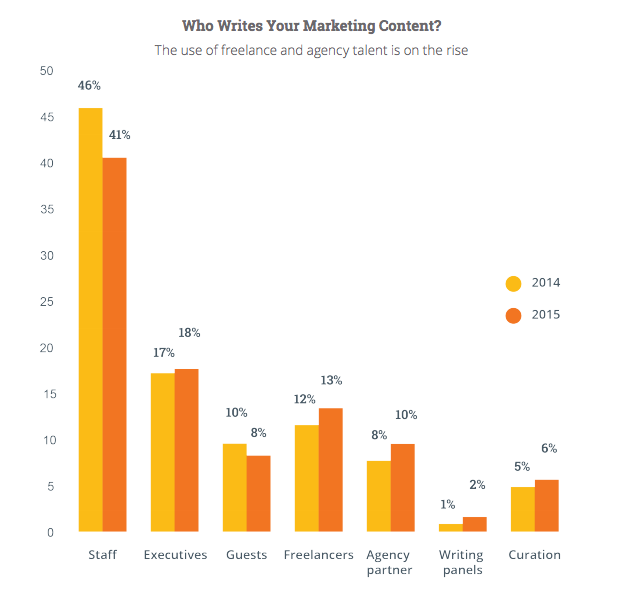 As you can imagine, these are just a few of the findings from this year's research. If you'd like to download the full report you can grab free a copy here.