As a HubSpot Certified Agency Partner we frequently write guest blog posts that are published on the HubSpot blog. This post originally appeared on The HubSpot Insiders blog, a section of the Inbound Hub.
---
In today's online marketing landscape there is certainly no shortage of marketing channels to choose from — display, pay-per-click, search engine optimization, social media, blogging, content creation, video — the list goes on.
When it comes to choosing the best channels for your marketing campaign there is really no silver bullet. Every marketing campaign has a different goal, timeline, budget and target audience. So how do you choose the channels that are best for you?
These 6 considerations will help you weigh your options and choose the marketing channels that are best suited for your next campaign.
1) What are the goals of your marketing campaign?
The first step towards selecting the appropriate channels for your marketing campaign is to identity the objectives you are hoping to achieve. Are you trying to build awareness? Re-engage stale leads? Increase website traffic? Drive a quick increase in sales before quarter end?
The expectation for immediate, short term results requires a different marketing mix than campaigns with longer term objectives. Paid media is often selected for short term campaigns designed to produce immediate results. For example, with pay-per-click (PPC) campaigns you can buy a short term burst of website traffic, however when the campaign ends the traffic also comes to a stop.
Search engine optimization (SEO), on the other hand, is a more long term, sustainable strategy to increase website traffic for the long haul. Choosing to invest in SEO ensures that improved content in the form of optimized web pages, blog posts, and inbound links are yours to keep!
Paid Media
Pay-per-click
Facebook Ads
Display Ads
Promoted Tweets
Print
Television
Owned Media
Search Engine Optimization
Branded Content
Social Media Presence
Website
Blog
Email Newsletters
Key questions
What are you trying to achieve?
Is the expectation to drive short or long term results?
2) How much should you spend on the campaign?
The budget you are working with can largely dictate which channels best suit your needs. If you are working with a small, or nonexistent, budget you will have to rely on existing content and in-house expertise, while larger budgets may allow for outside agencies to bring more specialised talent to your campaign.
For more advanced marketers that have an understanding of their customer acquisition costs and customer lifetime value, setting campaign budgets is more tactical. For instance, you may have calculated the amount you are willing to spend to acquire new top of funnel leads and the amount you are willing to invest in converting bottom of funnel leads into customers. Depending on the goals of your campaign you could set the budget based on your desired outcome.
Key Questions
How much should you spend on the campaign?
How much are you willing to spend to acquire a new lead? A new customer?
3) What stage of the customer lifecycle are you focusing on?
Identifying which stage of the customer lifecycle you are focusing on will help you fine tune your messaging to resonate with the leads you are most interested in.
If the goal of your campaign is to drum up a quick spike in sales before the end of the quarter you should be focusing on leads that are near the bottom of the funnel. In this case, an email campaign offering an incentive to "buy now" might be the best strategy.
Similarly, if the goal of your campaign is to build brand awareness by providing educational content you should be focusing on attracting leads to the top of your funnel. Leads in this stage are typically looking for high level information about your product or service.
The goals of your campaign will guide which stage of the customer lifecycle you are targeting: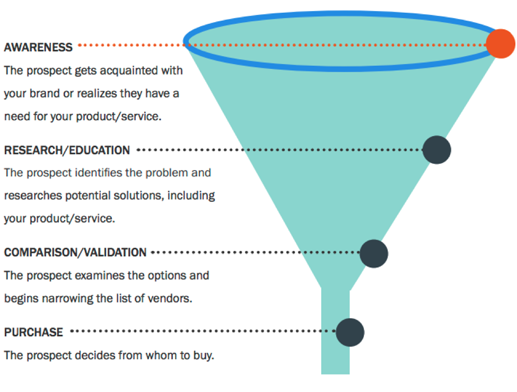 Key questions
What types of questions or common objections do people in this stage of the customer lifecycle have?
What type of content or marketing offer would be most effective in moving leads into the next stage of the customer lifecycle, or towards your campaign objective?
4) Where do your buyer personas go for information?
If you have been around the inbound marketing block you already know about the importance of buyer personas. HubSpot's very own Ellie Mirman, Head of Inbound Marketing Funnel, summed it up perfectly, saying:
"Buyer personas help us all — Marketing, Sales, Product Development — internalize the ideal customer we're trying to attract, and relate to our customers as real humans. Understanding your buyer persona is critical to driving content creation, product development, sales follow up, and really anything that relates to customer acquisition and retention."
Results driven marketing campaigns are centered around buyer personas. Campaign messaging, content offers, and channel selection should all be crafted with your ideal customer in mind. Understanding who your ideal customers are, where they go for information and the goals they are trying to accomplish will help you execute a campaign that attracts high quality leads.
Key questions
What is their job role?
What are their goals?
What are their biggest challenges?
Where do they go for information? What publication or blogs do they read?
What social networks do your buyer personas use?
5) What causes someone to look for information about your product or service?
Marketing triggers are the events, or pain-points, that might cause a potential customer to identify the need for your product or service. Understandingthe events that trigger someone to think about your product or service will help you get your marketing message in front of the right people, in the right places, at the right time.
When you are planning a marketing campaign it typically falls into one of three categories.
Attract new traffic, followers and leads
Nurture existing leads
Focus on current clients
If your campaign is focused on current clients you might identify marketing triggers that occur between you and your customers. For example, contract signings, store visits, support calls, event attendance or fiscal year end.
Marketing triggers can also include external events, such as economic changes, types of weather, government legislation, company growth or changes in the competitive landscape. All of these events are signals for marketers to tap into.
Key questions
What category of people are you targeting? New people, stale leads or current customers?
What pain points or events trigger the need for your product or service?
6) What skills and expertise do you have available?
Your expertise will have an impact on the marketing channels that you choose. If you are a social media rockstar, but don't have any graphic design or video production expertise, hiring an agency to round out your skill set can take your campaign to the next level.
Most successful online marketing campaigns use some combination of copywriting, graphic design, web development, social media and search engine optimization. You may not have access to all of these skill sets, so here are a few suggestions from Rand Fishkin, a leading SEO expert and founder of Seattle-based consultancy Moz (formerly SEOmoz), on how to choose the best marketing channels for your skill set. If you have:
Web development resources, focus on:
Conversion rate optimization
Search engine optimization
Viral content, such as tools and widgets
Creative resources (copywriters, designers, video producers) focus on:
Viral content – written, infographics, videos
Email marketing – great copywriting required
Display – design a great ad
Search optimization resources, focus on:
On-page SEO
Pay-per-click
Social media resources, focus on:
Community management
Viral content
Online PR
Key questions
What areas do you have the most expertise?
How quickly do you need to execute the campaign?
Do you have an existing email list or social media following you can leverage?
Do you have enough budget to hire an agency to fill the gaps in your expertise?
One size doesn't fit all – Choose the best channels for YOU!
Drum roll please! The answer to How to Choose the Right Channels for Your Marketing Campaign? is… "it depends". Every marketing campaign has a different goal, budget, target buyer persona and in-house expertise to draw from.
Although there are many factors that can play a role in your decision making, these five questions will help you design your next marketing campaign around your ideal customer and deliver your message in the most effective channels.
Of course, I would love to hear your feedback about the post as well as your experience choosing marketing channels!
Want to learn more about how you can put Inbound Marketing in action for your organization?
Download our Executive's Guide to Inbound Marketing to learn how successful marketers are using inbound marketing methodology to attract highly qualified sales leads, increase conversion rates and close more deals.