I ran into Trevor Adams, Metro Guide Publishing's Senior Editor and the voice of Halifax Magazine on Twitter, on his way to Bishop's Cellar last week. After a few kind words about the Bishop's Cellar website, I asked him if he would mind guest blogging about his Bishop's Cellar experience. Here's what he had to say:
You don't realize how bad most retail websites are, until you find a really good one. In the last year or so, I've become a fiend for craft beer and I'm constantly on the lookout for the latest brews. This generally means a lot of time checking out different stores' Twitter and Facebook feeds, trying to suss out if anything new is in stock. Their websites are generally maddeningly outdated (if they're anything more than a landing page at all).
Bishop's Cellar is the notable exception and it's no coincidence that it's become my go-to store for craft beer at the same time. The first time I landed on the page, I was instantly smitten. Right there in front of you is the most functional search tool I've seen on a local retail website. It's ridiculously easy to filter by style, region, price, etc. I'm shopping for craft beer almost exclusively these days, but it seems to work similarly well for spirits and wine.
And that leads me to the next thing I love: there is a huge distinct section of the site devoted to beer. If you're not searching for anything specific, it's a fantastic place to just browse and once again, you can filter by on-sale products, new releases, etc. Sometimes, I don't even go there to shop—I just look at all the nice beers I want to try.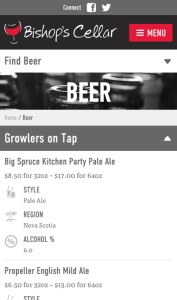 Recently, Bishop's started offering growler fills. This ability to bring my own jug and try hard-to-find creations is one of my favourite things about the craft-beer scene, but can also be one of the most maddening. There have been so, so many times in the last year that I've heard a beer I'm dying to try is available at a store, and when I show up with my growler, I hear "Aw, sorry. We sold that out yesterday."
Obviously, I understand that beer supplies are finite. I'd just like to know if I can get what I want before I go to the store. This is another way the Bishop's Landing site shines. I know nothing about the back-end of the site, but it must be a breeze to update, because the information about growler fills is always 100-per-cent up-to-date. This alone is sufficient to keep me using this site religiously.
And this all dovetails with another feature of the site that I've only recently discovered: its e-commerce capabilities. In addition to browsing online, I can shop and assemble my order, and then have it delivered or set aside at the store for pick-up. (I tend to go for the pick-up option, myself.)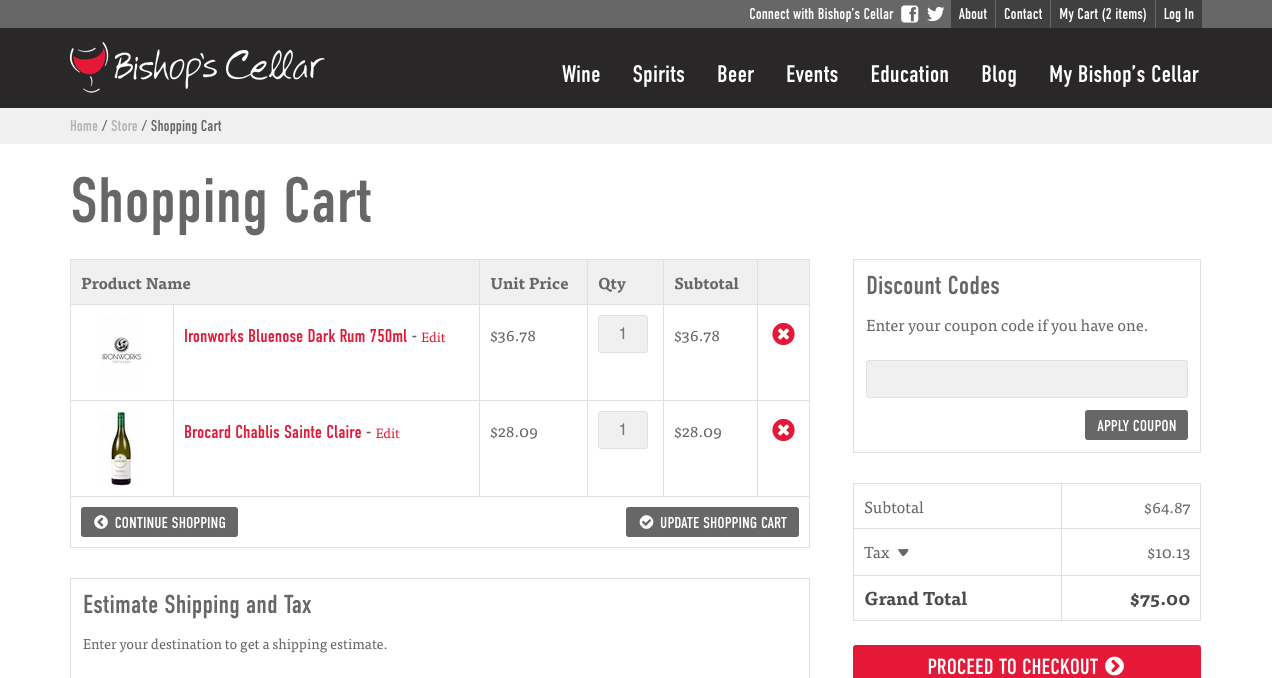 If this all sounds pretty simple, it's because it is. There's no voodoo about it. It's just good, straightforward, 21st-century retail. It's taking the lessons about ease and convenience that Amazon taught us, and scaling them to an independent, local business. From my perspective as a consumer, it's the best of both worlds: everything I love about the best e-commerce sites, coupled with a feisty local business that I'm happy to support.