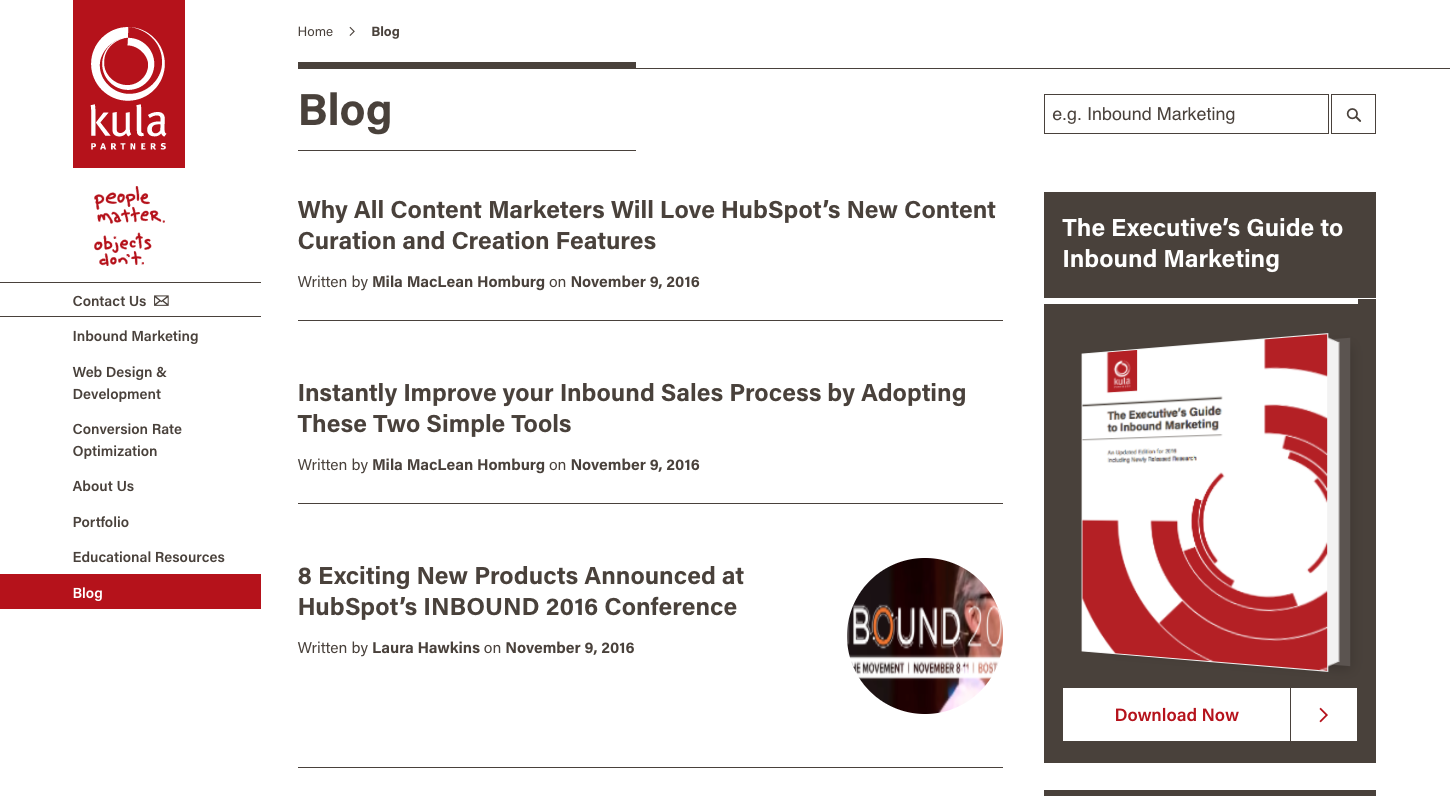 As a savvy inbound marketer, you know how important regular blogging is. Whether you're just getting started or if you've been doing it for a while, it can be a struggle to come up with new blog post ideas, find a unique spin to share with your audience, or get inspired to come up with new content to fuel consistent content creation.
To help make blogging a breeze, we've assembled our top tips to focus on when creating your next blog content plan—including how to identify what to write about, advice on how to create the right mix of posts, and how to ensure posts are written in an engaging style to keep your readers interested.
1. Establish the Right Mix of Blog Post Types
There are two primary reasons to blog: for SEO and for social fuel. Both are important and have their place within your wider inbound marketing plan. Below, we've outlined the benefits of both types of blogging.
Blogging for SEO
Sustained and regular SEO focused blogging can help your site in the following ways:
Attracting Visitors: The primary purpose of blogging for SEO is to attract visitors to your site. This happens when your blog posts rank for the keywords and phrases your audience is using to search for your products and services. By providing helpful content using the relevant short and long-tail terms your audience is using, you'll be more likely to appear in top search engine results pages (SERPs).
If you haven't pinpointed your organization's target keywords, do that first. Conducting keyword research lets you unearth plenty of opportunities to create content that addresses the queries people are looking for. Keyword research involves identifying which search terms your site already ranks for, and which terms your site could rank for with regard to your offering. For example, you'll always want to research and include keywords that describe:
What your offering is and what it does
How buyers evaluate it during their decision-making process
How buyers can purchase it
How it's used once purchased
Here's a quick overview of how to get started:
Start by making a list of the most important keyword buckets for your organization, like:
For each bucket, add more descriptive keywords to your list, such as:
french wine, red wine, organic wine
craft beer, gluten-reduced beer, oatmeal stout
Captain Morgan, vodka, sloe gin
Next, head to your keyword research tool of choice like HubSpot, Google Trends or a platform like SEMRush to identify related terms that you might not have thought about during the first two steps. Enter in the terms you've compiled so far and search for any new terms based on or associated with them. Then, research the related terms of those terms. Add the relevant ones to your list.
Evaluate whether there are any "belly" or "long tail" terms that would be worth going after. We define belly terms as keywords and phrases that are not as popular or competitive as your primary (or head) terms, but will deliver qualified traffic. Targeting several of these keywords can deliver a decent amount of search volume. This is particularly important in industries where your primary keyword is hugely competitive or you have less budget or time to go after it.
Long tail keywords might be less desirable than primary terms, but can still attract traffic and often have much lower competition. Deciding whether you want to focus on a range of belly or long tail terms versus one primary term should be part of your inbound marketing strategy, but here are a few examples of belly and long tail terms for our wine and spirits merchant:
organic wine producers spain
best organic Canadian IPA
unique spirits to give my partner's dad
Use your keyword research tool of choice to:
Highlight whether you've missed any relevant keywords. Add any potentially valuable ones to your list.
Narrow down the list by removing any keywords that you think are way too competitive or just don't have enough traffic.
For newly launched or redesigned sites, regular blogging can help to drive faster indexing of your site in Google and other search engines, increasing the chances your site will be found for the words and phrases that are valuable to your organization.
Converting Visitors: Once you've attracted readers through organic search and dazzled them with your content, use your blog posts to convert those visitors into leads. Each post should offer your readers a Call to Action (CTA) that is closely related to the subject of the post. This creates an opportunity for them to get an offer with more information on the topic in exchange for their contact details. An offer could be a guide, white paper, video, tutorial, case study, infographic, recorded webinar, interactive tool…the options are endless!
CTAs are most often designed as text links, buttons, and embedded forms. CTAs should point to a landing page that provides an overview of the offer and a form to collect the visitor's contact information. Once you've captured their details, you can direct them to a thank you page with a link to the offer.
Here are a few examples of how CTAs can be incorporated:
As an in-text link:

As a button: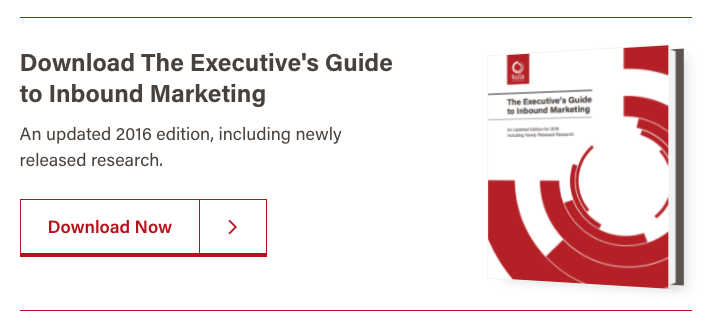 In the sidebar of your blog (or other page):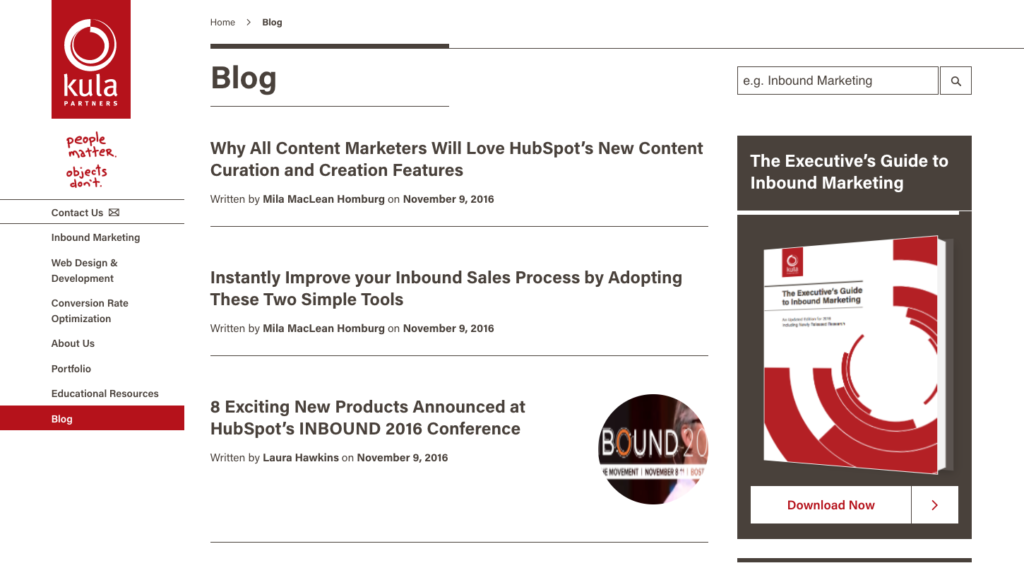 Blogging for Social Fuel
Not all blog posts are going to be created to target a specific keyword or phrase. Some posts are created to provide an uncommon or specialized perspective to demonstrate thought leadership or share interesting news from your organization, including an event, a contest, or a testimonial from a client. However—and this an important caveat—we'd caution against making this type of post too much about you.
This type of post can help readers learn more about your organization on a more personal level while positioning your organization as their trusted source for information about the sphere in which you operate. They're also valuable for nurturing or aiding in a lead's decision process instead of acting as initial discovery points, like a focused SEO post might (although an SEO post can certainly work for nurturing, and social posts can rank for your keywords).
Here are a few ways to round out your content to provide social fuel:
Be Provocative: Are there fun, controversial, or attention-grabbing topics that you can offer more insight on as they relate to your industry, space, or persona's needs?
Share Your Perspective: Without question, the people on your team have distinct insights based on their experiences. This view, based on the writer's personal experience, or the organization's qualifications or specialization, is one that readers wouldn't be able to find anywhere else.
Newsjack: Is there a hot topic in the news that relates to your industry right now? Share your CEO's response to it, or your organization's reaction to news as soon as you hear about it. This is most effective on the day of the event, so don't wait too long or you'll miss your chance.
This kind of blogging provides useful fuel for your social profiles. While sharing your SEO posts and landing pages via social is always encouraged, more conversational content can help round out your presence, and provide a more casual "in" for visitors to explore your resources and convert. It also serves to showcase your personality, and can help potential leads get to know and like you.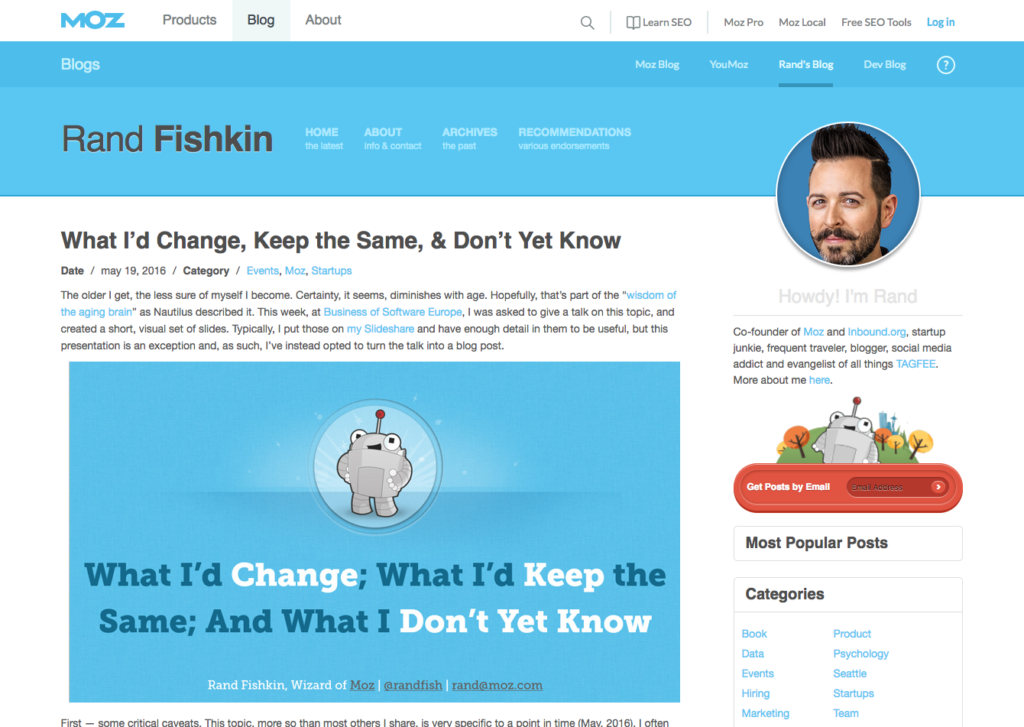 So, how can you determine how to create the right mix of blog posts for SEO and blog posts for social fuel? It depends. Both should be included in your planning, but your organization's goals will largely dictate the ratio of SEO-focused vs. social-focused posts.
For new sites, those that have been recently re-launched, or older sites just introducing a blog for the first time, consider focusing on SEO posts to help the site rank faster for more keywords and grow organic traffic.
Social fuel posts showcase thought leadership and assist with positioning while helping to grow and engage your social audience. Organizations with a large and established social following that want to drive more visits, leads and engagement from this source can focus more on this type of post.
For most organizations, it makes sense to create a schedule to outline when you'll publish your SEO focused posts. Decide how many you'll post per week, per month or per quarter, and consider any further social posts the cherry on top. Both types of posts should be shared regularly via your social platforms. For help creating a plan that harnesses the power of blogging, check out this Guide to Creating a Comprehensive Inbound Marketing Plan.
2. Research Your Blog Post Ideas to Create Interesting Content
Once you've identified the keyword you'll write about, or the focus area you want to share with your audience, the heavy lifting is (sort of) done. When it comes time to write the post, you'll need to figure out where to draw the information you'll use. You want to ensure you're creating well-researched posts that offer an in-depth look at your topic. Try to avoid creating posts that are a mile wide and an inch deep: provide relevant and timely examples, and include stories or anecdotes that can help convey your message.
When it's time to put pen to paper (…or hand to keyboard), here are a few places to start:
Search for what's already out there on your topic, and identify any gaps or provide a dissenting opinion
Research one aspect of the topic that's interesting to you, and provide a narrowly focused post on that
Make notes when inspiration strikes, and come back to them later when it's time to write. In fact, if you're a HubSpot user, their new Collect tool is a brilliant way to capture your ideas and store them until they're needed.
Check out what some competitors are doing, identify gaps or weaknesses in the content, and create different or expanded versions
Share a personal or organizational experience as it relates to the subject
Reflect on what is acknowledged as industry best practices, common tactics, or use cases
Look at what's popular on your site, and incorporate similar themes into the post
Update and expand on older content with fresh ideas or new products and services
3. Put the Right Spin on Your Blog Post Topics
A standard 400 word, 5 paragraph blog post with an introduction and conclusion can provide helpful content, but the format might feel stale after a while. Here are 25 easy post formats to spice up your content calendar:
1. Top X Lists: This is a classic for a reason. People love lists, and it's a helpful way to frame up some of the most common benefits, pain points or ideas for your audience.
2. Frequently Asked Questions: Answer questions that you're commonly asked. To round it out and make sure you aren't missing anything, ask your customer service teams or sales reps for questions they are commonly asked when they engage with prospects or customers.
Pro-Tip: Consider creating a series of posts around some of your biggest FAQs. Then, you can include these posts in nurturing sequences and your sales team can use in their conversations with their leads.
3. Tutorials: Tutorials might seem like a topic better suited for a complex offering, but that isn't the case. Tutorials can help your audience understand how your product or service is useful in a way they might not have previously understood. For instance, the massive online retailer ASOS has created a blog post on "how to wear the new Victorian blouse", showcasing how this product is a great addition to the reader's wardrobe. Then, they cleverly offer the links to corresponding products so readers can click directly on the products they're interested in, now that they know how to wear them: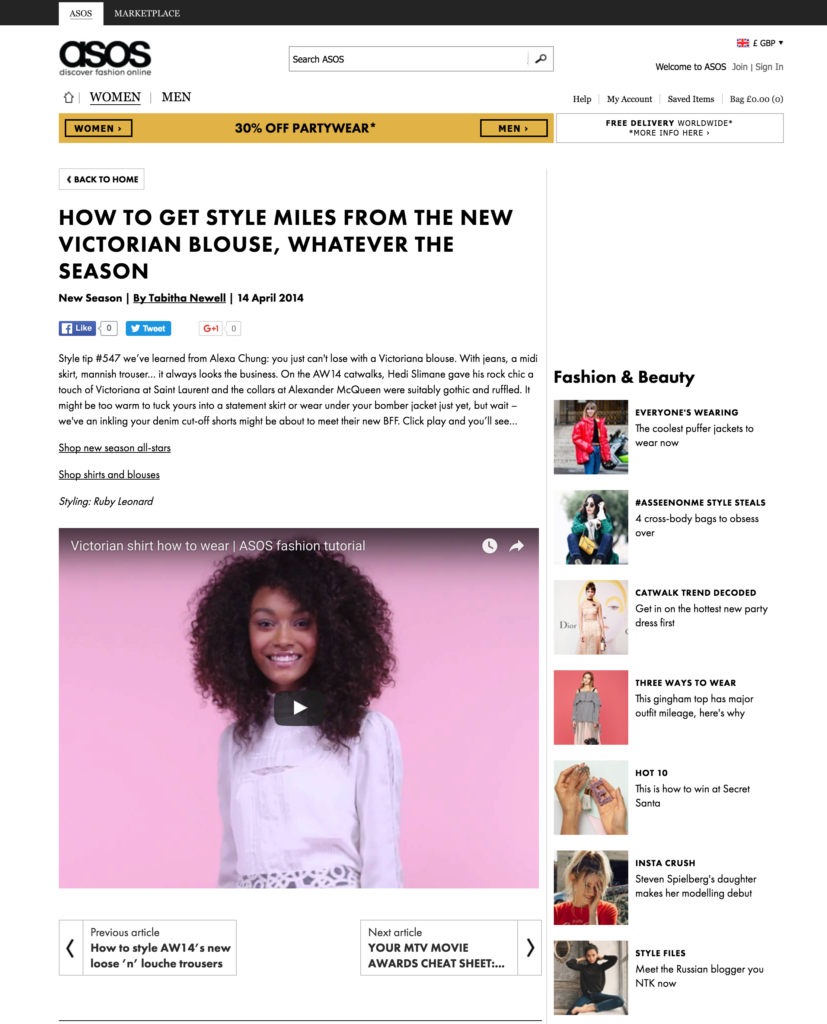 4. Video Transcripts or Overviews: If your organization has any videos, consider transcribing them or providing an overview of their content. Include the video on the page for any readers who want to watch it, but for readers who would prefer to skim, sharing the highlights will help to convey information they might not have otherwise received.
Including transcripts is also an important consideration to ensure your content is accessible. Some regions legally require that websites are accessible for people with disabilities or in some cases, people in rural areas with reduced access to high speed internet. This means that it is important for images to be described and videos to be transcribed so that people who use assistive technologies are able to interact with the web.
5. "How to Buy" Advice: You know how your offering works, and how to evaluate the options to make the best choice, but your leads might not. Providing some context around what to look out for, common pitfalls, and the best approaches to making a purchase will be appreciated by your audience, and your honest advice can help solidify you as a thought leader in your industry.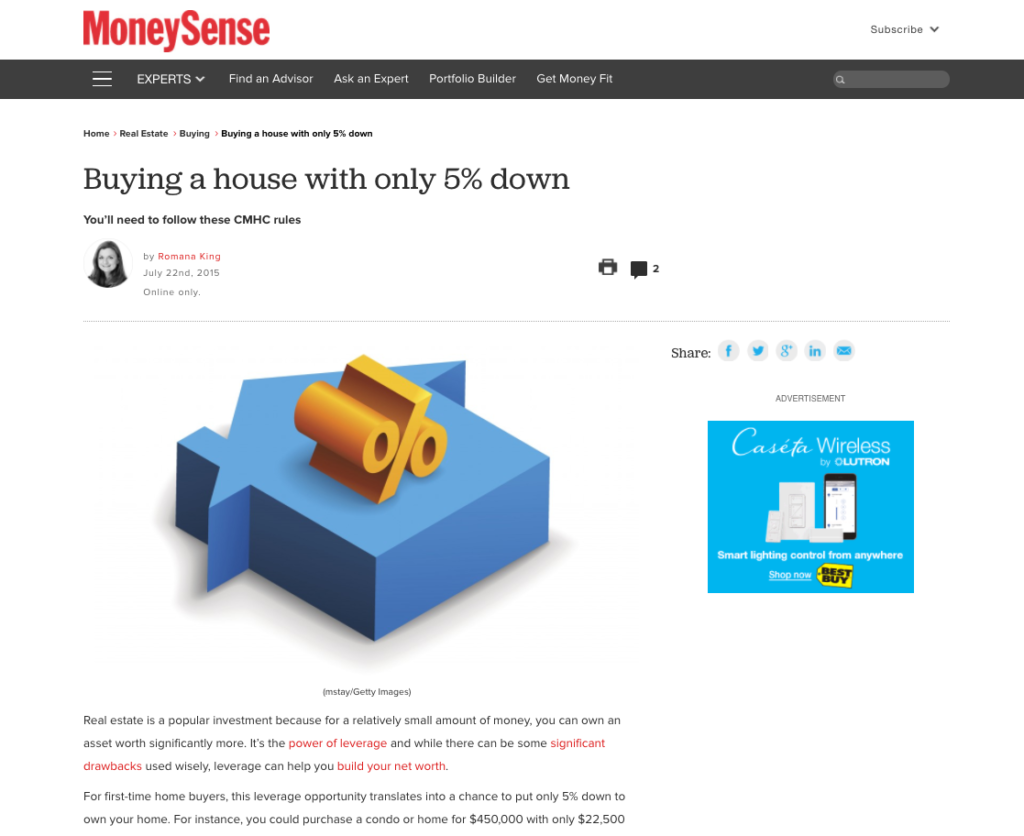 6. To Do or Check Lists: Check lists are always helpful, and your readers will appreciate you providing a detailed tick list they can work through as they embark on a new task. To add even more value, think of things that you often leave out of your process, or things that get overlooked. Like in the example below, include any tasks that happen either well in advance or after the event in question to ensure readers have a clear sense of the timeline involved in the task.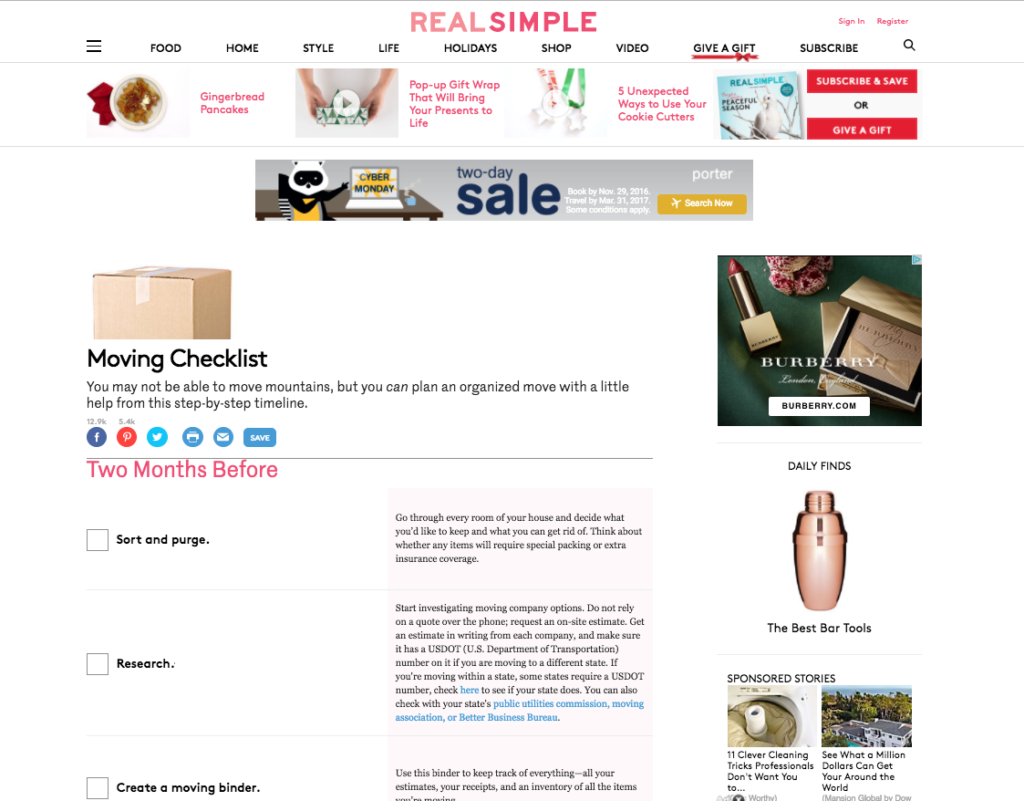 7. Resource Round-Up: If you have resources you rely on for day-to-day activities, or point your leads to frequently, compile them and add to a list. Like with the blog post Pro-Tip we mention in #15, you can reach out to the authors of those resources to let them know you've shared them. They might reward you with a social post or link back to your site to say thanks for sharing.
8. Curated News: If things move quickly in your industry, or even if they don't, providing your organization's opinion on a new development, governmental regulation, or significant merger between competitors can not only help keep your blog current, but also provide your readers with your organization's perspective on important events.
9. Controversial Subjects: Are there any taboo subjects surrounding your product or in your industry? We'd bet that if this is the case, there are going to be lots of people looking for information about it, who perhaps are embarrassed to reach out directly to learn more. By addressing the controversial subjects that your competitors avoid dealing with head on, you'll have the opportunity to frame the debate, and readers will be grateful for your candour on the topic. Of course, creating a controversy to be tongue-in-cheek can be a great opportunity to engage with your audience. Be respectful of both sides to avoid alienating readers.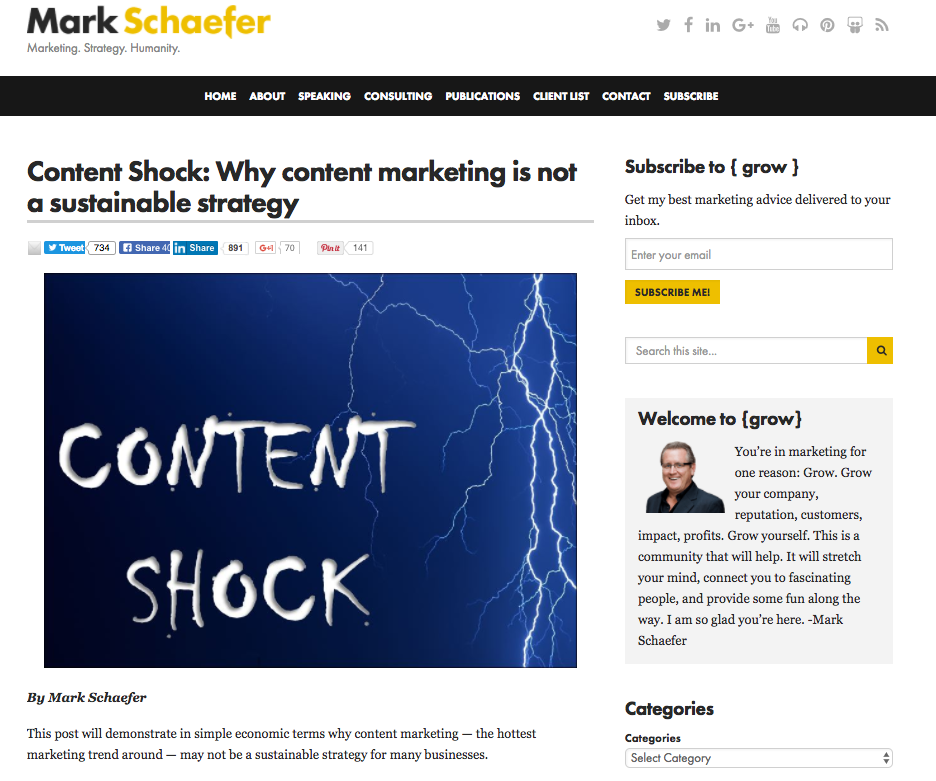 10. Interviews: Interviews give you the chance to share with your readers a deep dive on a topic. Your interview subject can range from your team members, like an in-house expert or your CEO, to satisfied customers, to anyone in your industry who can provide some expert advice or information on the topic at hand.
Pro-Tip: Record the interview so your audience can also watch or listen to it. Consider transcribing the interview in its entirety as we mentioned in #4, or pull out the highest value "nuggets" from your conversation, and add it to nurturing sequences.
11. Comparisons of Your Offering: Site visitors might not be completely familiar with either the difference between several of your products OR the distinction between your products and your competitors. Create a comparison to make it clear how your product will help them address the pain points that inspired them to start researching in the first place.
12. Product or Tool Reviews: There's something about finding a great tool or product that makes you want to tell everyone, and there's no reason not to do this via blog posts. Don't feel restricted to tools that relate directly to your offering—you can share your review of tools that will make the lives of your customers easier. Tell your users how you'd typically use this kind of product, what makes it better than any others, and include other helpful information like whether it has the right price to value ratio.
13. Contributions from Experts: Expert contributions are great if you're not completely comfortable with a topic, or, alternatively, when you have a sold grasp of it and want some complimentary (or contrary!) opinions. Pull together a range of experts to provide a short quote on a certain topic. This can be particularly useful when there are certain questions your leads ask frequently, and if there are common, industry-specific blockers for leads moving further down the funnel to become customers.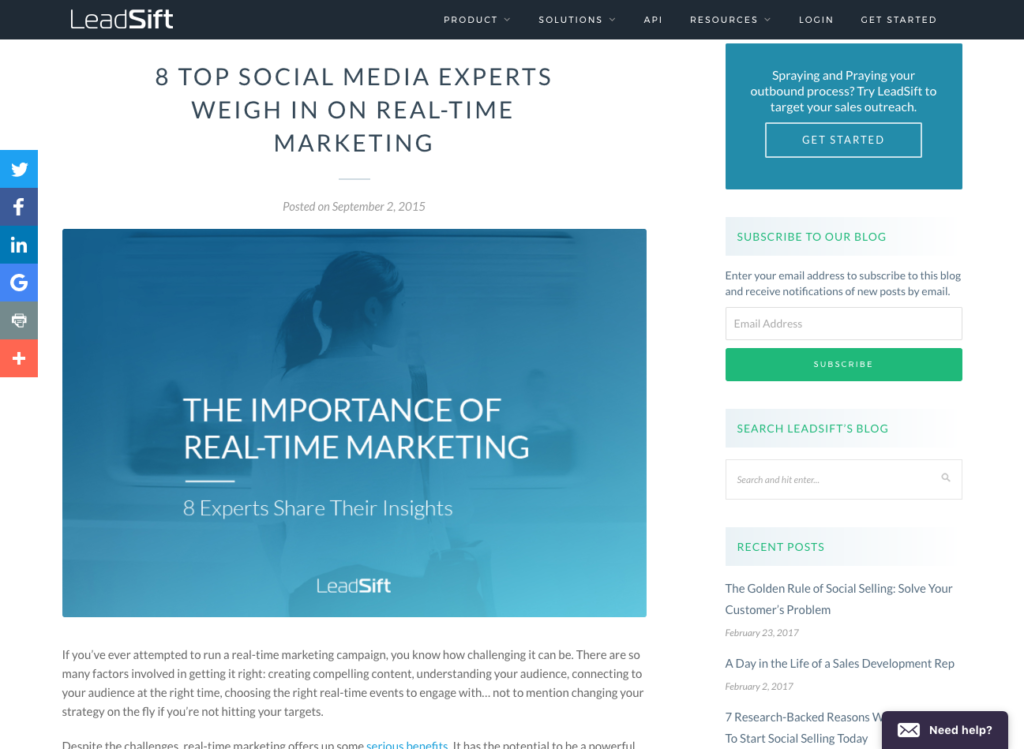 14. Myths and Facts: In some industries more than others, there are some clear myths and urban legends that need to be debunked. With this type of post, share the common misconceptions and then clear them up. Where possible, you could even share the genesis of the myth to make it even more interesting.
15. Post Round-Up from Other Bloggers: Are there other sites in your industry that have created in-depth or engaging reads? Compile a list of some of your favourite posts on the topic, and provide a bit of context about what your readers might find at the link. Make sure to set the links to open in a new tab so your visitors don't leave your site simply by clicking.
Pro-Tip: Once your post is published, you can reach out to the bloggers you featured to let them know. They might share your link on their social profiles, or link back to your site—bonus!
16. Step-by-Step or How-To Guide: A step by step or how-to guide will differ slightly from a tutorial. Instead of providing an overview of the various ways to use a product, or highlighting the main elements or tools available, a guide will provide users with a step by step process to execute a certain action, like boil an egg, publish a blog post, or create a custom report. Users can always come back to the blog post when they need to complete each step involved in the right order.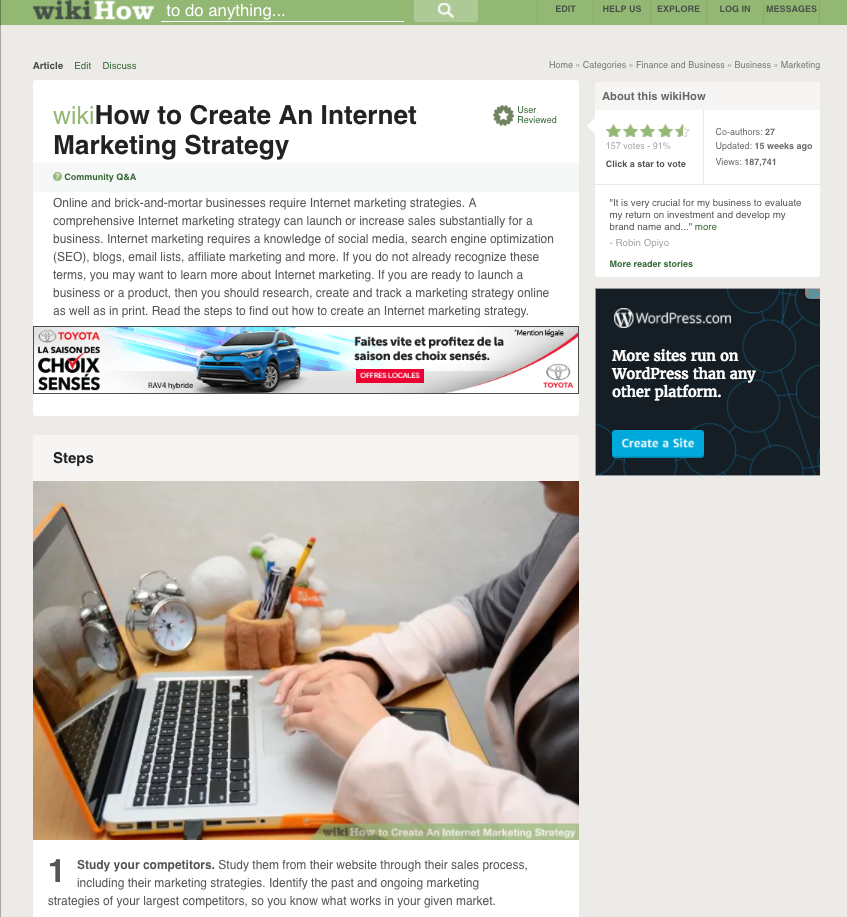 17. Event Round-Ups & Recaps: If you've recently attended an event, share what you learned. Your major take-ways and lightbulb moments will likely be different than other attendees. Share some of the major themes, top learnings from each session, or simply break down the session you thought was most valuable. Readers who didn't attend the event will appreciate your round up and perspective. Feel free to share some "behind the scenes" information, too.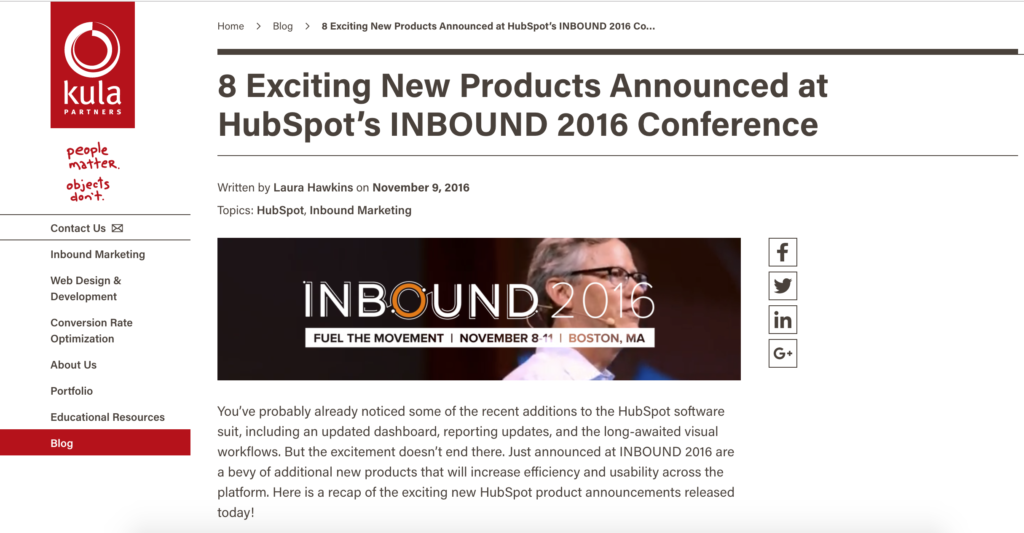 18. Expert Views from Your Team: Your team is likely well-stocked with specialists, so have them talk more about their areas of expertise, whether it's advice on getting more value from a product, common mistakes that people make, or a unique take on their field of work. Not only will this help introduce team members to potential leads, but it also shows that your organization can demonstrate authority and bench depth in your field.
Pro-Tip: Try to avoid mandating blog post creation to each team member. It might be tempting to make blogging a requirement, but it doesn't always help the creative juices flow, particularly for team members who aren't used to writing. Instead, for colleagues who struggle to write, ask for a few of their tips or a bullet point outline, and then your resident copywriter can transform it.
19. Unique Experience of a Client with Your Product / Service: If you have a client who's using your product in a non-traditional way, or one from an industry that doesn't usually work with organizations like yours, share their experience.
For example, if you have a client who is finding great ROI and value in a payment calculator, tell your audience more about how they've done it, share results, screenshots, and quotes from them and users. This is a great way to demonstrate the flexibility of your offering, and clear up misconceptions of potential leads who aren't sure that what you're selling can help them solve their problems.
20. Case Study Highlights: A case study is likely a resource you'd want to gate in order to collect lead data or use in mid-funnel nurturing, but that doesn't mean you can't sum up your results or cherry pick a few key data points to share in a post. Why not share one interesting way you got results, or perhaps expand on one area to provide more information than you'd included in the original case study? This kind of post can also serve to organically channel visitors to a landing page where they can convert.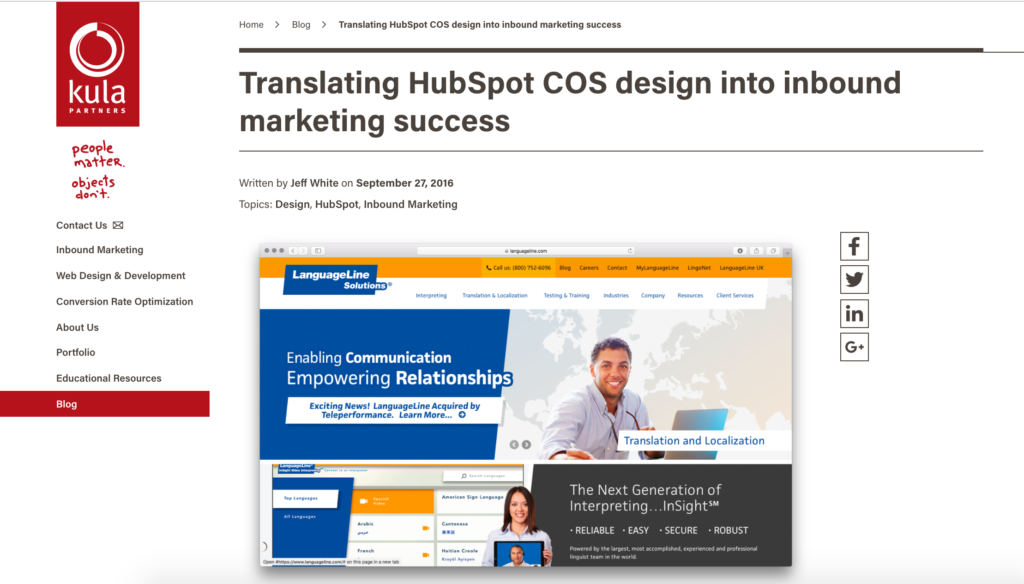 21. Stories from Team Members: Have any of your team members recently completed some training, solved a problem they've been working on for ages, or have an unconventional take on a topic that your readers might find interesting? Have them write it up. Here's an example of how we did this.
22. Quick Survey or Poll Results: It's easier than ever to take a quick poll—just head over to Twitter to ask your audience whether they prefer cake or pie, and then write up the results. To take a more scientific approach, use a tool like SurveyMonkey or even Google Surveys. Surveys provide an easy way to include your organization's own data in a post, and can make it easy to start a conversation by asking your readers if they agree.
Pro-Tip: Once you've run a survey, you can repurpose it to create interesting IP for your organization. You could use the information in an email nurturing sequence or newsletter, share it with partners, or even create a press release around the results.
23. Seasonal Advice: Many businesses are seasonal, from bathroom renovations in January and new cars in Spring to braces for back to school. If your organization (and industry) works around some key dates, sharing timely tips with your audience on how to make the most of the season will resonate.
24. Presentations:f you've recently given a presentation, throw it up on the blog! Depending on its content, it might make sense to create this as a gated offer. If you decide to create it as a conversion asset, there's no reason not to create a blog post to showcase thought leadership on the subject, and drive visitors to convert on the offer.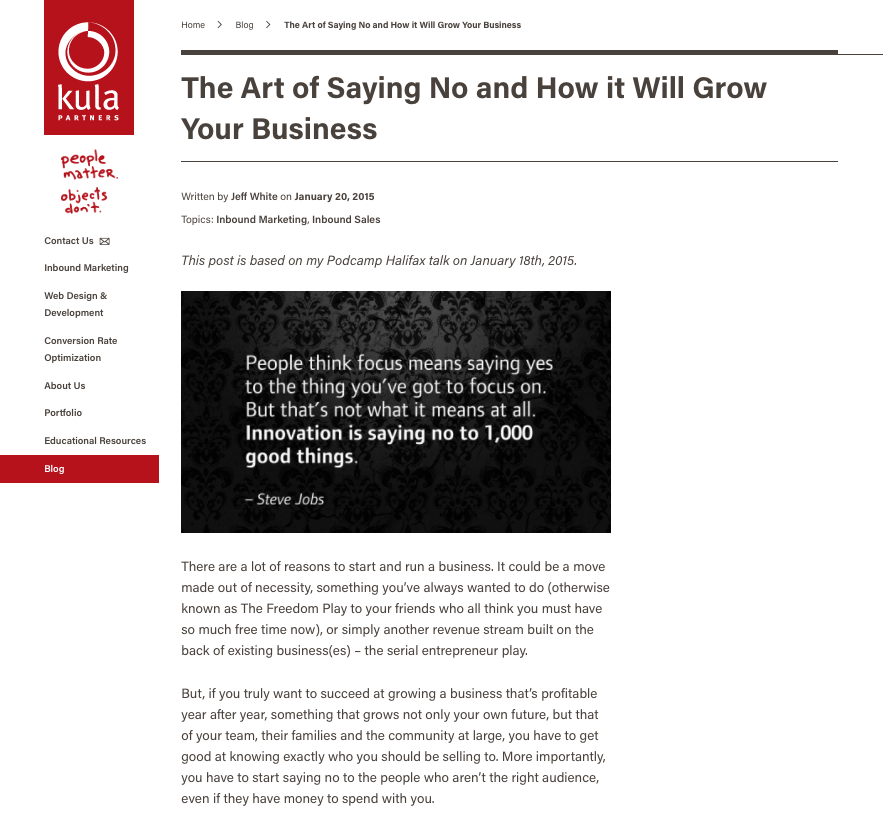 25. Predictions: What's next for your industry? Your predictions don't have to be 100% accurate. With this type of post you have the flexibility to share some "blue sky" visions for what's to come. This type of post can show your potential leads that you've got a pulse on the future, and that you're always doing your research.
Bonus! Competitor Overview: It might sound counterintuitive, but consider creating a blog post that doesn't involve you or your offering at all, but speaks to your competitors instead. By creating a post dedicated to showcasing the competition and highlighting why they might be a good fit for a potential customer, your audience will think of you as trustworthy, and believe that you're trying to help them make the right decision (which, of course, you are!). You might even get a link from your competitors out of it.
Go Forth and Blog
Turning your blog post ideas into a valuable content that will attract, engage and convert visitors is easy when you follow these tips. Above all, create the kind of content that you'd find helpful when you're researching a product or looking for advice.
For more on incorporating blogging into your wider inbound marketing plan, grab your copy of the Epic Guide to Creating an Inbound Marketing Strategy. It's over 15,000 words of actionable expert insight designed to help you take your inbound marketing to the next level.