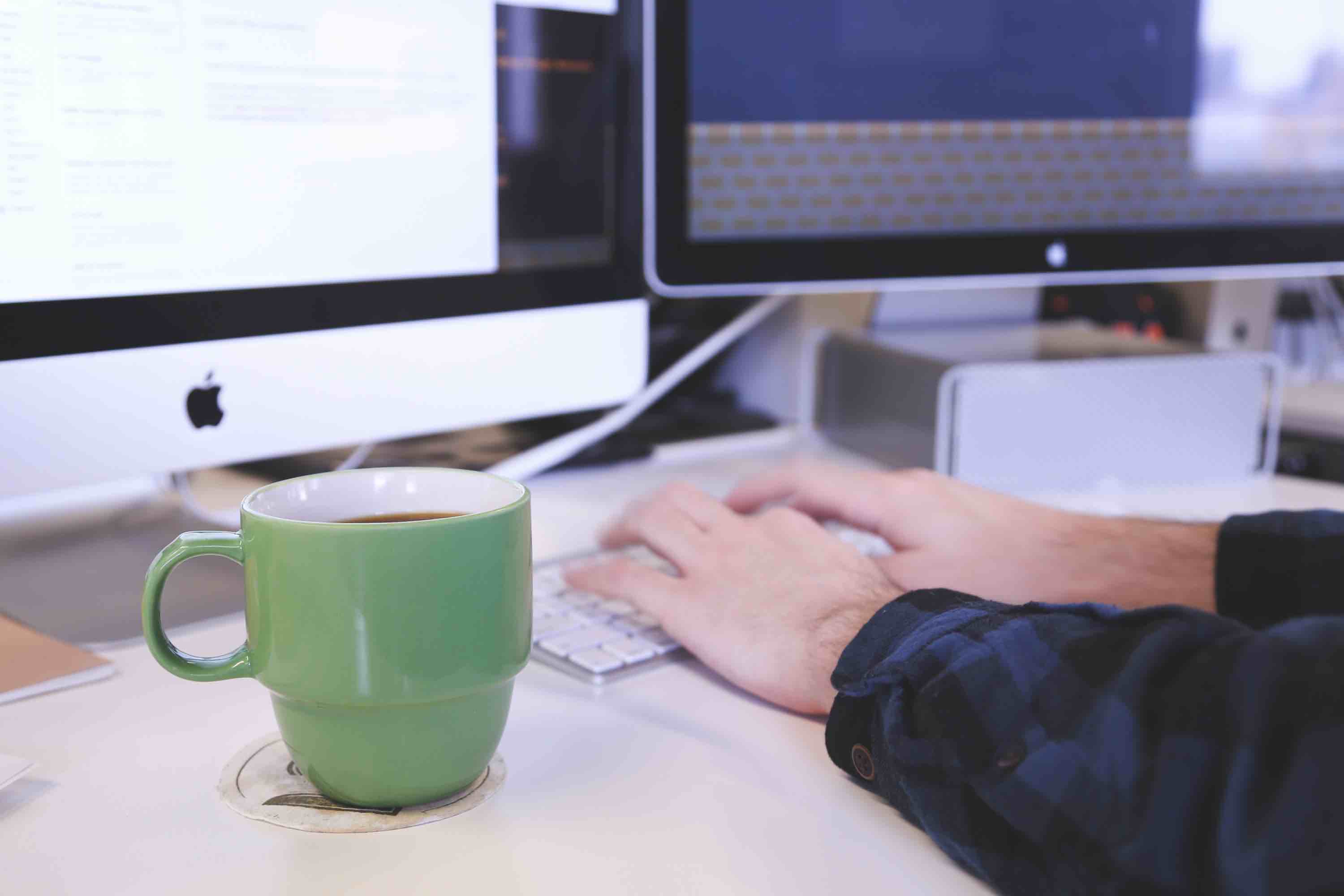 Email is among the oldest forms of digital marketing, yet remains one of the most fundamental tactics of communication, particularly with regard to qualifying leads and converting sales-ready prospects. You likely receive dozens of emails daily, and data shows that not only is email significantly more likely to result in new customers than social networks, but that it converts customers more effectively than any other channel, including social or organic, leading to an ROI of $44 per $1 spent.
Despite all that, seeing a substantial return on your investment isn't as simple as blasting out countless emails about how great your product is to prospects hoping they'll buy. To cut through the noise and harness the power of this channel to generate customers, successful sales reps need to have a solid understanding of how to craft the perfect sales email.
Oftentimes, a sales email is the first point of contact a lead has with someone in an organization once they have converted, through autoresponders or via welcome sequences, or more directly once they've been identified as a Marketing Qualified Lead (MQL). Depending on how your organization is structured, sales emails for MQLs may come from marketing or a sales rep. Below, we've laid out how you can improve the emails you send to MQLs.
Why Use a Sales Template?
So, a lead has converted and been identified as an MQL. Can't you just dive in and shoot off your standard sales email? Not exactly. Simply passing the lead off to a sales rep isn't enough, and neither is relying on marketing automation. The purpose of the initial sales email is to determine whether the MQL is a Sales Qualified Lead (SQL). This can be done by gauging their level of interest in your company, such as whether they respond to your email.
Although you may be tempted to write a creative and intriguing piece, when it comes to the sales qualifying email, simple is better. In most cases, it's best practice to keep your first connection via email clear and concise. Introduce yourself, demonstrate an understanding of your audience and provide some specifics about them. Avoid fancy templated email designs, too. While they can be visually appealing, plain text emails are proven to drive better results. Plain text emails create a more personalized feel and provide your prospect with a one-on-one communication experience.
Tip: HubSpot's CRM has the ability to create email templates and measure how they perform. Use this to your advantage and turn recurring emails into ready-to-go templates at the click of a button. All communication is stored within the contact's record, making it effortless to track and measure outcomes.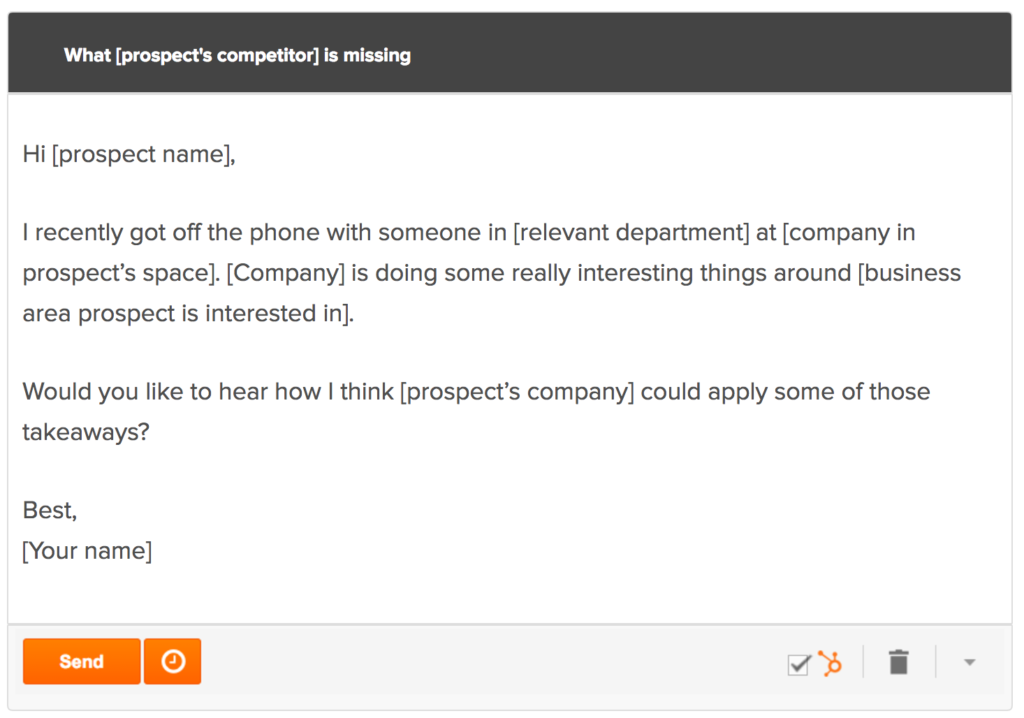 Create Your Sales Email Template
Using a dedicated sales email template can help make these qualifying emails more effective and efficient. Your template will include fundamental criteria, but require you to fill in the blanks with information that is customized to the email's recipient.
First, consider what will make your lead keep reading and how you can quickly show that you've already put effort into researching their organization, instead of indiscriminately sharing how great your offering is. To get started, introduce yourself and reference how the lead got in touch (like from an eBook download, or in-person at a trade show).
Next, showcase that you know who they are by demonstrating you've visited their site and have a high-level grasp of the issue that most likely encouraged them to reach out. This could be a reference to the fact they are a small business, or an acknowledgment that they just opened a new location or launched a new product. You might consider adding in a question to prompt a response, such as "have you thought about how you'll handle an influx of leads with your old software?".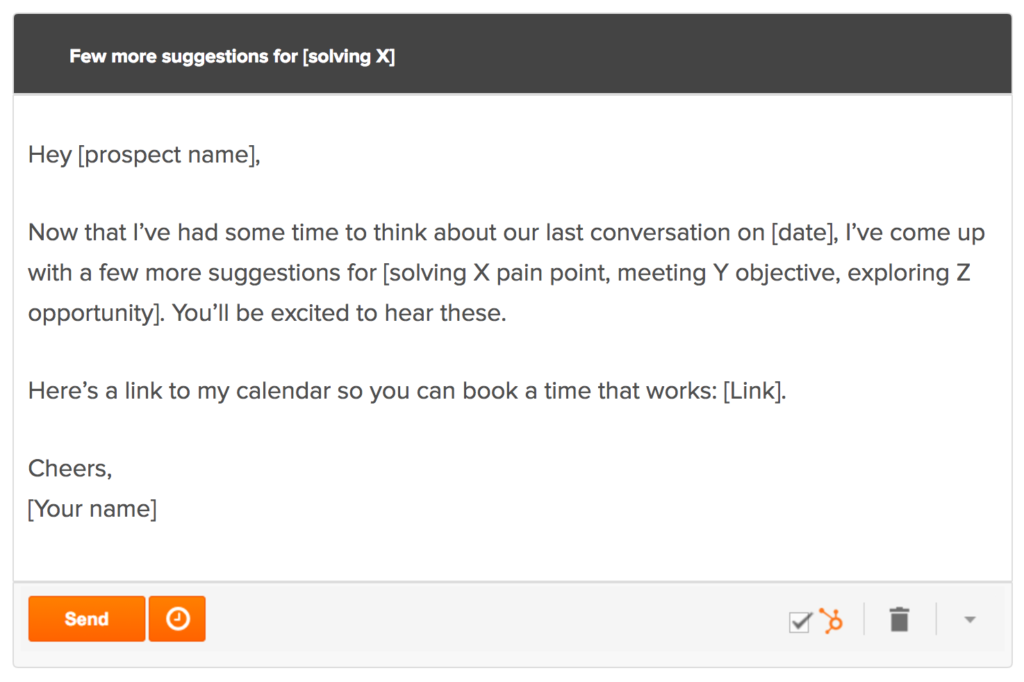 After showing you've done your research, address a common objection this prospect is likely to have based on their lead status and persona. This can be a one liner about how your offering provides quick solutions, or that you offer products that don't break the bank.
Finally, tell the lead that you're open to talk through solutions, and provide an easy way for them to book a time.
Tip: The inside sales member sending the email should include an image of themselves as part of their email signature. This allows the lead to connect a face with a name, making it an even more personalized experience.
Do Your Research & Make it Personal
Prior to writing any email, it's pivotal that you investigate your prospect. So, pull out your magnifying glass, channel your inner Sherlock Holmes, and get to work! Between a company's website, the lead's LinkedIn profile, and their Twitter presence, you can usually gather enough information to form a more individualized and contextual outreach message.
To take things a step further, by looking through a contact's history in HubSpot, you are able to see how much research they've done on your company and get an idea of what they may already know. This information can help you tailor your message to focus on something more useful, and avoid repeating something they may already be aware of.
There are a number of things you can glean from HubSpot and add to a sales email to let your prospect know this isn't just another canned email:
Use information from your contact's record in HubSpot: There is a lot of valuable data you can gather from a contact's profile, including their location, and the first time they visited your site. By viewing a contact's history, you'll be able to see which source they came from (such as a LinkedIn campaign, or an organic search), which pages of your site they've visited (like a free trial or pricing page), how they've interacted with previously sent emails, and more. Being able to see how they've explored your site, which emails they have opened, links they've clicked, and resources they've downloaded, you'll be armed with the rich insight you need to tailor your sales approach to the specific interests and habits of the MQL.
Utilize buyer personas: Buyer personas are a crucial part of any successful inbound strategy, and are paramount to developing an effective sales email. Your buyer personas can provide cues to help you craft a message that reaches and engages with the MQL. By utilizing everything you know about their pain points, goals, triggers, and—perhaps most importantly—their objections, emails can be designed to speak to their objectives, while addressing common stumbling blocks. You can also rely on personas to inform the tone, language, and references. Haven't created your buyer personas yet? Get our free Guide to Creating Effective Buyer Personas now!
Personalize your subject line: The subject line is perhaps the most important part of the sales email, as it is the deciding factor on whether or not your prospect will open the message. Personalizing your subject line—like including the prospect's name or organization—can boost open rates by 29.3%.
With this information, you'll be able to craft a targeted, tactical, and personalized message that a prospect will be more likely to respond to.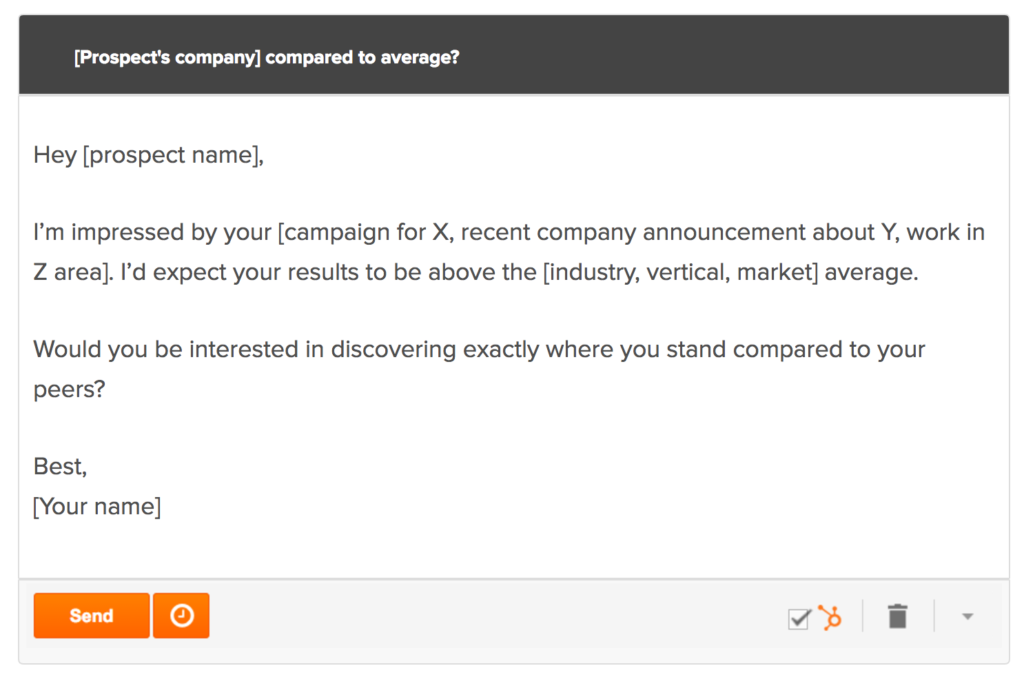 Show, Don't Tell
You've conducted research on your prospect and have outlined their possible problems. Now, it's time to show them exactly what you can do for them. When trying to determine whether an MQL could be an SQL, first ensure your company is a good match by identifying the specific ways you know you can help them. When it comes to wording the message, it's not enough to just say, "Hey, we can help you". You must show them precisely what your company intends to do to solve their problems. Here are a few ways you can show, not tell:
Provide a specific example of a solution you have for one of their challenges
Include links to relevant case studies, eBooks, whitepapers, or articles from your company that address their pain points
Not only does this demonstrate that you know what you're doing, it lets them know that you genuinely care and have done your homework. A prospect is more likely to respond when they know you have something they need—hopefully upgrading them to an SQL in the process.
Continuing Communication
A great way to increase your chances of getting a reply is to provide your prospect with multiple options for getting in touch with you. Whether it's through email, phone call, or booking a meeting, give your lead a variety of ways to contact you. Be sure to include a line towards the end of your email that encourages your lead to get in touch, reassuring that you are interested in helping them solve their problems.
We've all experienced that frustrating back and forth process of trying to find a time that works for both parties to meet. In the most extreme examples, it could even result in a lost lead. To avoid this, take advantage of HubSpot's Meetings tool. The Meetings feature streamlines the sales process by allowing reps to share their calendars, letting a lead pick a date, time and duration to meet from the available time slots. The newest Meetings feature also allows leads to seamlessly book group meetings. This tool is specifically useful for email, as you can include your personal link in your email signature, which serves as an always-on invitation to book some time
An Example of An Effective Sales Email
As we mentioned earlier on, the best approach for your first interaction with a prospect is to keep things short and sweet. Introduce yourself, demonstrate an understanding of your audience, and provide some specifics that make it clear you've done your research and have something valuable to offer.
Let's take a look at an example of what an ideal sales email would look like. This is an example of a computer supplier company reaching out to a newly opened agency after they download their Getting Started with Computers at Your New Business guide. The introductory sales email should look something like this:
Hey Pam,

It's Jim from Robo Computer Suppliers here.

Thanks again for downloading our Getting Started with Computers at Your New Business guide earlier today.

I've had a chance to take a look at your website to learn more about your company.

[This initial greeting quickly clarifies who you are and why you're getting in touch with the MQL]

A couple of quick thoughts:

Congratulations on your new company—this is no doubt going to be an exciting adventure for you! Opening a new company means hiring employees, so it looks like you'll be in need of computers and supplies to help you execute outstanding work for your clients. Have you been thinking about the types of computers that would best suit your needs?

Starting from the ground up doesn't mean you have to purchase a ton of hardware. In fact, there are many device options that can be combined to streamline efforts and save you money.

[This demonstrates that you've researched your MQL's organization and have an understanding of why they may be accessing your resources. It also reassures your MQL that they are not receiving a generic, templated response]

Would you be open to connect for a 10-15 minute call to discuss your needs and how we can help? You can book a time in my calendar here.

[Encouraging your MQL to get in touch can reassure them that you're genuine in your attempt to help and that you understand how your offering will enable them to achieve their objectives]

Thanks for reading this. Let's talk soon!

Cheers,

Jim
With a perfected sales email technique, you'll be well on your way to effectively qualifying more sales-ready prospects.
To learn even more about how to effectively research, qualify and engage prospective leads, and the next steps you need to take once a connection is made, get your copy of The B2B Marketer's Guide to Qualifying Inbound Leads now!