According to the American Association of Orthodontics, in the United States alone there are over four million people currently undergoing some sort of orthodontic treatment. In 2014, Americans spent $113.5 billion dollars on dental and orthodontic expenditures—so how can you make sure your marketing strategy is helping you get your fair share of that business?
The answer is shifting your orthodontic marketing efforts away from an outbound-only model, and embracing inbound marketing.
Inbound marketing costs less than outbound marketing and generates 54% more leads. As more and more advanced orthodontists make the transition to inbound marketing, they're seeing increases to the amount of traffic on their website, the interest in their orthodontic services, and the overall number of prospective patients converting and beginning treatment. If you're considering adopting an inbound marketing strategy for your orthodontic practice, here are four facts to consider.
Inbound Places SEO at the Forefront of Your Orthodontic Marketing Strategy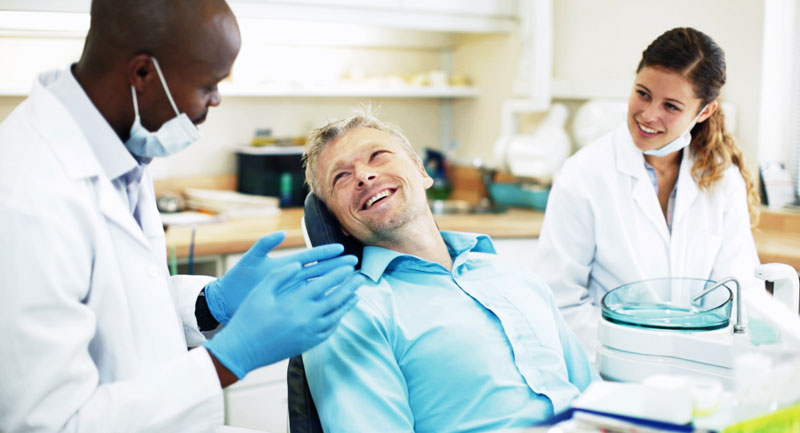 Have you ever Googled the word "Orthodontist" and the name of your community and wondered why your practice isn't among the top results? It's probably because your marketing strategy hasn't placed focus on Search Engine Optimization (SEO). SEO is the process of fine-tuning your website to increase the number of visitors it attracts and takes many things into account, including:
Effective use of targeted keywords

The quality of your page content

How quickly your site loads

Whether or not your site is mobile friendly

How easy it is to navigate your site
This is by no means an exhaustive list of the elements of effective SEO, rather a small sampling of things to consider.
With a carefully considered SEO strategy in place, you can:
Tune your site to target the specific locations and communities your practice serves

Rank on search engines for category or service offering-related searches, such as "Braces" or "Invisalign", and "Orthodontics"

Rank for answers to common orthodontic questions related to costs, expectations, and lifestyle changes
With the right SEO foundation in place, you will be on your way to growing your organic search traffic into a significant, ongoing source of new patient acquisition.
A Quick Look at SEO Optimization in Action
Let's take a look at one way SEO optimization can benefit your practice—through location specific landing pages.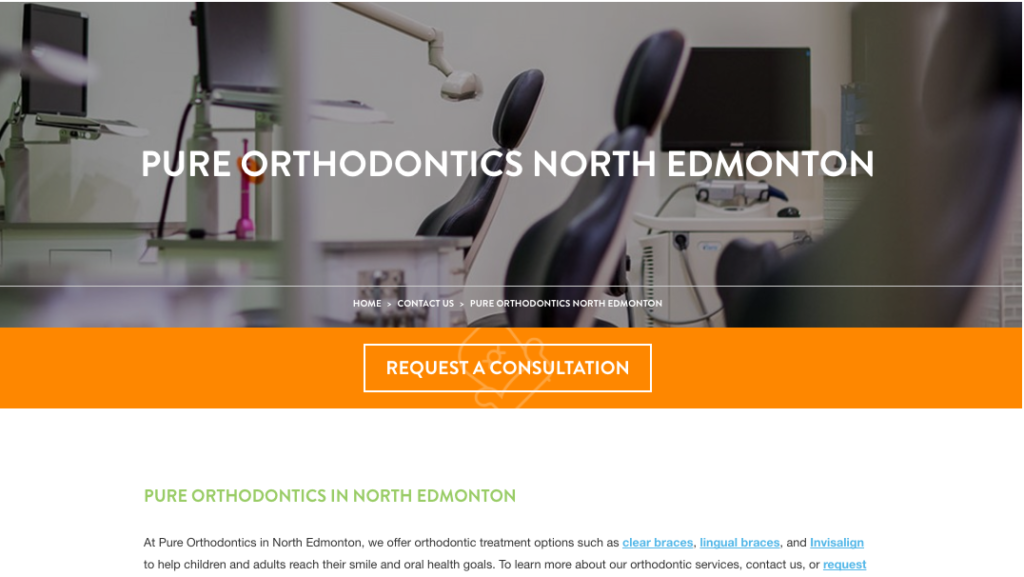 Having multiple clinics can be a challenge for some orthodontists. This is because an orthodontist with multiple locations has to offer universal content on their homepage, whereas an orthodontist with one office can target a single geographical location with their homepage.
Attempting to appeal to multiple communities on a single page puts your clinic at an immediate disadvantage—especially if you're competing against orthodontists running a single clinic. Location specific landing pages help to even the playing field.
A location specific landing page allows you to attract visitors through the lens of location specific content and then encourage them to convert by downloading a resource or scheduling a consultation. This is because they offer visitors content directly related to the clinic visitors are researching (as opposed to a generic catch-all landing page), helping you compete with other orthodontists in the communities you serve.
When it's time to develop your location-specific landing page, be sure to include information on:
Your address

Your staff

Features that are specific to this location
You'll also want to take advantage of microformats for your location-specific landing pages. Microformats, sometimes referred to as rich snippets, allow for additional content details to appear as part of your listing on a search engine results page. Some of this additional content can include:
A photo or logo for your practice

A review of your practice

Your phone number

Your hours of operation
With geographically-centered information on your location specific pages, and microformats providing additional, useful content on search engine results pages, you can ensure your clinic will be found by potential patients in the area. From here, you can encourage them to convert by downloading a resource or scheduling a consultation.
Inbound Presents Visitors With Information They Need to Become Patients Faster
By putting an inbound focus on your orthodontic marketing strategy, you can provide your site visitors with a wide assortment of resources that are appropriate for every stage of the buyer's journey.
Before we go any further, let's explain the inbound funnel. It's safe to assume that it's rare for a patient to make an impulse purchase of orthodontic treatment. Instead, they're more likely to go through a number of stages, including:
Investigation

– At this stage, a prospective patient has not decided whether or not they want to pursue treatment, and are collecting information on the different orthodontics that are available to them.

Consideration

– A prospective patient in this stage of the funnel is typically

sure they want to pursue treatment.

These prospective patients are looking for purchase-driven information such as price, testimonials, and possibly comparing orthodontic practices to decide which one is right for them.

Decision

– This stage of the funnel is where a prospective patient will have decided on the right practice for them and will be scheduling a consultation. The bottom of funnel is the hand off point where the focus shifts from marketing to converting a lean into an orthodontic patient.
Once a patient makes the decision to begin treatment, you can do what you do best—improve their oral health. Going above and beyond to deliver the results your patients are looking for provides an opportunity to transform them into ambassadors for your clinic. Satisfied patients can leave Yelp and Facebook reviews, refer friends and family members, and become some of your loudest champions in a crowded marketplace.
Converting Prospective Patients Begins by Creating Buyer Personas
Creating buyer personas for your prospective patients ensures you're providing the right information to the right people. Buyer personas are fictional versions of your ideal customers created through the use of market research and customer data. For an orthodontist, buyer personas may include:
A professional adult looking at braces to boost their confidence in the workplace

A parent investigating orthodontic treatment options for their child

A teenager looking for information on orthodontic treatment
By encouraging your prospective patients to self-identify as one of your buyer personas, you can segment visitors to send them tailored content based on their needs. For example, a parent looking at braces for their child would be interested in different resources than a 25 year old man looking for information on adult braces. Segmenting visitors into different buyer persona groups can also help you identify specific objections certain prospects may have and address them in an informative, helpful way.
Payment Calculators: A High Converting Resource to Consider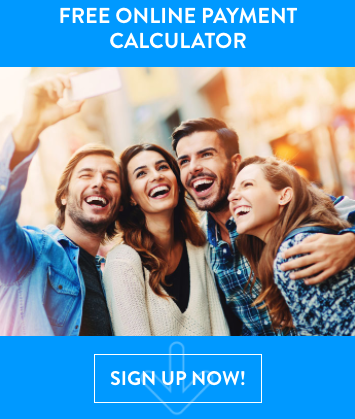 We just mentioned how different prospective patients have different objections that you need to address. One of the most common concerns you certainly hear across many buyer personas is with regard to cost of treatment.
As such, a payment calculator is a must have tool for your site. In exchange for their contact information, this resource offers prospective patients an easy way to understand how much orthodontics could cost before they're ready to go into your office for a consultation.
We've built payment calculators for many orthodontic clients, and they come with a proven success rate. In fact, payment calculator landing pages generate nearly 40% more views than other resources. What's more, we've seen them convert at around 45%—a far better rate than traditional content offers (which typically convert between 10% and 30%).
Inbound Helps You Lay Solid Social Groundwork
According to HubSpot, 92% of marketers consider social media to be important for their business. Furthermore, a recent study found that a strong online presence is essential for dental practices, and that orthodontists who take advantage of social media have more new patients annually than those who did not.
Whether your clinic is in a major city or a small town, thousands of potential patients in your area are spending time on social platforms. A strong social media presence can help you connect with these prospective patients, as well as:
Increase the awareness of your orthodontic brand

Gain valuable insight into your patients and prospective patients

Run highly targeted ads

Promote dedicated landing pages, blog posts, special offers, and resources

Increase brand loyalty amongst your existing and former patients

Monitor what your competition is doing in the same social space
Connecting social media allows you to maintain a positive relationship and reputation among patients, which can be very beneficial. In fact, in a recent survey, 63% of patients and parents indicated that a good reputation on social media would influence whether or not they sought out a specific orthodontist.
Take Advantage of Paid Social Opportunities
Paid social media advertising allows you to drive clicks to targeted landing pages where prospective patients can convert on resources and offers. One popular paid social option for orthodontic marketers is Facebook Sponsored Posts that appear in user's timelines. This type of advertising can be a goldmine for orthodontic marketing, and by using advanced targeting strategies, it also ensures your content gets seen by the people who need it the most. Using the framework provided by your buyer personas, advanced targeting through paid social media advertising allows you to segment and tailor your ads to different demographics based on factors such as:
Age

Location

Interests

Profession
What this means for your practice is that you can ensure you're reaching out to the right prospective patients with the right information. Parents interested in braces for their son or daughter can be targeted with helpful information on the benefits of orthodontics for children, while young professionals can see resources on discrete treatment options (like Invisalign) that can give them the smile they deserve without feeling self-conscious in the workplace. You can create paid social ads for each one of your buyer personas, allowing you to effectively address the questions and concerns of all your prospective patients.
Easily Manage Several Social Media Accounts at Once

Monitoring multiple accounts and platforms at the same time can be simple with the proper social tools. For example, with HubSpot, you can schedule posts to Facebook, Twitter, LinkedIn, and Google+ simultaneously. You can also build monitoring streams to ensure you see every interaction with your messages, as well as ensure you're seeing content from the people who matter. Monitoring tools also allow you to create streams for specific contact lists—allowing you to easily identify and reach out to current, former, and prospective patients.
Inbound Orthodontic Marketing Allows You to Nurture Pending and Undecided Patients
Just because a prospective patient makes their way through your inbound funnel doesn't mean they're guaranteed to convert to a customer. These patients could fall into many different categories, including those who:
Made their way to the "Schedule a Consultation" page, but did not book an appointment

Booked an appointment, but did not arrive

Had a consultation, but did not pursue treatment
Luckily, using marketing automation, you can re-engage these potential patients at a later time. This "low hanging fruit" can often be particularly fruitful—after all, they've already made it far enough in their decision-making process that it may be easier to nudge them along rather than start over again with a new contact at the top of the funnel. Sometimes all it takes is getting back in touch to convert these leads.
Re-engagement campaigns are often conducted through email marketing, and it is a process that can be automated via workflows. With HubSpot, these emails can automatically be personalized with a prospect's name and information provided throughout the process. Then, this email can be sent "from" your treatment coordinator or orthodontist. This level of increased personalization can have a huge impact on patients who are on the fence, and can be done without adding to the workload of your administrative staff.
Re-engagement campaigns can also provide you with information on why a lead did not convert, which can help you fine tune your marketing strategies moving forward. Even if a lead does not end up converting, inbound marketing provides you with a wealth of data that can help your orthodontic practice in the future.
Are You Ready to Make the Change?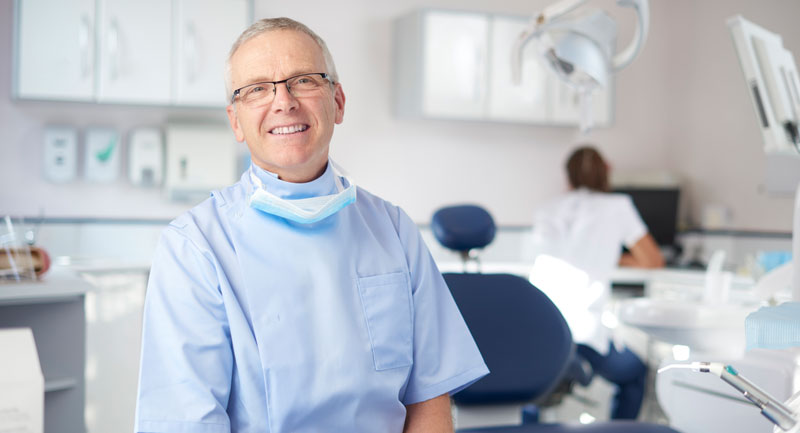 Making the shift from an outbound focus to Inbound marketing is a natural evolution of any marketing program. It allows you to organically connect with prospective leads, build trust, and nurture them through the funnel to convert and become a customer.
This one change in your marketing strategy can have a huge impact—allowing you to increase your site traffic, your conversion rates, and your bottom line. If you're ready to learn more about how inbound is a game changer for orthodontic marketing, Download our FREE guide, Take a Bite Out of Your Competition: Inbound Marketing for Orthodontists. Inside, you'll learn more about the strategies we use to increase traffic, and convert prospects into patients. Get your copy today!