Introduction to LanguageLine
LanguageLine Solutions, an interpretation and translation company founded in 1982, initially specialized in telephone-based real-time interpreting for law enforcement. Through the 1990s they operated as a division of AT&T, offering business, government, and healthcare clients on-demand language services until spinning off into a separate entity in 1999. Today, the company provides 25,000 clients with interpretation services in over 240 languages via 8,000 professional and highly-trained linguists. Recently, LanguageLine was acquired by TelePerformance in a deal worth $1.5 billion.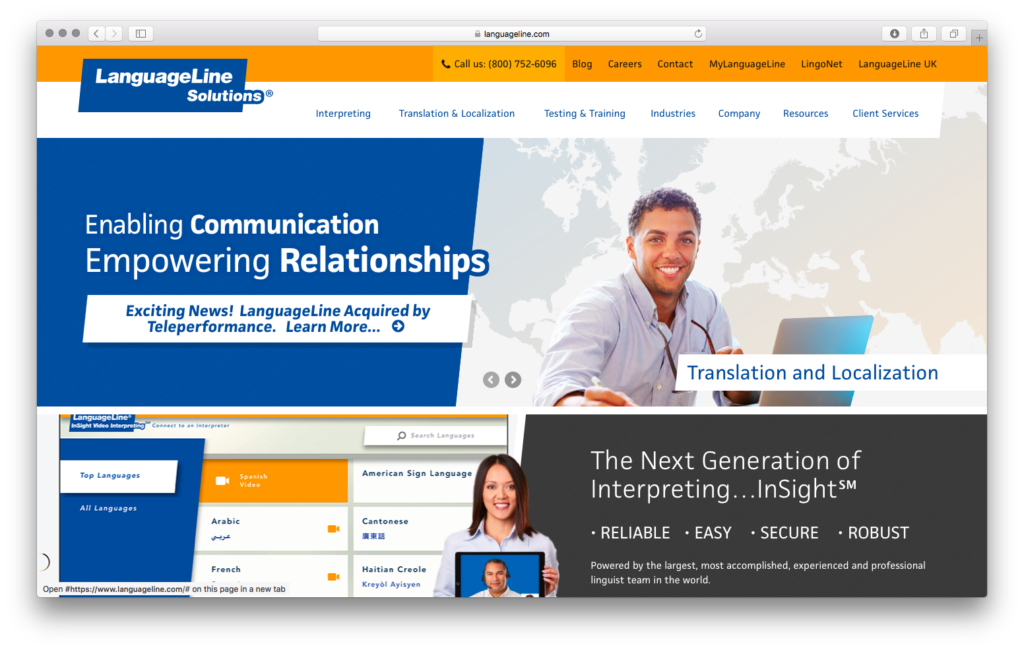 LanguageLine needed a website that met the day-to-day business requirements of their growing client base while taking advantage of inbound marketing for lead generation and sales growth. Sprout Content, a Platinum HubSpot Agency Partner, approached Kula Partners to design and develop LanguageLine's new HubSpot Content Optimization System (COS) site while they prepared the content and inbound marketing strategy. Given some of the more technical requirements of the site' including integration of payment gateways, document uploads and more—it was a web build that fit Kula's skillset nicely.
Requirements
The previous LanguageLine website was built in WordPress and had a number of technical issues. It wasn't responsive and had no mobile equivalent. Dozens of forms for everything from bill payment to document collection were built in disparate technologies, and their complexity made them difficult to manage and maintain.
Part of the reason for the move to the HubSpot COS was to take advantage of the platform's uptime of 99.99%, a reliability benchmark that is essential for a business that runs 24/7/365. Many of LanguageLine's forms are critical to their business, and having a website they can rely on for meeting established client service standards contributes to the company's peace of mind. Coupled with HubSpot's support system and the advanced inbound marketing capabilities of COS, we were confident that the backend of the site was more than up to the task of serving LanguageLine's needs.
Design and Interface Thinking
The team at Kula had a number of primary goals for the interface design of the site. From a visual perspective, LanguageLine wanted to ensure that the brand colours of blue and yellow and the parallelogram shape from the original identity stayed prominent. The angled edge design presented unique opportunities for custom CSS for the buttons and other elements on the page. The design needed to be striking, yet friendly and easy to read. It also needed to communicate the people who are at the core of LanguageLine's business, hence the frequent use of people photography and integrated videos. We've incorporated social proof throughout the site to reinforce the quality credentials of the brand.

Old site vs new
Of course, being a longtime HubSpot user, LanguageLine needed to integrate inbound content offers and display calls-to-action prominently throughout the site. The CTAs are a powerful visual device incorporating the cover of the guide. A description and branded graphical elements follow each piece of content. The tighter integration of compelling inbound offers has resulted in a massive lift in lead conversion (more on that in a moment).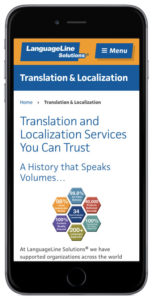 From a responsive design perspective, the site degrades gracefully and displays beautifully on devices of all types and sizes. It places emphasis on the elements that matter most on each page while removing extraneous information to enhance readability and conversion.
Integration with COS & Technical Components
The development of the COS site had a number of interesting challenges. First and foremost, one COS install powers multiple domains that serve two separate countries with distinct content for each market. While the interface is largely consistent across the US and UK sites, the navigation provides access to different content. This allows the site to utilize much of the same CSS and custom modules within it while simply directing the appropriate domains to the right content, helping to reduce development costs.
While there are many examples of long interactive forms on the site, some of the most complex forms within the site revolve around payment. Since COS doesn't handle payment directly, our team developed an intermediary layer that submits different form data to different places. All basic lead data is saved to the HubSpot contact record while the preliminary invoice information is securely transmitted to their payment provider for additional payment details. Their payment provider then processes the transaction securely. Internal workflows notify all appropriate departments.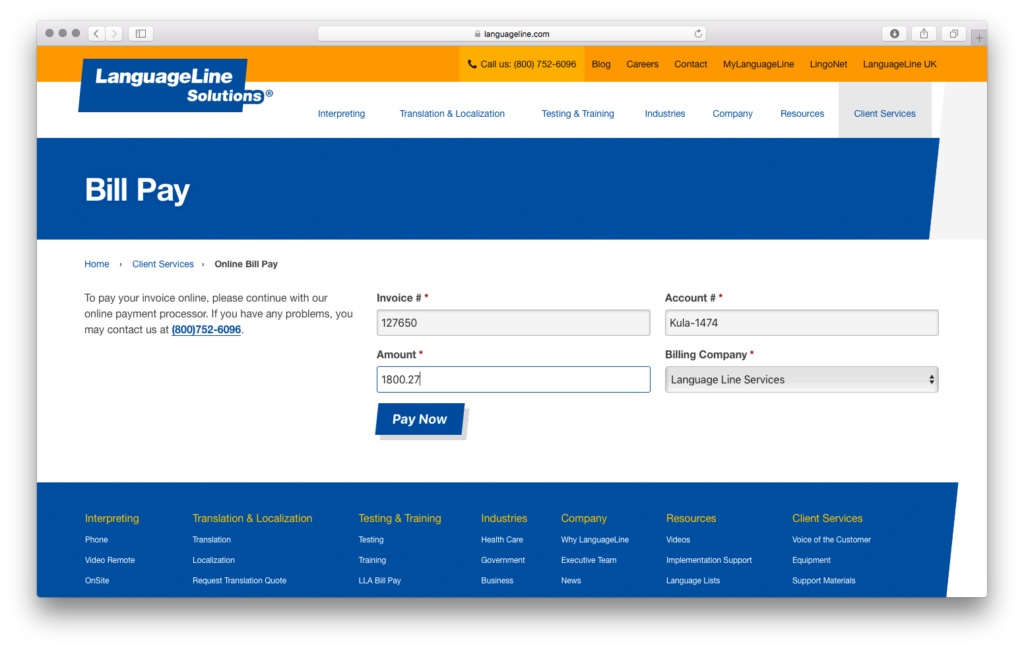 Given the nature of LanguageLine's business and the importance of timely translations, many of the site's forms also function as complex job requests. Allowing customers to submit nearly any sort of document online allows the project to be routed to one of the company's many professional interpreters for rapid completion.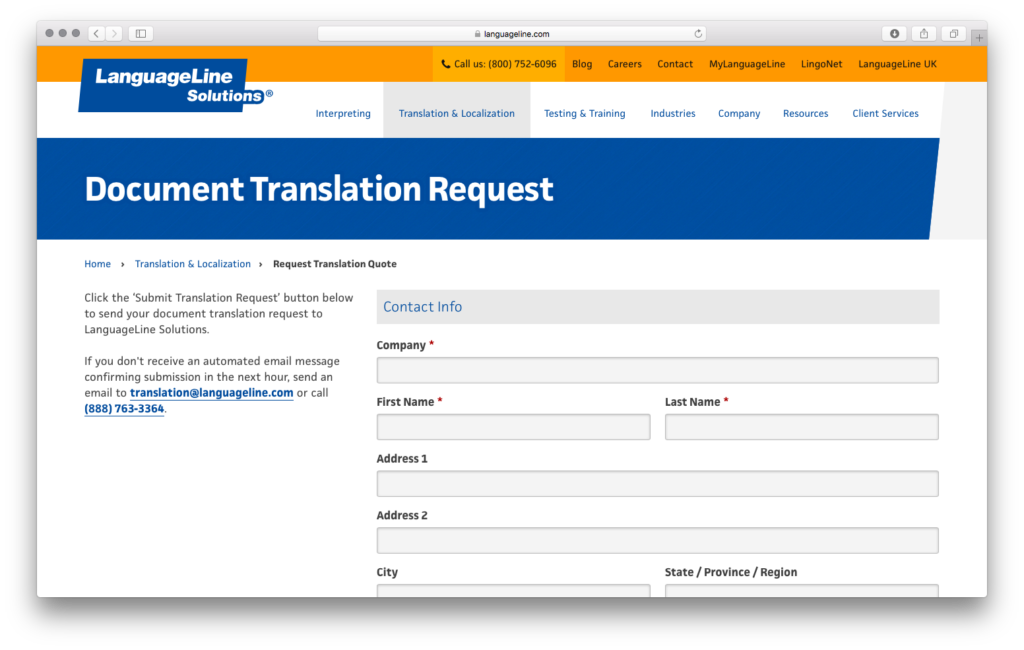 These COS customizations—along with the striking site design—have allowed LanguageLine to leverage their new site as a key top of funnel lead and customer generation platform, as well as a critical component of day to day operation.
Results
The results since the launch of the new LanguageLine COS site have been nothing short of astonishing. Although the firm had been using HubSpot previously, the new site has powered a major increase in lead generation and customer acquisition. Over the four month period since the launch of the new site, LanguageLine has seen an increase in conversion of 1,700%. This lift has led to a 2,295% increase in leads generated with over 1,000% more customers than with the previous website.
The number of leads driven via organic search has increased by 1,200%, with an even bigger bump in customers from organic search at 2,445%. These results alone speak to the benefit of designing a website with conversion centered design at its core.
What a pleasure it has been to work with Kula Partners to redesign and implement our new website. They are professional, extremely knowledgeable, and fun to work with. They made what seemed like a daunting task, simple. And, their design work hit our brand requirements and personality on the head the first time – a testament to their ability to listen to and understand their client.
Suzanne Franks
Director Marketing & Sales Enablement
LanguageLine Solutions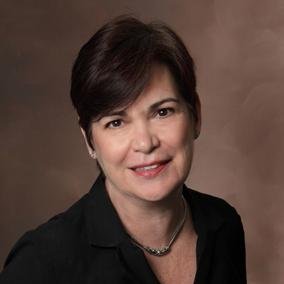 Although the LanguageLine site has been live for less than a year, it is already generating fantastic results. The design accurately represents the brand and the site is serving as an excellent front line resource for the company's translators to collect job specifications and translation documents. Lastly, the HubSpot COS-integrated payment collection system allows customers to easily pay their invoices online. The combination of lead generation capabilities, top of funnel marketing assets, and enhanced customer service makes the LanguageLine site an excellent example of what's possible on the HubSpot COS with a little creative development thinking.