Content marketers spend a lot of time writing. To create the most helpful content for our audiences, we need information and great ideas as well as the tools to get our thoughts out "on paper". How we write, when we write, and where we find the inspiration to create engaging content for our customers is important. This why we're so excited about the brand new content creation and curation tools that HubSpot has just released at Inbound 2016.
At its core, inbound methodology is designed to help you create the best, most useful content for your audience. It's no surprise that behind the scenes, HubSpot has been working away on new tools to help us write even better. Today, HubSpot announced two great new additions: the first is Composer, a distraction-free writing tool, and the second is Collect, which helps you clip and grab ideas from around the web, pulling them into your hub to save for a later date. These tools are going to make it much easier to gather everything you need to write your best content, and we think fellow content marketers are going to love them!
Composer: A Stripped Down Writing Tool For Productivity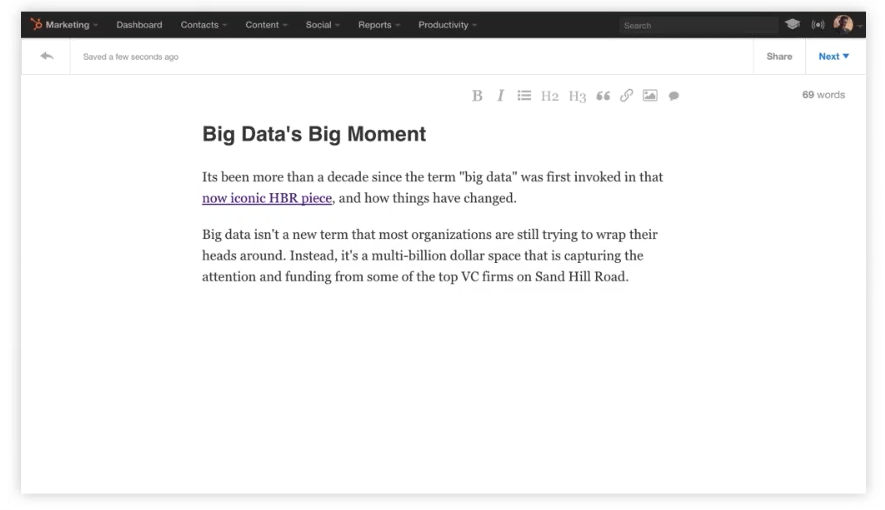 When you're writing blog posts, site content, funnel offers or creating copy for conversion points, it can be useful to make sure the copy is perfect before you configure it. If you tend to create your copy outside of your hub, you know how challenging it can be to find the right place to actually do the writing. Enter Composer. HubSpot describes Composer as a "focused experience for creating the content your audience wants", and has designed this tool so creators can write without distraction. Inspired by writing experiences from other products on the web, HubSpot built this tool to separate the writing process from the configuration process to make writing (and editing) easier.
Composer includes all the formatting tools you'll need, a word count at the top so it's clear whether you've reached your length target, and it also makes it super simple to share what you've created with the rest of your team for feedback.
Collect: A Content Curation App for Storing Inspiration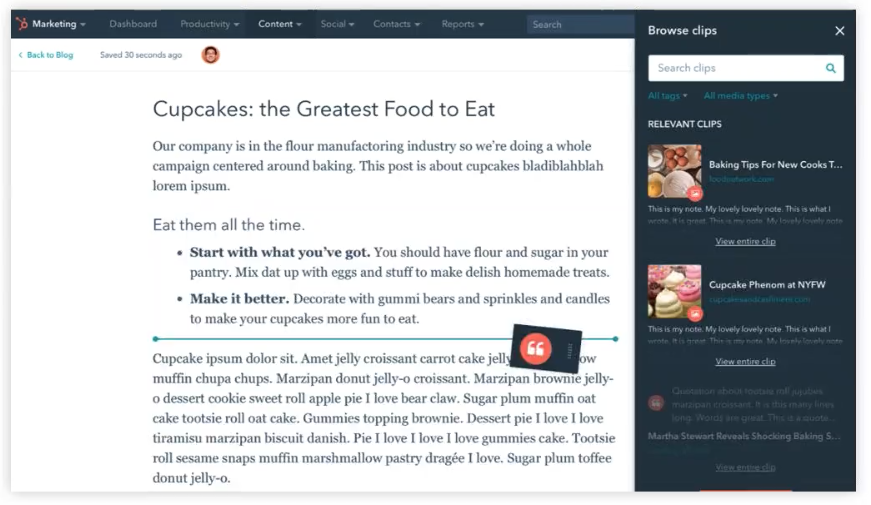 HubSpot knows that content marketers are by nature creative people. We're always on the hunt for the latest topic to share with our audiences in the most engaging way. When they created Collect, they were inspired by what they felt was a missing piece in the content creation puzzle: the ideas. Collect acts as central place to capture and organize the content you've found elsewhere on the web so you can leverage it for your audience.
With Collect, users clip and grab content, images, or pages that have sparked an idea. Like an image? Collect it. Inspired by a unique layout? Collect it. Excited about a neat new tool? Collect it. You can collect anything to use later. The days of writing down ideas on sticky notes, using spreadsheets to store ideas or trying to manage multiple lists are over. Once you've collected content, you can easily pull it into the Composer to bring your idea to life.
When you use both of these tools together, and alongside some of the other brand new features that HubSpot just announced today—like Collaboration—creating content your audience will love (and convert on) will be easier than ever.
Get started with Composer and Collect today click here to learn more.