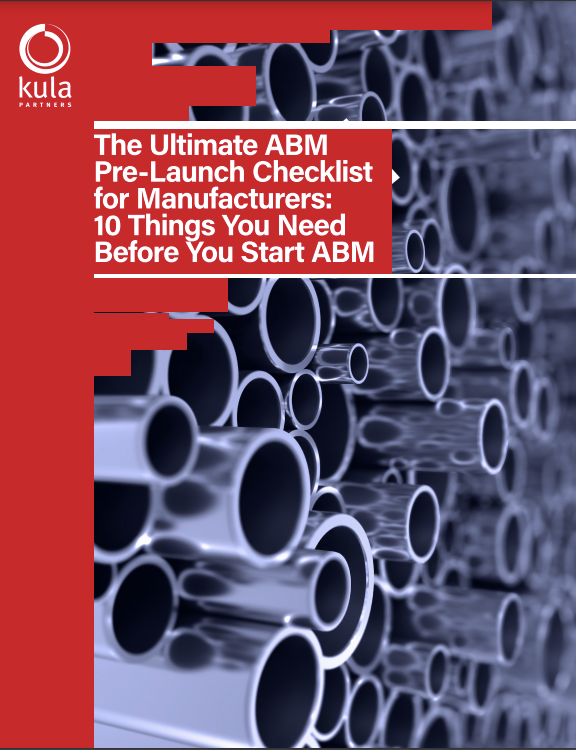 Read Time :
15 mins
An account-based approach to marketing is critical to maximizing your revenue potential within niche B2B markets. If you're planning to set your ABM strategy and start launching targeted campaigns, this checklist will help you ensure you're in the best possible position to achieve ABM success.
Read Time :

60 mins

Watch the webinar co-hosted by Terminus and Kula Partners to learn how an ABM strategy can help you execute highly targeted, personalized marketing to your most qualified accounts and the individuals within them.

Read Time :

55 mins

This comprehensive 10,000+ word guide outlines a proven-process for developing conversion-optimized inbound marketing websites. Whether you want to improve your website's mobile user experience, update your branding and positioning, or optimize your site for lead generation, this guide will help you put the proper plan in place to execute a successful redesign project.

Read Time :

5 mins

This example account-based marketing plan, co-authored by Terminus, follows the ABM efforts of the fictitious B2B manufacturing and distribution company BakePro Industrial Inc. Get the plan to gain insight into how an ABM strategy can help you conduct more effective, account-focused marketing and sales.

Read Time :

31 mins

Most manufacturers are converting fewer than 1% of their site visitors into contacts, which means they're missing the chance to market to 99% of people who come to their sites. This webinar from Kula Partners Principal Jeff White will teach you how to create content that captures and converts more of this qualified traffic.

Read Time :

6 mins

Trade shows are often a fundamental part of the marketing and sales mix for B2B manufacturers. However, very few manufacturers are accurately tracking the ROI of their trade show efforts. This playbook details the proven process for making your trade show and event appearances more measurable and conversion-focused.

Read Time :

15 mins

Building a successful B2B digital marketing strategy starts with developing accurate, actionable, and detailed Buyer Personas. This template will guide you step by step in defining your ideal customers so you can reach and serve them more effectively.

Read Time :

28 mins

For international manufacturers, websites are a critical piece of your buyers' journey and are instrumental to your global marketing efforts. By taking these 20 actionable considerations into account, you can create a high-performing website that helps you sell more and work smarter. Watch the on-demand webinar today.

Read Time :

5 mins

You wouldn't build an office building without making it accessible to those with disabilities, your website should be no different. Learn the best practices on how to make your website more accessible to those with disabilities and avoid costly accessibility lawsuits.

Read Time :

8 mins

For many B2B marketers who support sales organizations, dealing with inbound leads is a new ballgame. This guide offers B2B marketers a detailed walk-through of everything you need to do to research, qualify, and engage prospective leads and how to proceed once the connection is made.

Read Time :

11 mins

Make your content assets more mobile-friendly and dramatically enhance the user experience by moving to interactive and responsive web-based offers. Get this free guide today to learn how interactive whitepapers and eBooks can more effectively engage leads, include rich media, and be kept accurate and up-to-date.

Read Time :

17 mins

Inbound marketers need to know how to write copy that effectively attracts and converts traffic, but that can be a challenge if you're not a writer, your team is resource constrained or just too busy. We've created this guide to share a few rules that make creating conversion focussed content much easier. Inside, you'll find detailed and actionable information about writing copy that encourages people to give up their contact information.

Read Time :

45 mins

When we created this and previous versions of The Executive's Guide to Inbound Marketing, we were focused on helping executives learn the key concepts of inbound marketing methodology. The 2017 edition was released at a time when three out of four marketers indicated that inbound marketing was now their number one priority. If your manufacturing marketing plan includes inbound marketing, this guide will help you nail the basics and beyond with core principles that still hold true.

Read Time :

90 mins

This comprehensive 15,000+ word guide will help you create a winning inbound marketing strategy. Broken down into twelve chapters, this guide features actionable tips, advice and insight from more than twenty industry leading experts. To help you follow along with this guide we have also created a free inbound marketing strategy checklist which you can download for future reference.

Read Time :

18 mins

You know how important organic traffic can be, but do you know how to evaluate your site's SEO and ensure your site is build to attract and convert visitors from this channel? In the In-Depth Guide to Implementing An SEO Audit you'll learn how to identify the right keywords, find gaps in your site copy, and more, plus tips to work through the accompanying template.