How to Generate Millions in Revenue Without Ever Hiring a Sales Team
As several enterprise software-as-a-service (SaaS) companies have proven, when you arm the prospect with everything they need to make an independent purchasing decision you can drastically reduce, if not eliminate the need for a traditional sales team. More so than ever the buyer has the power.
Today's buyers are accustomed to conducting a large portion of the pre-purchase research and solution evaluation without any engagement with the suppliers sales team. Progressive SaaS providers like Atlassian and Moz have redefined the enterprise software sales process by structuring their business models in a way that essentially eliminates the need for salespeople completely. Atlassian was among the first companies to embrace the "selling without salespeople model". Over the last 10 years they have grown to achieve annual revenues in excess of $200 million – all without ever hiring a sales team.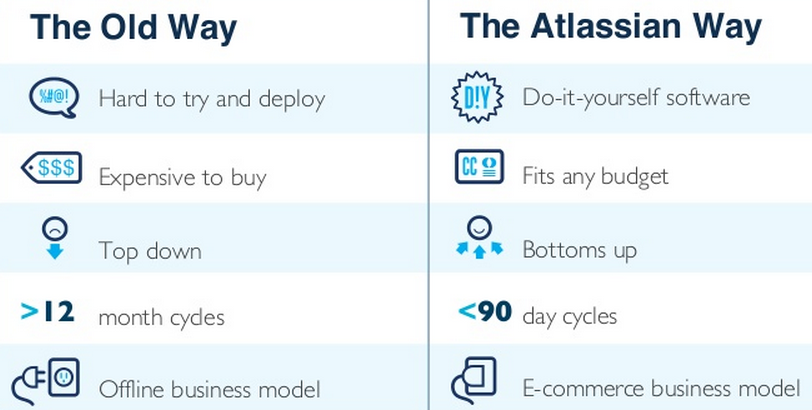 Rather than hiring an expensive team of sales reps to call prospects and ask them when they going to buy week after week, Atlassian opted to focus on optimizing one path to purchase, and that path is all online. By using a strategic mix of marketing tactics, analytics tools and email automation platforms, Atlassian has built an inbound funnel that consistently convinces prospects that Atlassian is the best software solution for them.
Jay Simmons, President of Atlassian, advocates that the key to selling without salespeople is reducing friction in the buying process so prospects can evaluate your product or service in a completely self-service manner.
In the traditional sales model the sales rep had all of the information and the buyer had none. If a buyer wanted a price quote they had to ask the sales rep. If they wanted to see a demo or try a product it was at the discretion of the sales rep. This model introduced friction throughout the purchasing process so the sales rep could remain in control of the conversation. And because of this information asymmetry sales reps would sometimes say whatever it would take to convince the prospect to buy. Needless to say, this was a buyer beware model.
Now Google is the trusted advisor that prospects turn to in order to conduct research and evaluate products and services. It no longer matters what the sales rep says because these days people are making decisions based on how good products actually are. Prospects gather suggestions and feedback from their peers on social media, they turn to review sites like G2Crowd for software reviews or Yelp for restaurant reviews. Today's buyers conduct an incredibly amount research before they ever engage a sales rep.
A recent research study commissioned by Google and Corporate Executive Board found that customers actually associate sales reps with commercial bias and postpone engagement until they are fairly clear in their decision-making. In fact, the research suggests that B2B buyers are nearly 60% of the way through the purchasing decision before engaging a sales rep. In many cases buyers may be willing to complete the remaining 40% of the purchase process without ever engaging a sales rep, but organization's internal process typically prohibit them from doing so.
While the implementation of a self service sales process will vary for different business models, these are a few of the core principles of Atlassian's sales model that can help any business reduce friction and empower the buyer:
Know your customer and provide them with a great content
Let the prospect evaluate your product or service on their own, but offer easy ways for them to reach out to a rep if they really need to
Publish the price list – no matter how big or small a purchase may be, every buyer wants to know how much your product or service costs
Make your product easy to try and easy to buy
Thoroughly explain the purchasing process so buyers can complete the majority, if not all, of the transaction on their own
Measure & test everything – measure where people come from, how they progress through the sales cycle, what factors they evaluate before they ultimately make a purchase and how they use your product or service
Simmons' perspectives on how organizations should be evolving their sales and marketing strategies to keep pace with changes in consumer behavior are echoed in a recent study of the state of Digital Evolution in B2B Marketing. As the study highlights:
"Although sales rep interactions epitomize personalized and captive communications with potential customers, in reality, reps today have much less access and sway with customers than they used to. Progressive companies are reshaping the role of the sales rep to be more discretely focused on delivering insight and seeding new ideas that reshape customers' perceptions, rather than attempting to promote new solutions. In a sense, sales reps are emerging as high-powered channels for delivering content."
The buyer-centric marketing strategies that SaaS companies employ to gain awareness, convert leads and close customers are commonly known as inbound marketing. At it's core inbound marketing is about proactively addressing your ideal customers common questions.
The best inbound marketers are using sales focused content and marketing automation to shape prospects' decision making as they progress through the buying process. Meanwhile, the best sales reps are engaging prospects well before their needs are identified and guiding the customers consumption of key content and messages to build credibility and momentum in the sales process.